Pollyanna Statue
Introduction
This bronze Pollyanna statue stands in front of the Littleton Public Library, celebrating the legacy of Eleanor H. Porter, who was born in Littleton in 1868 and created the famously cheerful character Pollyanna in 1913. The sculpture was unveiled in 2002. Littleton hosts annual Pollyanna Glad Day celebrations on the second Saturday in June.
Images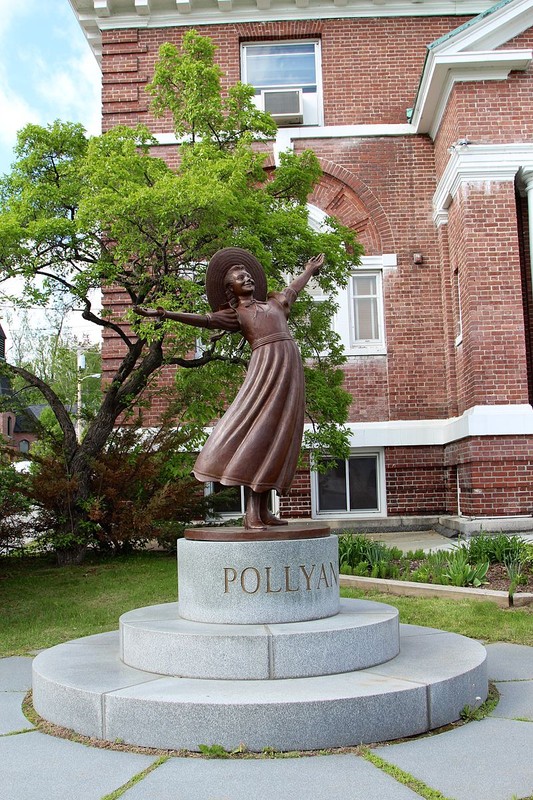 Backstory and Context
Eleanor Hodgman Porter was born in Littleton, NH on December 19, 1868. She was partially educated at Littleton High School, though due to poor health, she also received tutoring at home. Porter became a prolific writer, producing over two hundred short stories and articles. In 1907, she published her first book, Cross Currents, in 1908, her second, Turn of the Tide, and in 1911, Miss Billy. She wrote 15 novels in all.

Porter's lasting literary fame came from her 1913 novel Pollyanna, whose main character has become synonymous with relentless optimism even in the face of hardship. The story follows a young girl who has been orphaned and goes to live with her aunt in Vermont, who reluctantly takes her in. Pollyanna handles her daily struggles and disappointments by playing "The Glad Game" and finding the positive side of every situation.

Pollyanna was made into a film in 1920 and again in 1960, and has been translated into a dozen languages.
Sources
"Eleanor Hodgman Porter -- Littleton's remarkable woman of history." Go Littleton. Accessed April 24, 2017. http://www.golittleton.com/eleanor_porter.php.

Koziol, John. "Littleton celebrates literary connection with Pollyanna day." New Hampshire, June 14, 2014. http://www.newhampshire.com/apps/pbcs.dll/article?AID=/20140615/NEWHAMPSHIRE02/140619367.

"Pollyanna of Littleton, New Hampshire." Go Littleton. Accessed April 24, 2017. http://www.golittleton.com/pollyanna.php.

Photo credit: https://www.flickr.com/photos/44124370018@N01/18902222832.
Additional Information