Battle of Irish Bend Marker
Introduction
This historical marker commemorates the Battle of Irish Bend, also known as the Battle of Nerson's Woods or Franklin. This battle was part of the First Bayou Teche Campaign in which Confederate forces sought to prevent the Union from seizing control of this section of Louisiana. The battle resulted in a victory for the Union forces and allowed the Union to continue their expedition into west Louisiana.
Images
Historical Marker located in Franklin, Louisiana.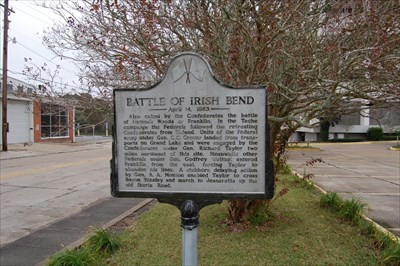 Sketch of the battle by William Hall that appeared in the American political magazine, Harper's Weekly, on May 16, 1863.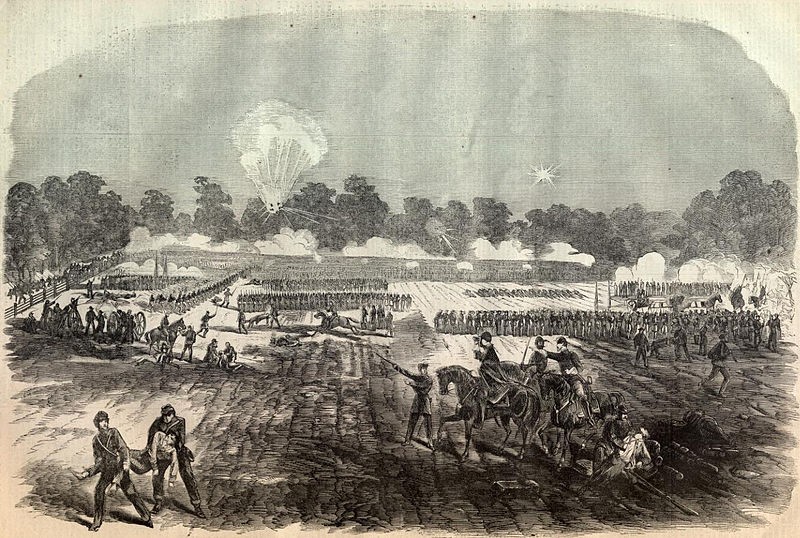 Backstory and Context
The Battle of Irish Bend, Nerson's Woods or Franklin as known by the Confederates, was fought on April 14, 1863, near the Bayou Teche and Franklin, Louisiana. The battle was part of the Confederate Major General Richard Taylor's First Bayou Teche Campaign in which they attempted to prevent Union control of Louisiana and Union Major General Nathaniel Prentice Banks' campaign against the Teche campaign. Major General Banks wanted to try and push back the Confederate forces in western Louisiana to gain access to the Mississippi River north of the Confederates at Port Hudson. Banks ordered two Union XIX Army Corps divisions across Berwick Bay towards the Confederate Fort Bisland, while Brigadier General Cuvier Grover division headed up the Atchafalaya River towards Grand Lake.
Grover's intentions were to intercept any Confederate retreat from Fort Bisland or turn enemy's position. In the morning hours of April 13, 1863, Grover's forces landed around Franklin where they were able to scatter Rebel troops attempting to prevent them from disembarking. That very same night, Grover gave orders to the division to cross Bayou Teche and make preparations for a morning attack towards Franklin. While Grover was making preparations, Confederate Major General Richard Taylor sent troops to deal with Grover. The very next morning on April 14th, Taylor and his troops were about a mile and a half to the north of Franklin at Nerson's Woods. Grover's leading brigade then marched out a few miles where Rebels met them and a skirmish ensued.
The battle was described as intense with the Rebels attacking and forcing the brigade to fall back. Around this time, the now Union owned gunboat, USS Diana, showed to anchor the Confederate right flank. Just as Grover was making plans for an attack, the now outnumbered Confederates were forced to retreat allowing the Union to take the area. In combination with a victory at Fort Bisland two days earlier, the victory at Franklin all but guaranteed the success of Union Major General Banks' West Louisiana expedition as there were few Confederate soldiers in the area.

Sources
Irish Bend. National Park Service Official Website. Accessed April 21, 2017. https://www.nps.gov/abpp/battles/la007.htm.

Battle of Irish Bend. Historical Marker Database. Accessed April 21, 2017. http://www.hmdb.org/marker.asp?marker=85070.


Battle of Irish Bend. Waymarking.com. Accessed April 21, 2017. http://www.waymarking.com/waymarks/WM7QNK_Battle_of_Irish_Bend_April_14_1863.


Additional Information