Battle of Bull's Gap
Introduction
Although historical marker THC1C30 that commemorated the Battle of Bull's Gap is missing, this is the location of one of many battles that took place in Tennessee during the Civil War. In November 1864, Major General John C. Breckinridge sought the help of Confederate supporters in hopes of launching an offensive that could force Union troops to abandon this area of Tennessee. The initial attack against the small Union occupying force was easily repulsed on November 11th, After several days, Union forces abandoned the immediate vicinity but the Confederates were not able to pursue the Union troops who were able to reunite with other Union forces who continued to control East Tennessee. The Confederates soon abandoned their campaign and soon regained control of this area as well.
Images
Major General John C. Breckinridge hoped this area contained pro-Confederate partisans who would join his attack on Union troops in East Tennessee. Despite some success in this battle, Union control of East Tennessee was never seriously challenged.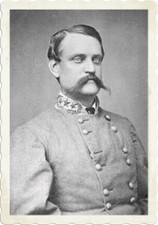 Backstory and Context
In November 1864, Major General John C. Breckinridge rallied Confederate supporters to help push the Union soldiers out of Bull's Gap. The Union had taken territory at Bull's Gap on the eastern Tennessee and Virginia Railroad. The Union army was also referred to as Yankees and Federals during the Civil War.
On November 11th, the Confederates attacked the area. The attack was unsuccessful and the Confederates were pushed back within hours of the initial attack. Each side exchanged gunfire throughout the rest of the day. The day of November 12th, both sides engaged in battle. The Confederates attempted to attack several locations occupied by Union soldiers. This attempt led to very little success for the Confederates.
On November 13th, each side exchanged gunfire. The attacks and exchange of gunfire led to the Union falling short on supplies. They were forced to retreat from Bull's Gap. Major General John C. Breckinridge pushed on. The battle was interrupted by horrible weather conditions that ruined roads and streams. The battle of Bull's Gap ended on the third day and resulted in a minor and temporary victory for the Confederates army.
Sources
"CWSAC Battle Summaries". Accessed April 17, 2017. https://www.nps.gov/abpp/battles/tn033.htm.
Additional Information