Topeka High School: Separation of Sports
Introduction
Before becoming one of the most diverse schools in Topeka, Topeka High School (THS), like many schools, was segregated and barred Black students from participating in many school activities. From 1929 to 1949, the Ramblers gave students an opportunity to participate in basketball and play against other black students teams from the surrounding area (Kansas City, St. Joseph, Fort Scott, Leavenworth, Coffeyville, etc.).
Images
Topeka High Rambler's cheerleaders and student section at a game.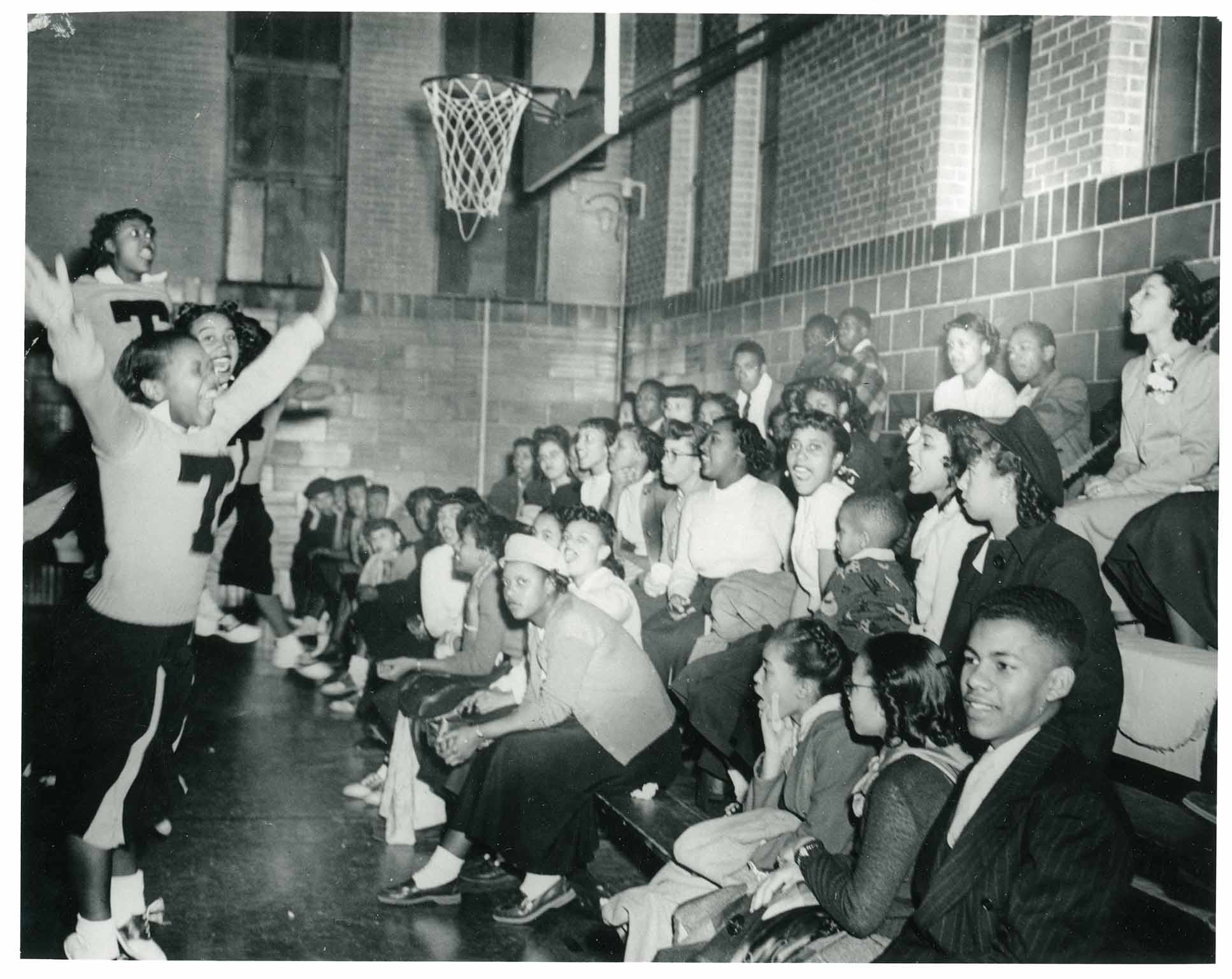 Topeka High Rambler's Team picture with coaches.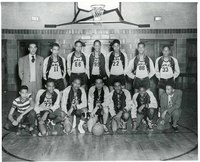 The Topeka High Ramblers and their cheerleaders playing a "home game" at Sumner Elementary because they were not allowed to use their own gym.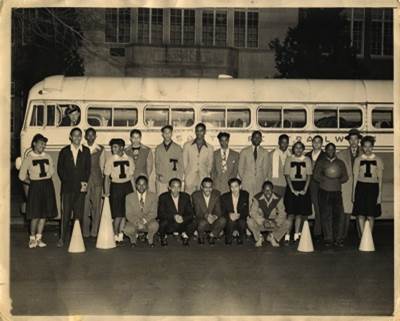 Backstory and Context
These are the two gyms of Topeka High School. The gym attached to the school is best known as the "Dungeon." Its court, Nicklin Court, is named after the beloved longtime men's basketball coach Willie Nicklin. The Dungeon can seat approximately 4,000 fans. The spectator stands are completely made out of metal giving the arena a much louder atmosphere for all visitors and opposing teams of the Trojans, but not all Trojans were actually able to play in this arena.
Until the 1949-1950 season, Topeka High School still barred Black students from certain sports teams and cheer squads. As a result, Black students started their own teams and squads (though the school would provide them with bussing and uniforms). In 1929 the first black Topeka basketball team, the Cardinals, was founded. In 1935 they became the Ramblers.
It is very important to note that it was the school's basketball teams that were segregated as the school actually had several integrated sports teams. Black students played on the Trojan football, ran for the Trojan track team, and even would play basketball in the same gym class with the students from the Trojan basketball team.
The Ramblers were held to strict rules. They were prohibited form practicing or holding games on the grounds of Topeka High. Instead, they were forced to practice and have games at East Topeka Junior High. The Ramblers were also only provided with two basketballs–one of which was designated as a game ball, thus only one ball was available for practice unless a player owned his own ball and was willing to bring it to practice.
The 1948-1949 season was Ramblers' last as sports started becoming more integrated nationally. The Ramblers have several notable alumni, two of which were key to the landmark Brown vs. Board of Education case: Oliver Brown and Charles Scott.
Sources
Hummer Sports Park. Topeka Rambers - Black Pioneers Slam-Dunk During Segregation!, Hummer Sports Park. 2023. Accessed April 24th, 2023. https://www.hummersportspark.com/9-uncategorised/96-famous-topeka-athletes?start=7.
Topeka High Historical Society. About THSHS, THS Historical Society. February 23rd, 2023. Accessed May 7th, 2023. https://www.thshistoricalsociety.org/who-we-are/
"Topeka High Ramblers and Cheerleaders, 1940s, Topeka High School, Topeka, Kansas.," KU Libraries Exhibits, accessed April 24, 2023, https://exhibits.lib.ku.edu/items/show/7197.
Kansas Sampler Foundation. 8 Wonders of Kansas Architecture - Topeka High School, Topeka, Kansas Sampler. 2023. Accessed May 7th, 2023. https://kansassampler.org/8wondersofkansas-architecture/topeka-high-school-topeka.
Image Sources
Photo by Merrill Ross Collection Photographer: J.B. Anderson, Topeka, Kansas.

Photo by Merrill Ross Collection Photographer: J.B. Anderson, Topeka, Kansas.

Additional Information