General Thaddeus Kosciuszko Statue
Introduction
Thaddeus Kosciuszko was a general during the American Revolution. He arrived in the colonies from Poland in 1776, first working as a civil engineer and then rising in ranks in the military. His contributions as a military leader helped the Continental Army win a few major battles, including the Battle of Saratoga. For his efforts, Kosciuszko was memorialized in a bronze statue in Lafayette Park. The statue was erected by the Polish National Alliance of America on behalf of Polish citizens in the United States. The 10-foot tall sculpture was designed and created by Antoni Popiel and dedicated by William Howard Taft on May 11, 1910.
Images
The statue of Thaddeus Kosciuszko in Lafayette Park.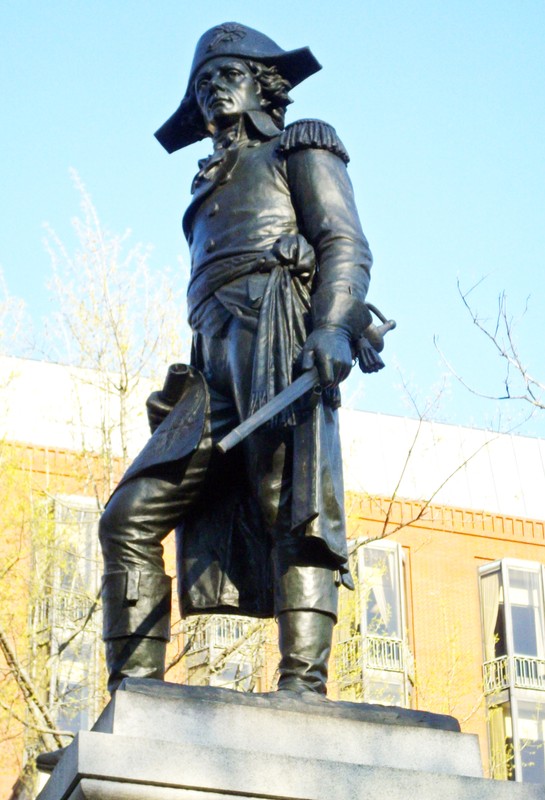 The statue depicts Kosciuszko holding a map of the fortifications at Saratoga in his right hand and a sword in his left.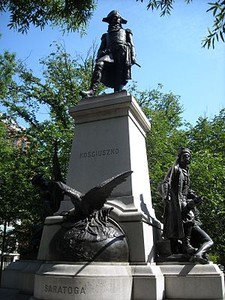 Backstory and Context
General Tadeusz Kosciuszko was born on February 4, 1746 in Mereczowszczyzna, Poland and passed away October 15, 1817 in Solothurn, Switzerland. He gained most of his fame for the role that he played in the American Revolution and he was also a decorated army officer in his homeland of Poland. For his early life, he grew up in a noble family and attended the military academy in Warsaw. His success at this school attracted the attention of the King, and he was then sent to Paris to further his military education.

Once he returned home in 1774, he was instructed to be a mathematics instructor to a high ranking generals daughter. Eventually, he fell in love with one of the daughters, Ludwika, and tried to get her to elope with him. To avoid further conflict he fled to France. Then, in 1776 he traveled to the Colonies to help fight for their independence from Great Britain. He was sent to Pennsylvania to help plan fortifications to protect the Continental Congress. Since he excelled at this, he was then promoted to engineer colonel. Then, in 1777 he was he was transferred to the army of General Horatio Gates at Fort Ticonderoga, in upstate New York. He was very active in Gates's and worked to close all roads that were along the Hudson River. This contributed to the success of General John Burgoyne against enemy forces at Saratoga. Once this was done, he spent the following couple years helping to fortify West Point. For his excellent work, he was then promoted to chief of the engineering corps.

For his part in the war effort, he was given citizenship to the new United States and was also made a brigadier general in the US Army. After the end of the Revolution he returned to his homeland of Poland. When he was home he was not allowed to join the military due to his past trials with the general he used to work for. He lived in poverty on a small estate for the next five years of his life. He was only able to join the military again after there were reforms to the country and once he had protection from his former lover, Ludwika. Once back in the military he was given the rank of general major and once again found himself in love an eighteen year old noblewoman. He would once again try to get her elope, but just like before, he father wouldn't let this happen. After this happened, he began different conquests that included Prussia, Russia, and eventually he was taken captive as a prisoner of war.

When the general was released from the prison in 1797, he traveled back to the country in which he helped to gain its independence, the United States. He arrived in Philadelphia and was greeted by a crowd of people. During his time back he found himself going to different social events and sticking around with different social groups. He ended up becoming close friends with then Vice President, Thomas Jefferson. He then secretly left the States as he found out that there might be some possibility to help promote Poland in their cause in France. Before he left however, he gave instruction for his slaves to be freed and they were to educated. After his different failures throughout the years in France and talks with Napoleon, the General eventually died in 1817. He was buried within the kings tombs within the cathedral and true to custom, a huge mound was erected to preserve his memory.

Sources
Trickey, Erick. "The Polish Patriot Who Helped Americans Beat the British." Smithsonian Magazine. March 8, 2017. Accessed December 2017. http://www.smithsonianmag.com/history/polish-patriot-who-helped-americans-beat-british-180962430/#2W...

Tadeusz Hosciuszko. Polish general and statesman. Britannica.com. Accessed March 30, 2017. https://www.britannica.com/biography/Tadeusz-Kosciuszko.

"Brigadier General Thaddeus Kosciuszko (sculpture)." Smithsonian Art Inventories Catalog. Accessed December 2017. https://siris-artinventories.si.edu/ipac20/ipac.jsp?&profile=all&source=~!siartinventories&uri=full=...


Additional Information