The Temple: Congregation Adath Israel Brith Sholom
Introduction
Though the current home of the Adath Israel Brith Sholom congregation may only date to 1980, the congregation itself traces its roots back to 1843, when Adath Israel was first chartered. The Brith Sholom congregation was established in 1880, and the two merged in 1977.
Images
Today's Temple of the Adath Israel Brith Sholom Congregation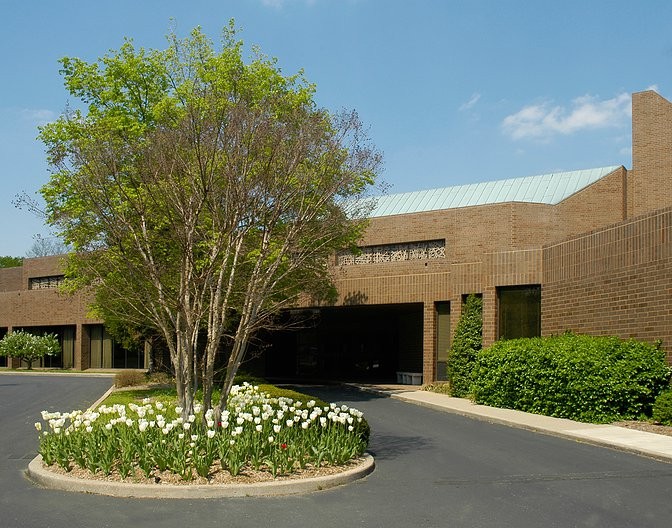 Archive museum exhibit of items from the Brith Sholom Congregation's history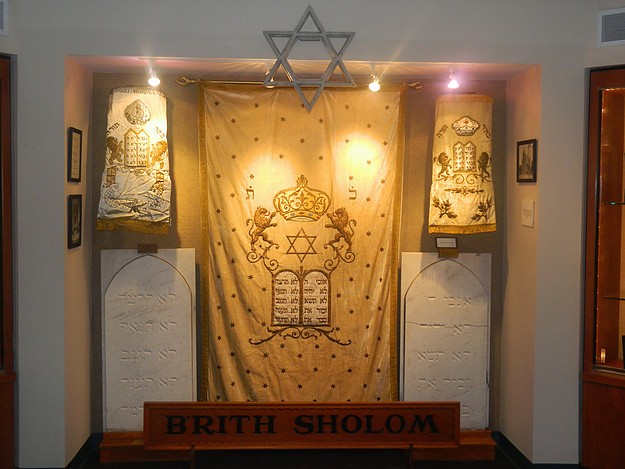 Archive museum exhibit on the history of Reform Judaism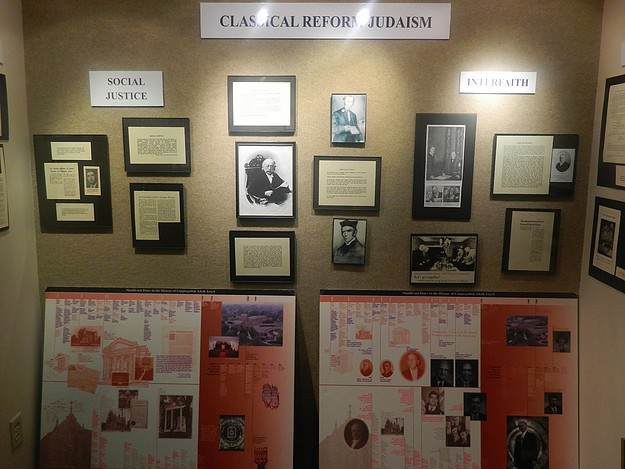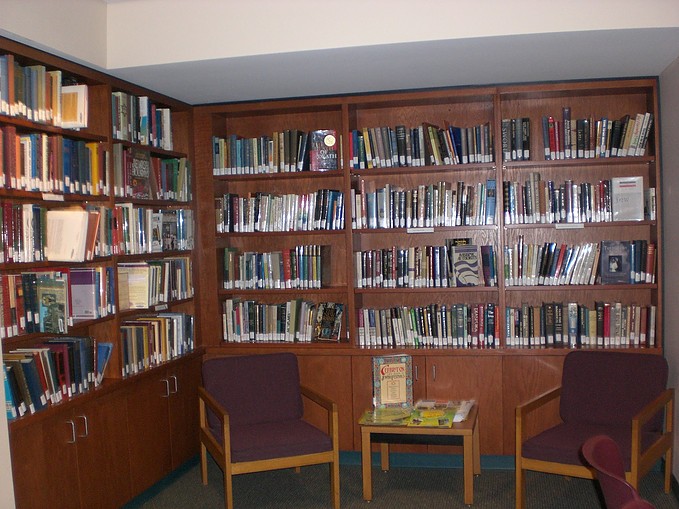 Backstory and Context
Brief History of Adath Israel and Brith Sholom

Jewish immigrants from German/Prussian states, especially Posen, came to Kentucky in the late eighteenth century, and by the 1830s were establishing institutions such as the Israelite Benevolent Society and organized worship services. Adath Israel, established on January 13, 1843, was the first congregation in the five-state region around Kentucky and, in 1873, became one of the founding members of the Reform Judaism Union of American Hebrew Congregations. After several changes in location, it settled in 1905 at its most long-term home on South 3rd Street, in the Greek-style Temple Adath Israel designed by W.J. Dodd. Brith Sholom was formed in 1880 by new Jewish German immigrants, joining the Reform movement in 1920 and merging with Adath Israel in 1977. The Adath Israel Brith Sholom congregation, the largest in Kentucky, moved together to the current Temple in Louisville's East End in 1980.


Temple Archives & Museum
Heritage has been a priority of the congregation from its formation, and the Frances Shapiro-Weitzenhoffer Archives Room holds historic materials on prominent people, places, and events of the past 150-plus years of Jewish history both in Louisville and on a national scale, particularly the Classical period of Reform Judaism. Now the largest branch of American Judaism, the Reform-based Union of American Hebrew Congregations account for 1.5 million members in the U.S. and Canada. The Temple Archives feature rotating displays of its holdings, which include artifacts, photographs and awards, art, books and publications, records and genealogies, oral histories, and personal video histories and other films. In addition, the Temple campus houses a separate library.


Brief History of Jewish Louisville
Though Adath Israel was the first Jewish congregation in Louisville, it was quickly joined by the Polish House of Israel (later Beth Israel and then Adath Jeshurun) in 1851. A B'nai B'rith lodge formed in the following year. Moses and Henry Levy, prominent clothiers, arrived in Louisville in 1861, and during the Civil War, Adath Israel's Bernhard Henry Gotthelf (1819-1878) served as second Jewish chaplain of the Union Army. Cincinnati's Isaac M. Wise, founder of Reform Judaism, visited Louisville in 1873, when Adath Israel joined the movement to become the second largest Reform congregation and one of the founding members of Reform Judaism.
By 1880, Louisville's Jewish population had reached 2,500, with 10,000 more by 1927, both from Germany and from Eastern Europe, the latter mainly of Orthodox orientation. New congregations and organizations sprang up quickly during the late 1800s: the German congregation of Brith Sholom in 1880, the Eastern European B'nai Jacob (1882), the Standard Club (later the Standard Country Club) (1883), the Beth Hamedrash Hagodol (1887) and Anshei Sfard (1893) congregations, the Young Men's Hebrew Association (today, the Louisville Jewish Community Center) (1890) and Louisville chapter of the National Council of Jewish Women (1893), the Neighborhood House social service agency (1896), Jewish Hospital (1903), the Agudath Achim congregation (1905), and the Federation of Jewish Charities (1908), later known as the Jewish Welfare Federation and then the Jewish Social Service Agency. The Eastern European Jews settled primarily around Preston Street downtown and worked in trades including cigar-making and tailoring. Louisville's Orthodox congregations communally hired a chief rabbi in 1902 and formed the Talmud Torah Society, as well as three Zionist circles and a Yiddish Literary Society by 1920.
Louisville has been home to a number of important and prominent Jewish figures, many of whose legacies are reflected in the historic buildings and institutions which bear their names today. These include the Levy brothers; dry goods magnates Henry Kaufman and Benjamin Straus; distiller and philanthropist Isaac W. Bernheim (namesake of Bernheim Forest and Arboretum); and Louis D. Brandeis (for whom the University of Louisville law school is named) and his uncle, lawyer and scholar Lewis Dembitz. Less familiar in Louisville place names are bacteriologist Simon Flexner; art historian Justus Bier and musicologist Gerhard Herz, refugees from Nazi Germany who taught at the University of Louisville beginning in the 1930s; and many others, including mayor Jerry Abramson. The University of Louisville planetarium is named for rabbi Joseph Rauch (1880-1957).

Sources
1. Jewish Virtual Library. "Louisville." Accessed March 20, 2017. http://www.jewishvirtuallibrary.org/louisville.
2. Kentucky Historical Society. Historical Marker Database: Jefferson County. Accessed March 10, 2017. http://migration.kentucky.gov/kyhs/hmdb/MarkerSearch.aspx?mode=County&county=56.
3. Kleber, John E. "The Encyclopedia of Louisville." The University Press of Kentucky. Lexington. 2001:875.
4. Rosenblum, James M. "Temple Adath Israel." National Parks Service, National Register of Historic Places. August 29, 1974. Accessed March 13, 2017. https://npgallery.nps.gov/NRHP/GetAsset/2bd04519-e95f-4f0d-a71e-9a9d5fe0482b?branding=NRHP.
5. The Temple: Congregation Adath Israel Brith Sholom. Official Website. Accessed March 20, 2017. http://www.thetemplelouky.org/.

Additional Information