Agen Warehouse
Introduction
Built in 1910, Agen Warehouse served as the headquarters for dairy wholesaler, John Bernard Agen (1856-1920). His dairy grew to become the largest in the Pacific Northwest, shipping to dairy goods to Alaska, the contiguous U.S., and internationally. The building itself demonstrates prototypical late 19th and early 20th century warehouse structures and easy-access to railways and shipping. The building is now home to a variety of businesses and offers retail space on the first floor.
Images
By Joe Mabel, CC BY-SA 3.0, https://commons.wikimedia.org/w/index.php?curid=2766143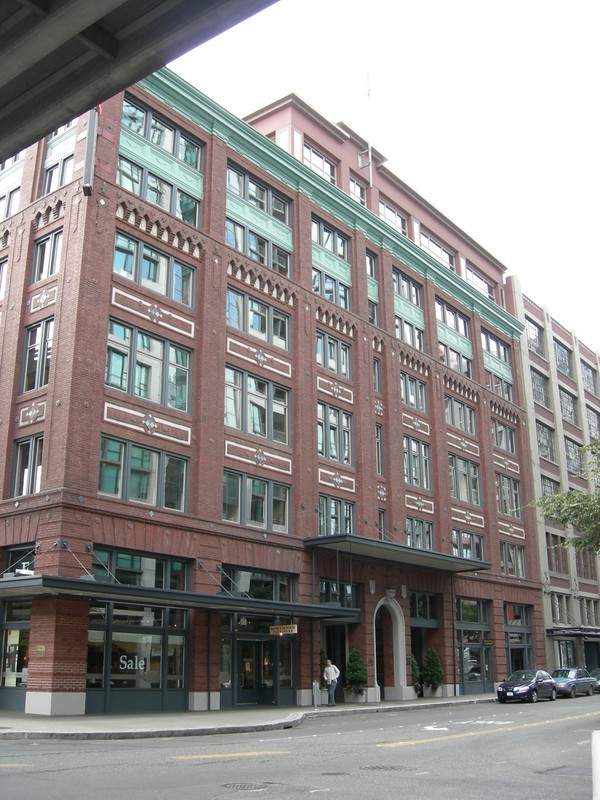 Backstory and Context
Agen Warehouse served as the headquarters for dairy wholesaler, John Bernard Agen (1856-1920).
Agen grew up in a dairy region of New York State before moving to Iowa and operating a one-man store. A large Seattle fire in 1889 spurred Agen to send butter and eggs to a friend in Seattle after the city's great fire of 1889. The success of that transaction inspired Agen to move to Seattle and open a dairy business selling butter, eggs, and cheese.
In 1890, Agen founded one of his first creameries at Mount Vernon, receiving at first only 800 pounds of milk a day. By 1914, Agen regularly produced a quarter of a million pounds of milk per day.
Like many historical stories in Seattle, the Klondike Gold Rush proved highly influential towards Agen's success. Packaging perishable food for shipment to the interior of Alaska was a problem for most industries, but Agen's butter, packaged in tin containers, carried the clever marketing slogan, "Agen's Best Has Stood the Test," and it soon became the best-known brand in the North.
As well, Agen owned considerable real estate in the central business district. Directly across from the warehouse loading docks at the foot of University Street was Pier 6 (now Pier 56) — the John B. Agen dock. It provided him with a facility for his Alaskan trade in butter, eggs, and milk.
When the Klondike Gold Rush faded, the gold strike in Nome, Alaska allowed the company to continue on its rapid growth pace. Including establishing several branch stores in Alaska as well as several more creameries and cheese factories throughout much of the region. Seattle's flourishing trade market also helped Agen's business grow. He also provided aid (and money) to dairymen of the White River Valley, Stanwood, Mount Vernon.
The 1201 Western Avenue building was completed in 1910, boasting four floors. By the next year, two more stories were added. Milk from all over Western Washington for churning, which was then shipped throughout the United States and abroad. He located cold storage plants in Iowa, Minnesota and North Dakota, and conducted trade with Asia, South America, the Philippines, and Hawaii.
Typical of many late 19th century industrial buildings and warehouses, before the popularization of concrete slabs and steel trusses, the Agen Warehouse relied on a brick bearing wall with heavy timber posts and beams, basically, the same method that enjoyed by the commercial buildings in Pioneer Square in the 1889-1892 period. Also, access to railways proved exceptionally important during the late 19th century and early 20th century, as demonstrated by The Agen Warehouse. The building contained loading docks adjacent to extant spur lines for railroad freight cars and directly across the street from a shipping facility dubbed Agen's wharf in early city directories.
Like many historical buildings within Seattle's downtown region, it stands as a monument to Seattle's rapid growth due to trade, the city's connection to gold rushes of the Yukon and Alaska, and the city's overall growth. Additionally, the building demonstrates the link between railways, shipping, and large warehouses typical of the late 1800s and early 1900s.
Sources
Berner, Richard C. Seattle, 1900-1920: From Boomtown: Urban Turbulence, to Restoration. Seattle: Charles, 1991.

Roush, Jeffrey A. and Dianne M. Cole. "National Register of Historic Places Registration Form." Published 10/08/1997. National Register of Historic Places.




Additional Information