Pavilion III
Introduction
Pavilion III is a historic structure located within Thomas Jefferson's Academical Village at the University of Virginia. Completed in 1821, this building was constructed based on plans drawn by Jefferson in 1817 and inspired by the Temple of Antoninus and Faustina in Rome. Pavilion III's columnns are styled after the Corinthian order and feature Carrara marble capitals. Unlike most other pavilions at U.Va, this structure has not undergone any major structural additions or alterations and is one of only two pavilions that has not been enlarged.
Images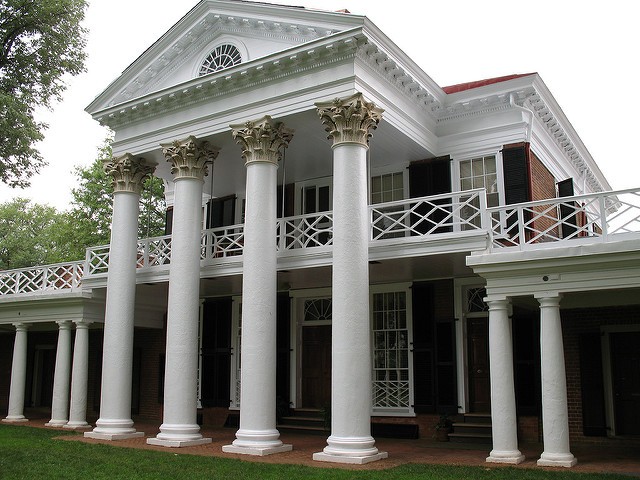 Corinthian Capitals and Upper Level of Pavilion III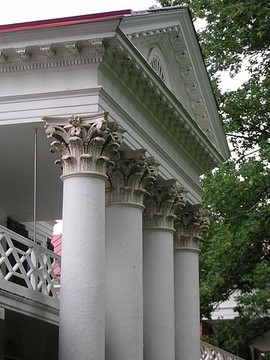 Drawing of Pavilion III, The Lawn, University of Virginia campus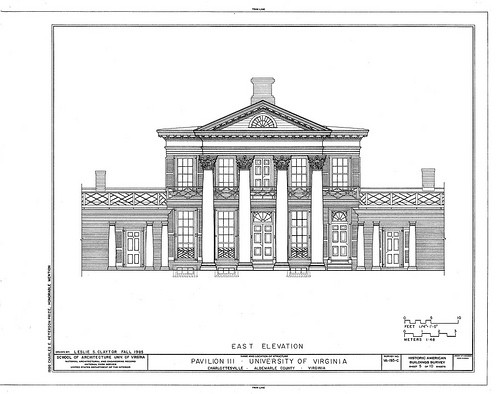 Backstory and Context
The Pavilions are located along the east and west sides of the University of Virginia's Academical Village. Centered around the Lawn, the Academical Village was designed by Thomas Jefferson as a unique environment where scholars would live and study in an architecturally unified space. The ten pavilions each represent an academic discipline, an order of ancient architecture, and were intended to recognize the dignity of each subject.

The second of the ten first buildings at U.Va, Pavilion III was built between 1818 and 1821 based on Jefferson's plans. His design was inspired by the Temple of Antoninus and Faustina in Rome, as illustrated in Palladio's Book Four. Pavilion III is unique in that it remains largely unchanged from its original appearance, at least at first glance. It was constructed with two front entrances. The central entrance led to a classroom, the second to a faculty residence. This plan reflects Jefferson's intent to create a living/learning space at the university. Originally, it also featured a parapet atop the roof.

Pavillion III's construction effort was supervised by Irish carpenter and builder, James Dinsmore. The masons John Perry and Matthew Brown were responsible for laying the brick for the structure, although Brown's involvement may have been limited. The tinsmith Asa H. Brooks applied the roofing and gutters on the pavilion. His initials are still visible on a stud in the gable. The decision to use tin instead of wood shingles for the pavilion roofs was an expensive one, with Pavilion III's tin expense being the largest ($304) of any other single pavilion, hotel, or range of dormitories.

The interior ornamentation in Pavilion III is the work of sculptor William Coffee. The exterior features columnns of the Corinthian order carved from Italian Carrara marble, which was imported into the United States as "educational materials" to save on the customs duty. Jefferson was highly experienced in building columnns, which he also used extensively at Monticello. Sculptors Michele and Giacomo Raggi were hired to carve the capitals, which arrived in Richmond on board the Draco in 1823. The installation of the capitals marked the completion of the University pavilions.

The residents of Pavilion III have included numerous professors and institutional occupants. From 1924-1953, the building housed the Graduate Department, sharing space with The Virginia Quarterly Review from 1925-1929. In 1953, it was home to the Institute of Public Affairs, though it departed shortly thereafter as President Colgate Darden sought to reestablish Jefferson's original idea of using the structures on the Lawn as student and faculty housing.

Sources
Kelly, Matt. "Facelift Slated for Pavilion III in Jefferson's Academical Village." UVAToday (Charlottesville), June 9, 2006. Accessed March 23, 2017. http://news.Virginia.edu/content/facelift-slated-pavilion-iii-jeffersons-academical-village.

"The Lawn." Wikipedia, the Free Encyclopedia. Accessed March 23, 2017. http://en.wikipedia.org/wiki/The_Lawn.

Mesick Cohen Wilson Baker Architects, and University of Virginia. "University of Virginia Pavilion III Historic Structure Report." 2006. Accessed March 23, 2017. http://www.officearchitect.Virginia.edu/pdfs/PavilionIII_HistoricStructureReport.pdf.

"U.Va. Web Map: Pavilion III." The University of Virginia. Accessed March 23, 2017. http://www.Virginia.edu/webmap/popPages/pavilion3.html.

Pavilion III; image via Flickr Creative Commons - Mr.TinDC, http://www.flickr.com/photos/mr_t_in_dc/2690418783.

Pavilion III Corinthian Capitals; image by Timothy Jarrett - originally posted to Flickr as Pavilion III capitals and upper level, CC BY-SA 2.0, https://commons.wikimedia.org/w/index.php?curid=4012669.

Drawing of Pavilion III; image courtesy of Leslie S. Claytor - http://memory.loc.gov/pnp/habshaer/va/va1300/va1382/sheet/00005r.tifLibrary of Congress, Prints & Photographs Online Catalog:HABS VA,2-CHAR,1D-, Public Domain, https://commons.wikimedia.org/w/index.php?curid=9948276.

Additional Information