New Bern World War I Memorial
Introduction
Dedicated during World War II, this stone obelisk includes the names of Craven County men who were killed in the first World War. The names of Craven County who were killed in World War II were added to the monument. In 2019, the monument was rededicated with more names added, including seven African American soldiers who had not been previously included.
Images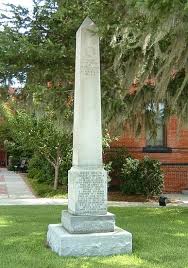 Backstory and Context
North Carolina played a significant role in America's involvement in World War I, with over 80,000 North Carolina men serving in the armed forces. Around 600 North Carolinians were killed and 3,600 were seriously wounded. North Carolina also served as the home to three military bases and a naval base in the duration of the war, including Camp Bragg.
Camp Bragg was constructed outside Fayetteville, and named in honor of Confederate general and North Carolina native, Braxton Bragg. Camp Bragg was initially built as an artillery training camp, but also included infantry training and an airfield. Following the war, Camp Bragg was one of the few training camps that remained in operation partly owing to the efforts of General Albert Bowley. Bowley made a strong case to the War Department that Camp Bragg was unique because it could support experimental weapons. The camp was renamed Fort Bragg and became a permanent military installation and grew to become one of the world's largest military bases.
Sources
Shaeffer, Matthew. "Fort Bragg." North Carolina History Project. N.p., n.d. Web. 08 Feb. 
2017.
Marshall III, R. Jackson. "North Carolina in WWI: An Introduction." North Carolina in WWI: An Introduction | NCpedia. N.p., n.d. Web. 26 Feb. 2017. <http://www.ncpedia.org/nc-wwi>.
Additional Information