El Campo Cemetery
Introduction
El Campo Santo is the oldest cemetery in San Diego, with graves dating back to the 1850s. It is a simple cemetery, with most marked graves identified only by a wooden cross or pile of stones. Located on the outskirts of Old Town, the cemetery fell victim to San Diego's expansion and because of that, some of the 477 bodies interred in El Campo Santo are actually underneath San Diego Avenue.
Images
One of the bronze plaques at El Campo Santo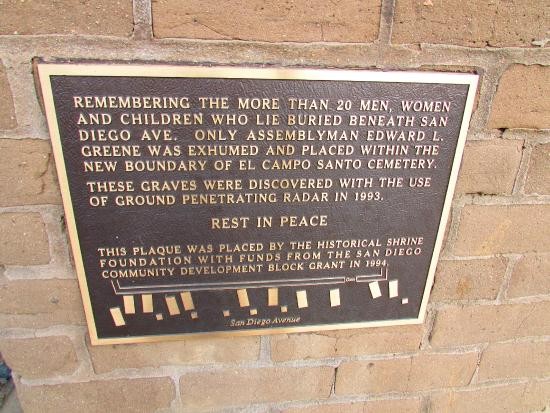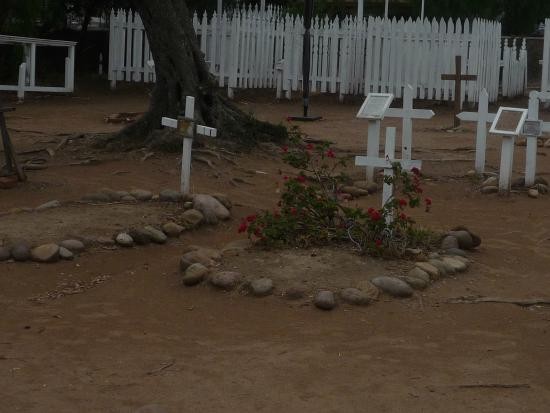 Backstory and Context
El Campo Santo ("the sacred ground") is one of the oldest cemeteries in southern California. The cemetery began as the private family plot of the pioneering Workman family. The Catholic cemetery is the burial site of numerous prominent (and in some cases, notorious) early residents of San Diego. Among the more colorful residents of El Campo Santo is "Yankee Jim," who stole the only rowboat in San Diego and hanged for his crime. Pío Pico, the last governor of Mexican California, is also buried there. Among those interred in El Campo Santo are early settlers, native Americans, gold miners,and actors; the burial ground is a cross-section of mid-nineteenth century California society.

By the late 1800s, the cemetery was a casualty of San Diego's expansion. In 1889, a streetcar line was built directly through the cemetery, bisecting the plot. The brick chapel built by the Workman family was destroyed in a fire. In 1917, Walter Temple, a grandson of the Workmans, sued to prevent further destruction to the cemetery, and had a new mausoleum built to replace the family chapel lost to fire.

More damage was to come, however. In 1942, parts of the cemetery were paved over in the construction of San Diego Avenue. The number of graves which have been paved over is unknown, although some have been identified through the use of ground-penetrating radar. A bronze plaque on the cemetery wall acknowledges that graves were lost to city expansion, and along the sidewalk, there are occasional bronze circles stating simply, "Grave Site."

Perhaps understandably, El Campo Santo is reported to be the site of paranormal activity, particularly on San Diego Avenue. Over the years, people who parked on the street (and unwittingly on someone's grave) have reported cars that won't start and horns blaring for no reason. There have also been sightings of the spirit of a young woman just outside the cemetery gates.

El Campo Santo was added to the National Register of Historic Places in November of 1974.


Sources
Meares, Hadley. Family Plots: El Campo Santo Cemetery at the Workman-Temple Homestead.