William B. Wilson Historical Marker
Introduction
This plaque commemorates the life of Scottish immigrant William Bauchop Wilson, a Congressman and the first Secretary of Labor. Wilson began his career as a coal miner and labor union organizer before entering politics. He served three terms in Congress prior to his appointment by President Woodrow Wilson to the new Cabinet'level position of Secretary of Labor in 1913.
Images
This historical marker is located on a large rock outside the Wilson B Wilson Post of the American Legion.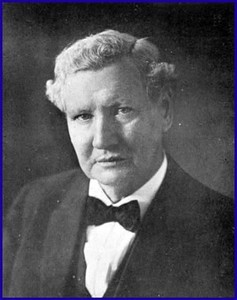 Backstory and Context
Wilson's father Adam came to America and found work in the local mines of Tioga County. After saving his wages, he was able to send funds back to Scotland so that his wife Helen and their children could join him in Tioga County. William worked as a miner for seven years and became active as a union organizer. Wilson attracted the attention of union organizers and national activists such as Mother Jones when he rejected bribes from the mine operators. Wilson rose to a position of leadership in the United Mine Workers of America and attracted national attention for his leadership in the Pennsylvania Coal Strike of 1902. Four years later, he defeated the incumbent Republican member of Congress from his district, millionaire lumber operator Elias Deemer.

Wilson served three terms in Congress before being appointed by President Woodrow Wilson to lead the newly-formed cabinet-level position of Secretary of Labor. Wilson served as Secretary of Labor from 1913-1921, a period when there were numerous conflicts between coal operators and coal miners in places such as Pennsylvania and West Virginia. Wilson ran for Senate in 1926 but was defeated. He continued to work as an arbitrator between labor and management, most significantly by negotiating with coal operators in Illinois in the late 1920s. He was aboard a train when he suddenly perished in 1934.
Sources
Tice, Joyce. William B. Wilson of Blossburg, First Secretary of Labor. Tri-Counties Genealogy & History. Accessed March 18, 2017. http://www.joycetice.com/articles/wmbwilson.htm.

William Bauchop Wilson First U.S. Secretary of Labor. City of Blossburg. Accessed March 17, 2018. http://www.blossburg.org/wb_wilson/thestory.htm.