Morrill Hall, 1900-2012
Introduction
Morrill Hall was completed in 1900 and expanded to become the largest building on the campus of the Michigan Agriculture College (today Michigan State University) for many years. The structure was well-maintained through the years, but in 2010, the Board of Trustees approved a plan to demolish the aging building and replace it with a modern facility. Following the 2012 demolition of Morrill Hall, a new Morrill Hall was built in the fall of 2013. Like its predecessor, Morrill Hall is named in honor of Congressman Justin Morrill who sponsored the 1862 Morrill Act. This law, which was signed into law by Abraham Lincoln, set aside public lands to support the creation and endowment of public universities. One of the most significant laws related to public universities in American history, the Morrill Act established to practice of creating land-grant universities. With the financial support made possible by the Morrill Act, universities such as this one were able to expand their mission beyond agriculture and mechanical training throughout the late 19th and early 20th century. To honor of Congressman Justin Morrill who proposed the law, Michigan State University's trustees renamed Agricultural Hall the Morrill Hall of Agriculture in 2013.
Images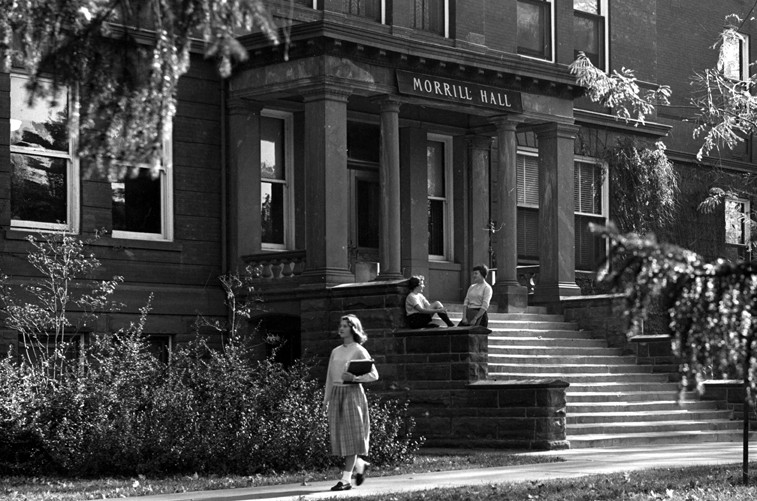 Backstory and Context
The college was founded in 1855 and the first classes were held in 1857 with 63 students. Today, MSU offers more than 200 programs of study on a campus that includes 545 buildings. The first institution of higher learning in the U.S. to teach scientific agriculture, the university now conducts research related to natural resources and farming on 19,600 acres throughout Michigan. MSU's notable research in this field led to the process of milk homogenization and the development of the anticancer drug cisplatin.




Sources
Michigan State University website, accessed March 15, 2017. https://msu.edu/


Additional Information