J.C. Penny/Chicago Store
Introduction
This building, though as of early 2017 is unoccupied, is significant for its architecture and association with two important businesses in Tucson: J.C. Penny and the Chicago Store, which sells musical instruments and related merchandise. The Chicago Store moved to another, smaller location just one block south in early 2016. In terms of architecture, the building is an excellent example of Italianate design. It was added to the National Register of Historic Places in 2003. Currently, a new developer is devising plans to convert the building so that it can house multiple commercial tenants.
Images
The former Chicago Store building as it appeared in recent years. The store moved to a smaller location one block south. (Wikimedia Commons)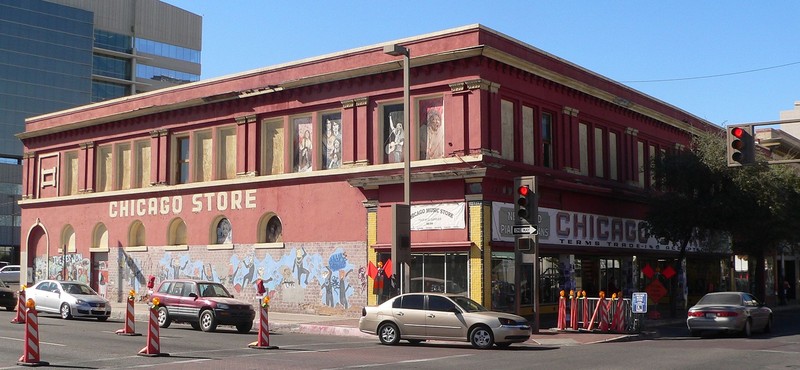 Backstory and Context
The building was constructed in 1903 by a businessman who opened a furniture store here. In 1927, J.C. Penny moved in and remained here until it constructed a new building in 1957. Ten years later, the Chicago Store bought it and remained here until 2015. Interestingly, the Chicago Store began in 1930 as a general store. This began to change after one of the buyers, Phil Levkowitz, started to play in the Tucson High School Band. The store began selling musical instruments and gradually this took over the purpose of the store. The building's current owners offered the owners of the Chicago Store a good deal and they agreed to it. The timing was fortunate because the building was too big for their needs and needed to be renovated.
Sources
1. Gabriela Rico. "Chicago Store selling its iconic downtown space." Arizona Daily Star. Nov 7, 2015. Accessed March 13, 2017.
http://tucson.com/business/local/chicago-store-selling-its-iconic-downtown-space/article_d5c6bc6e-f0...
2. Karen Schutte. "Chicago Music Store Downtown Tucson Changes Hands for $1.85 Million." Real Estate Daily. March 18, 2016. Accessed March 13, 2017.
https://realestatedaily-news.com/chicago-music-store-downtown-tucson-changes-hands-1-85-million
3. Laura Horley. "What's in Store: Chicago Music Store - For a nearly 100-year-old business, intimacy is key to thriving at Chicago Music Store." Tucson Weekly. May 19, 2016. Accessed March 13, 2017.
http://www.tucsonweekly.com/tucson/whats-in-store-chicago-music-store/Content?oid=6225519
4. Melissa Rees & Goran Radovanovich. "J.C. Penny/Chicago Store." National Park Service - National Register of Historic Places Nomination Form. September 12, 2003. Accessed March 13, 2017.
https://npgallery.nps.gov/GetAsset/e754cada-0d5c-4711-aa66-461448ce1f65
5. "Our History." Chicago Music Store. Accessed March 13, 2017. Accessed March 13, 2017.http://www.chicagomusicstore.com/about


Additional Information