Market Square Arena and Elvis's Last Concert
Introduction
Though it was demolished in 2001, Market Sqare Arena was a vital part of Indianapolis for much of the second half of the twentieth century. Built in the early 1970s to be the home of the Indiana Pacers, the stadium hosted numerous concerts and other events over the years, including the last appearance of Elvis Presley before his death in 1977.
Images
Marker commemorating the last concert of Elvis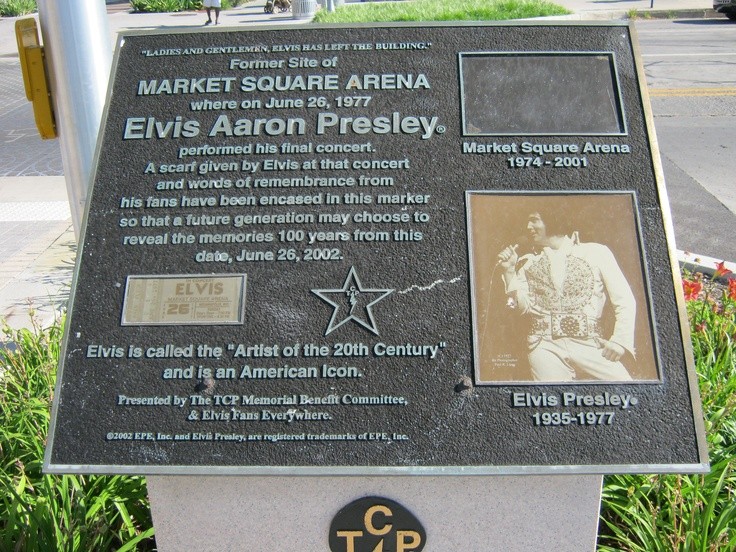 Market Square Arena in the 1980s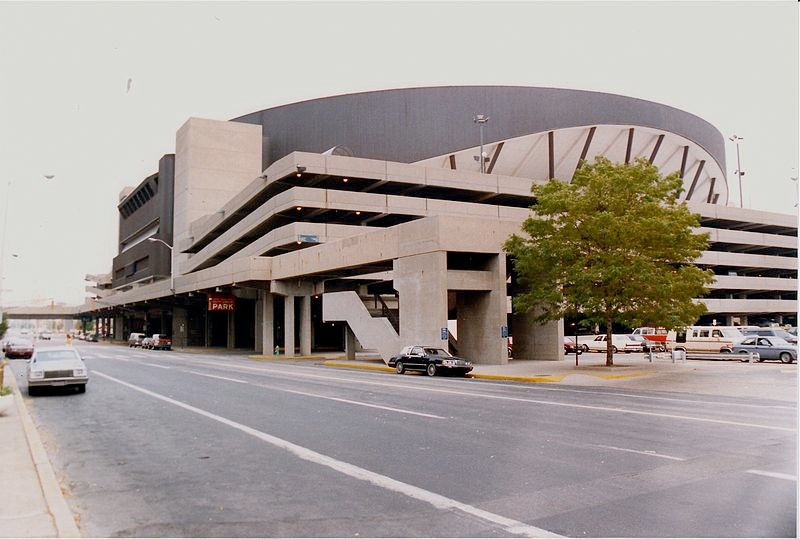 Elvis on stage for his last concert at Market Square Arena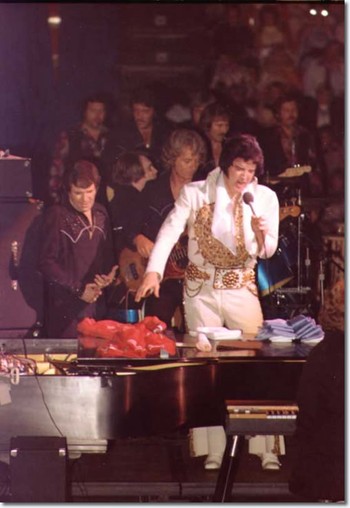 Backstory and Context
Basketball has a long history in the Hoosier State, but for the first few years of the Pacers' existence, the team was forced to play in the Indiana State Fairgrounds Coliseum. By the early 1970s, however, a new arena for the Pacers seemed unlikely; downtown Indianapolis was suffering the same kind of suburban flight that afflicted many cities. Building a downtown arena would involve buying acres of land and demolishing buildings, which came with a hefty price tag that the young franchise couldn't afford.

To get around the land problem, a creative solution was found. Two fourth-year design students in the Ball State University College of Architecture and Planning came up with an ingenious design which involved constructing two parking garages on both the north and south side of Market Street. The arena was constructed above the parking garages with Market Street running underneath. Groundbreaking took place in 1970 and the arena's first event, a Glen Campbell concert, was held in September of 1974.

Over the years, Market Square Arena was the site of many events, such as circuses and rodeos, and concerts, including KISS, Cheap Trick, Frank Sinatra, and Eric Clapton. Arguably the venue's most historically significant concert took place on June 26, 1977, when Elvis made what would be his last appearance in the arena. Though the local press was mixed in its assessment of his performance, the crowd of 15,000 fans was enthusiastic in their appreciation of the King. After the Indianapolis performance, Elvis took a break from touring, and six weeks later, he died at his home in Memphis.

The Pacers eventually moved to the Conseco Fieldhouse in the 1999-2000 season, and with the costs of maintaining Market Square Arena growing (including $1 million a year simply to heat the building), the city made the decision the demolish the arena. In a controlled demolition that took just twelve seconds, Market Square Arena was brought to the ground on July 8, 2001.


Sources
Bodenhamer, David. The Encyclopedia of Indianapolis. pg. 744.
Additional Information