The Old Wine Shop
Introduction
"The Old Wine Shop" building was built in 1861 by Peter Kunz, a German immigrant. Kunz and his family sold dry goods in the store until 1913 when a flood prompted its closure. The building was then used for a variety of businesses, such as a bakery and a used furniture store before it became a wine shop in 1946. The Wine Shop closed in 2012. The historic building has sat dormant ever since.
Images
Peter Kunz, German immigrant who moved to Washington County.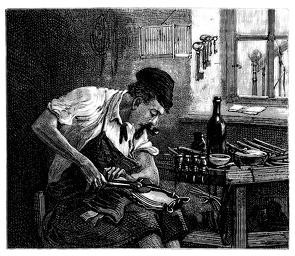 Backstory and Context
Peter Kunz came to the United States from Bavaria at age eighteen. In Lowell, Ohio he opened a cobbler shop and later was a farmer near Bonn, a community laid out in 1835 by early German settlers. He married Mary Zumbro of Fearing Township and had a family. From there, the Kunz family moved to Marietta in 1858 where Kunz bought the Richards General Store on Greene Street. Unfortunately, an 1859 fire took the store and other buildings down. This did not deter Mr. Kunz; he obtained a lot at 50 Front Street. Afterward, he erected the two-story brick building which stands today.

Kunz's store was listed as selling dry goods. His sons assisted him in the business when they were available. His son Frank was a partner from 1880 to 1885 when his father retired. Peter Kunz, Jr. had worked in his father's mercantile business from the time he was a boy until 1881. He later decided to have his own dry goods store on Front Street. Upon his father's retirement, Peter Kunz Jr. closed his own store and took over the business at 162 Front Street. The store was established with a complete line of fancy and domestic goods. This included cloaks, furs, and dress goods of domestic and foreign origin. Advertisements for the store were included in the newspaper, and the Polk Directory suggested that their business was very successful. Eventually, Kunz's son, C. Frederick Kunz, took the store over from his father. After a terrible flood in 1913, Frederick closed the store and joined the Turner-Ebinger firm. This was an expanding dry goods store that was located across the street.

Between 1914 and the 1940s, the building served as a dry goods store, a saloon, a bakery, a dinnerware company, a meat market, and used furniture stores. In 1946, the ninety-year-old building became the Wine Shop. Campbell J. Mike and Eugene Chidester started the business, complete with home delivery. Mike continued to run the business for over 25 years and rented out the second floor.

After Mike's departure, Benjamin and Catherine Bain purchased the property in 1976. Mrs. Bain was listed as the president of the Wine Shop. Wines, beer, champagnes, sherries, and other beverages from around the world were available to customers. To gain customers, Bain offered an empty six-pack container for customers to fill with a variety of beers instead of all the same kind. The shop also included many gourmet food items and coffees. Due to illness, Mrs. Bain had to leave the store; her daughter, Babette Bole, gained ownership in 2004 and operated it until 2012. The building has been vacant ever since. The city of Marietta had concerns about the decaying condition of the one hundred and fifty-year-old building. Today, the preservation of the historic building is in jeopardy as time wears away the mortar of the brinks and stability of the walls.



Sources
Adams, Jann. An Endangered Downtown Gem. Hidden Marietta. February 18, 2017. Accessed March 13, 2017. http://www.hiddenmarietta.com/single-post/2017/02/18/An-Endangered-Downtown-Gem.


Additional Information