The Rainier Club
Introduction
This historic building has been home to the Rainier Club since 1904 and has hosted social events that include numerous presidents, captains of industry, diplomats, and world leaders among its guests and members. Established in 1888, the Rainier Club first held its meetings in the mansion of one of its members and a room at the Seattle Theater. The club is named in honor of Peter Rainier, an 18th century British naval officer.
Images
The Rainier club remains one of the most elegant and exclusive spaces in Seattle. Through its historic fund, members work to preserve the building which continues to host economic, political, and social functions.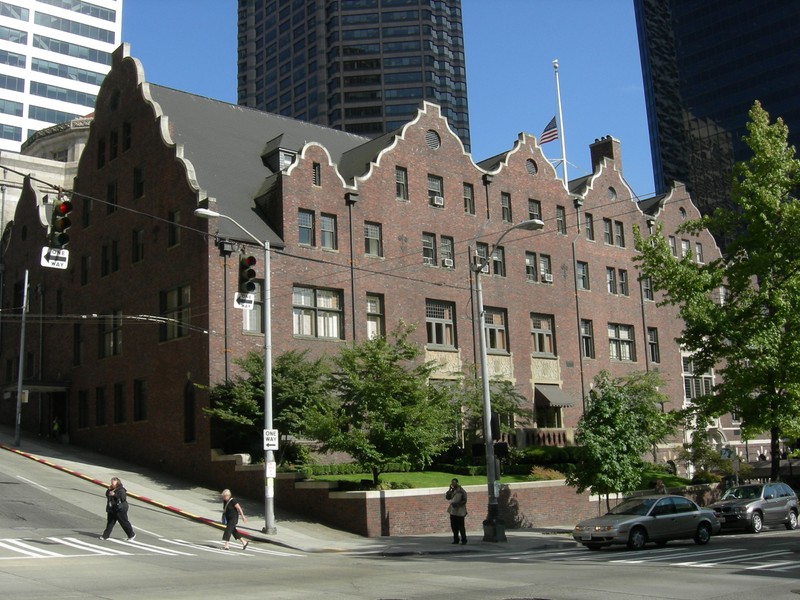 Backstory and Context
The Rainier Club is the headquarters for Seattle's largest and oldest private club. Six leading men in Washington territory established the club in 1888. The following year, Washington achieved statehood. Named after British Admiral Peter Rainier, the club has been host to Presidents and visiting dignitaries.

The cost of acquiring two lots at the southeast corner of Fourth Avenue and Marion Street was $25,000 and the construction costs amounted to $75,000 -- a significant sum in the first decade of the 20th century. The building opened in 1904. The Club's finances mirrored the challenges of the Great Depression, but the leadership of manager Eddie Carlson helped the club survive. Garlson later went on to lead Westin Hotels, managed Seattle's 1962 World's Fair, and served as an executive for United Airlines.
Members of the Rainier Club include the financial elite of Seattle. The club has hosted many famous guests, including Mark Twain, John Philip Sousa, Buffalo Bill Cody, President Taft, General MacArthur, Babe Ruth. The club hosted many diplomatic and trade meetings and was the site of several early 20th century conferences between Japanese trade delegations and leaders of the United States. The Ranier Club admitted only white members until 1966, when Japanese-American Saburo Nishimuro joined the club. There were no African American members for another dozen years and the club was closed to women until the 1980s. .
The club has served as a Pacific Coast guest house for Presidents and their staff. For example, Gifford Pinchot, who served in the Teddy Roosevelt administration, stayed at the Rainier Club during a trip that led to the formation of the United States Forest Service and later the creation of the Mount Rainier National Park. A decade later, Teddy Roosevelt arrived at Ranier Club before visiting the newly-created federal park. In 1993, President Bill Clinton hosted the first two U.S.-based Asian Pacific Economic Cooperation (APEC) meetings with Japan and China at the club.
Sources
Crowley, Walt. T
he Rainier Club, 1888-1988.
Seattle: The Rainier Club, 1988.
McDonald, Norbert. "The Business Leaders of Seattle, 1880-1910."
The Pacific Northwest Quarterly,
50. no. 1. (1959): 1-13.
"Nomination Form," National Register of Historic Places, National Park Service, Department of Interior. https://npgallery.nps.gov/GetAsset?assetID=c14dae52-b9f7-4b27-a9c3-5b44b4cde507



Additional Information