Rapp Road Historic District
Introduction
Albany's Rapp Road Historic District commemorates the former neighborhood that was established by African Americans in the 1920s who were part of the larger 20th-century movement from the South known as the Great Migration. From 1915 to the 1920s, over five million African Americans moved from the South to Northern and Western cities. In 1927, Reverend Louis W. Parson moved from Shubuta, Mississippi to Albany, New York. Many of his parishioners followed, seeking to escape Shubuta's lack of educational opportunities, poor job prospects, and pervasive racial discrimination. Reverend Parson returned to Mississippi multiple times to help interested parties move North. Newcomers from Mississippi were generally accustomed to a rural lifestyle. Seeking alternatives to cramped city life, they settled along Rapp Road, in Albany's Pine Bush, which was then very lightly inhabited and offered more land. Many of the shotgun-style houses along Rapp Rd. were built in the 1940s-60s as more people joined the community. Decades later, several of the original families and their descendants still live on Rapp Road. In 2002, the area was recognized as a New York State Historic District, and in 2003, as a National Historic District. The Rapp Road Historical Association (RRHA) formed in 2006 to foster greater knowledge of the area and to preserve significant historic documents and artifacts--as well as the community itself and its way of life. While most historic districts include major landmarks, most of the original structures that were built in the 1920s were removed when the Washington Ave Extension was created in order to facilitate the creation of a shopping center and urban landfill. The home at 59 Rapp Rad was built by Reverend William Wilborn who led the community at mid-century. Similar to many residents, the church that had been established by residents moved from Rapp Road to the downtown area shortly after World War II. That church is named Wilborn Temple First Church of God in Christ in honor of William Wilborn who lived at this home.
Images
House on Rapp Road (Preservation League of New York State)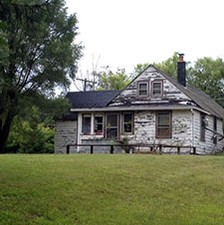 Backstory and Context
19th and 20th-century Shubuta, Mississippi was a difficult place to live for its Black residents. A sharecropping system was established soon after the Civil War, subjugating most Black people, as well as some poor whites, to wealthy white landowners. Shubuta (along with the rest of the South) instituted Jim Crow laws enforcing racial segregation. Quality education was largely reserved for upper-class white students; in 1900, the majority of Shubuta was illiterate. Most notoriously, Shubuta was home to the "Hanging Bridge," which acquired its name from the lynchings that took place at the bridge during the 20th century.

Reverend Louis Parson and his wife made their move north to Albany, New York in 1927. Parson established the First Church of God in Christ in Albany (now called the Wilborn Temple), and many of his parishioners followed him north. At first, migrants from Shubuta, Mississippi settled in Albany's South End, but most disliked the area and preferred to live somewhere with more space that allowed for hunting and farming. Rapp Road, in Albany's Pine Bush, provided the solution. Parson purchased 14 acres of land in the area. Community members saved up to buy some of the land for themselves, and neighbors cooperated to build houses.

Working together, the Rapp Road residents built a countryside community in Albany. Beverly Bardequez, President of the Rapp Road Historical Association (RRHA) explains, "The thing I love most about my ancestors here on Rapp Road, they worked together. There was a sense of community here. Their blood, sweat and tears is in the soil" (quoted in O'Brien). At an event co-organized by the RRHA in 2016, Rapp Road resident Dr. F. Maxine Fantroy-Ford reflected on growing up in the area: "Some people called it the country…sometimes there would be a pig or two in the road" (quoted in Lembo-Stolba).

Due to the construction of Washington Avenue Extension in the 1970s, and other developments, the Rapp Road community has become smaller, though 12 families still remain. In the words of Pastor Richard Parson, nephew of Louis Parson, "We want to keep the story alive…and recognize our forefathers and where they brought us from" (quoted in Lembo-Stolba).



Sources
"Great Migration: The African-American Exodus North." NPR. September 13, 2010. Accessed March 09, 2017. http://www.npr.org/templates/story/story.php?storyId=129827444.

Lemak, Jennifer. Southern Life, Northern City: The History of Albany's Rapp Road Community. Albany, NY: State University of New York Press, 2008.

Lembo-Stolba, Stefan. "Albany gathers to celebrate historic Rapp Road." March 27, 2016. Accessed March 09, 2017. https://stefanlembostolba.com/2016/03/27/albany-gathers-to-celebrate-historic-rapp-road/.

O'Brien, Tim. "Albany's historic Rapp Road neighborhood has roots in southern migration." Times Union, August 15, 2015. http://www.timesunion.com/local/article/Albany-s-historic-Rapp-Road-neighborhood-has-6446807.php.

"The Promised Land: From Shubuta to the South End to Rapp Road." New York State Museum. February 03, 2000. Accessed March 09, 2017. http://exhibitions.nysm.nysed.gov//albany/pgms/plpgm2000.html.

"Rapp Road." New York State Museum. Accessed March 09, 2017. http://exhibitions.nysm.nysed.gov//albany/loc/rapproad.html.

"Rapp Road Community." Albany Institute of History and Art. Accessed March 10, 2017. http://www.albanyinstitute.org/rapp-road-community.html.

"Seven to Save: 2016-17." Preservation League of New York State. Accessed March 09, 2017. http://www.preservenys.org/seven-to-save---2016-17.html.

Wilkerson, Isabel. The Warmth of Other Suns: The Epic Story of America's Great Migration. New York: Random House, 2010.

Yates, Gayle Graham. Life and Death in a Small Southern Town: Memories of Shubuta, Mississippi. Baton Rouge: Louisiana State University, 2004.


Additional Information