World's Largest Chime Foot Piano
Introduction
Located in P&G Go VibrantScape, an outdoor park located between Great American Ballpark and Paul Brown Stadium, is the world's largest chime foot piano. It was installed in 2015 and features a large set of chimes above a foot piano on the ground. People can step on the keys to ring the chimes. The chimes and piano were created by the Verdin Company, a company headquartered in Cincinnati that makes chimes, bells, street clocks, tower clocks, and carillons. The company was founded in 1842 and its first factory was located where Great American Ballpark now stands. The company has sent its products to over, 50,000 places around the world. The chimes can play pre-recorded music and ring on the hour. The attraction operates between 10am-11 and is closed during the winter.
Images
The World's Largest Chime Foot Piano was built by the Verdin Company in 2015.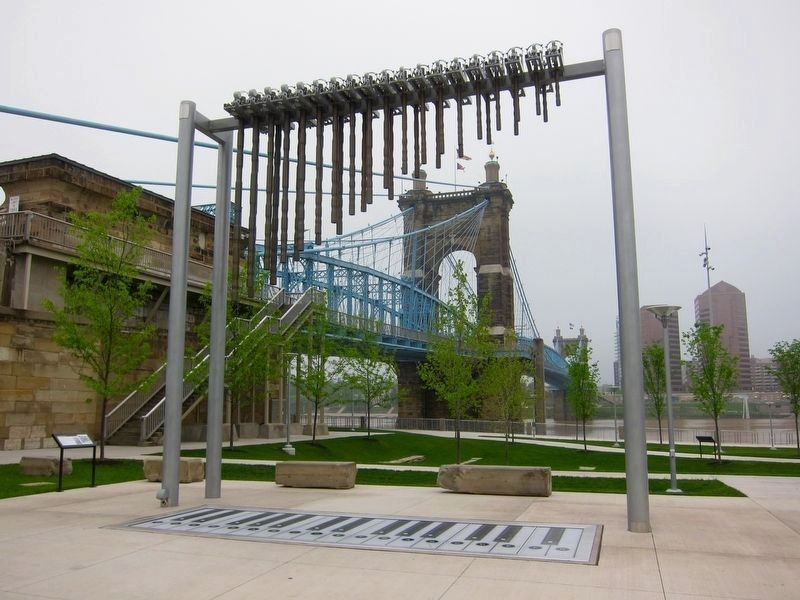 Backstory and Context
While the Verdin Company built the attraction, the chimes themselves actually come from a church built in 1946 in Pennsylvania. A member of the company, Jim Verdin, saved them from destruction when the church was going to be demolished. They were made by the Deagan Chime Company in Chicago, which the Verdin Company bought in 1973.
Sources
Carrie Blackmore Smith. "Foot piano, flying pig open at riverfront Thursday." Cincinnati.com. May 29, 2015.

"Our Family History." The Verdin Company. Accessed March 6, 2017.
http://www.verdin.com/about/history.php.

"World's Largest Chime Foot Piano." The Historical Marker Database. March 6, 2017. http://www.hmdb.org/marker.asp?marker=98037.

Photo: Andrew Ruppenstein, via The Historical Marker Database.