Bull's Bridge
Introduction
Bull's Bridge is a wooden covered bridge built in the 19th century. It crosses the Housatonic River and is one of only three surviving covered bridges in Connecticut. An earlier version of the bridge was in use at this location as early as the 18th century. According to legend, George Washington himself crossed the Housatonic on it.
Images
Bull's Bridge (source: R. Leverette, full citation below)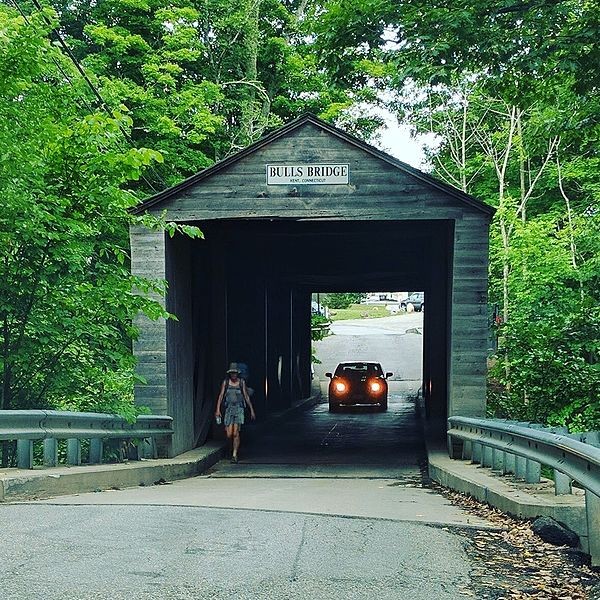 Backstory and Context
Other covered bridges in Connecticut include:
- West Cornwall bridge: located farther north on the Housatonic River. This bridge is well-maintained and still in use.
- Old Cornstock Bridge: over the Salmon River in between Colchester and East Hamton, no longer used.

At one time, covered bridges such as these were commonplace in New England, though many have been destroyed by neglect, demolition, or flooding. Susan Babbitt sums up the bridge's significance in its nomination to the National Register of Historic Places:

The structure represents a stage or period in both transportation history and civil engineering, physical remains of which are not common and are correspondingly important. It shows the ingenuity of earlier times in resolving, with wood as the medium, problems of road travel that today would be entrusted to steel and concrete. The mere fact of survival, in constant use and under increasingly heavier loads, of an essentially perishable material and of the soundly designed structure which it composes, is in itself a fact of no mean significance. (Quoted on p. 3 of the PDF).


Sources
Babbitt, Susan. "National Register of Historic Places Inventory--Nomination Form: Bull's Bridge." U.S. Dept. of the Interior, National Park Service. January 20, 1972. Accessed March 05, 2017. https://npgallery.nps.gov/pdfhost/docs/NRHP/Text/72001314.pdf.

Photo credit: R. Leverette, accessed 4 March 2017:
https://commons.wikimedia.org/wiki/File:Bulls_Bridge_-_Kent,_CT.jpg.



Additional Information