James Alldis House
Introduction
Built in 1895, this Queen Anne style house still retains many of its original features. Its tower, asymmetrical layout, and ornamental details exemplify Queen Anne architecture. The property also includes a carriage house. This building was the home of James Alldis, who is best-remembered for his role in the Excelsior Needle Company, which originated in Torrington in 1866 and became the city's most significant industry. A few years after its formation, Alldis was appointed superintendent of the company until his retirement in 1899. Today, the building houses law offices and an apartment.
Images
James Alldis House, photographed by David Ransom (full citation below)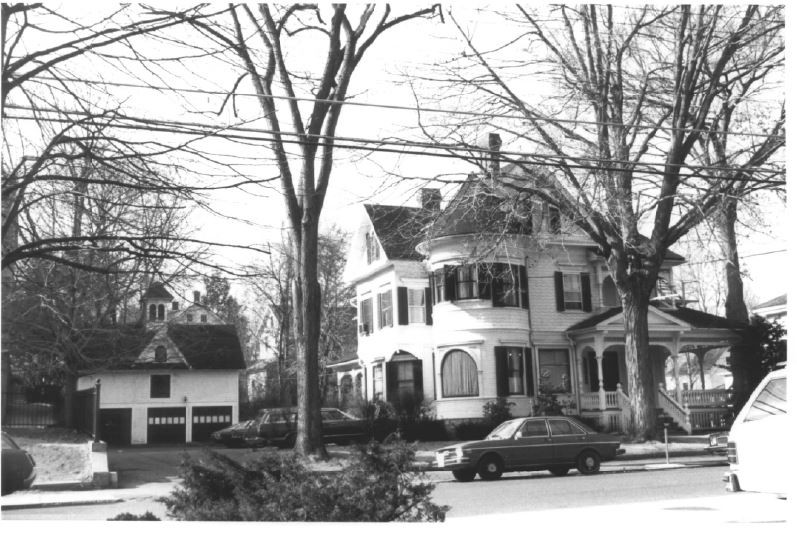 Inside the house, view of the fireplace, photographed by David Ransom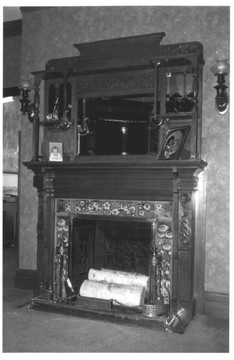 Backstory and Context
Characteristics of Queen Anne style include:
- irregularity/asymmetry of the building plan
- use of multiple textures
- wraparound porch
- tower or turret
- formal entrance hall
- ornamentation such as spindlework, fish scale siding, half timbering, etc.

This particular building is an excellent example of the architectural style. It includes a round tower on one corner, a wraparound porch, an asymmetrical plan, and typical decorative elements, such as the contrasting patterns and textures on the exterior of the walls. It has maintained its original hard wood floors, lighting fixtures, and hardware on its doors and windows.

James Alldis was born in England in 1839 and came to the United States at age 14. By age 19, he was working for the Meriden Needle Company in Cheshire, Connecticut. Excelsior Needle Company was founded in Torrington in 1866, with George Isbell as superintendent. Isbell soon retired, and Alldis took on the job. He remained with Excelsior for the next three decades, retiring in 1899. The Excelsior Company first produced sewing machine needles, and then added knitting machine needs, hook needles, spokes, and other items to its product line. The company name was eventually changed to the Torrington Company.

Alldis began work on his house toward the end of his career with Excelsior. It stands in a prime location, close to downtown, and was very fashionable in its day.


Sources
"Queen Anne Style--1876-1915." Antique Home Style. Accessed March 02, 2017. http://www.antiquehomestyle.com/styles/queen-anne.htm.

Ransom, David. "James Alldis House (photo gallery)." National Park Service. Accessed March 02, 2017. https://npgallery.nps.gov/pdfhost/docs/NRHP/Photos/82004480.pdf.

Ransom, David. "National Register of Historic Places Inventory--Nomination Form: James Alldis House." U.S. Dept. of the Interior. March 30, 1980. Accessed March 02, 2017. https://npgallery.nps.gov/pdfhost/docs/NRHP/Text/82004480.pdf.



Additional Information