1882 flouring mill
Introduction
Cheney's first flour mill opened in 1882, run by James and George Cumin. It was known as Cheney Flouring Mill, Cheney Roller Mill, and Cumin Bros. Mill. The mill operated until 1900 when the Cumin brothers moved their business to Paha. Cheney was without a mill until Frank M. Martin opened his east of the railroad depot in 1907.
Images
The four-story building, 36 by 48 feet with an attached 22 by 28 foot boiler and engine house.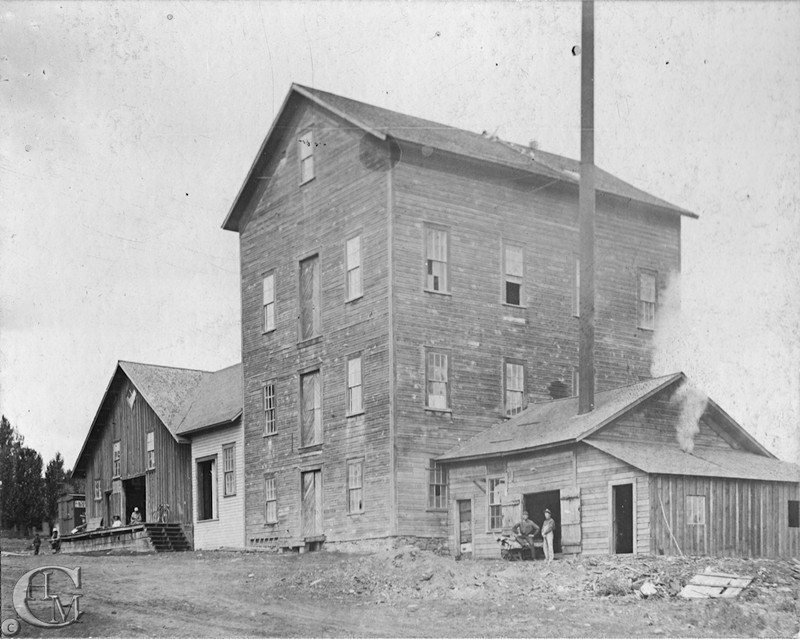 Mill business card from the 1890 City Hall time capsule.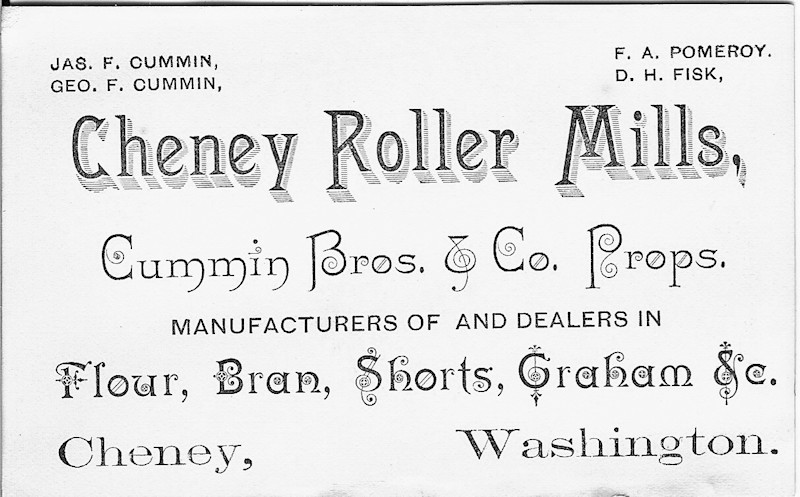 Backstory and Context
The Cheney flouring mill was under construction through the summer of 1881. The Northwest Tribune newspaper optimistically predicted it would be completed by the time the year's crop was harvested.
The mill was a four-story building, 36 by 48 feet with an attached 22 by 28 foot boiler and engine house. The grinding wheel was run by steam power using wood to run the boiler.
Construction and gearing up took a bit longer than the newspaper predicted, but by February 1882 the Cheney Flouring Mill was in operation. The newspaper pronounced its flour "A1 quality. It is believed Cheney, Washington Territory brand of flour will soon have widespread reputation for its excellency." Owners of the mill, which was officially named Cheney Roller Mills; Cumin Bros & Company were James F. Cumin, George F. Cumin, Dr. Francis A. Pomeroy, and D.H. Fisk.
In 1884, G.E. Cole took over as proprietor, but the following year, the paper reported that "George E. Cole has given up the Cheney Flouring Mills. It is rumored that the business will soon change hands."
Back in the hands of the Cumin brothers, the mill was running at full speed and was crowded with orders by 1887 producing Silver Leaf flour. "Cheney Roller Mills. Cummin Bros. & Co. Prop. Flour, bran, shorts, graham, etc. Our Silver Leaf flour, the pride of WA" was an advertisement in 1890. In 1894 the mill was producing up to 80 barrels of flour a day.
In 1900, the Cumin brothers moved their operation to Paha, leaving Cheney without a flour mill, though there were flour mills at Marshall, Plaza, and Chapman Lake. On April 7, 1905, fire destroyed the old mill and warehouse owned by Dr. Francis A. Pomeroy. The mill was between the Northern Pacific Railroad depot and the saloons and Creamery on the Cheney Spangle Road.
Sources
Newspapers: Northwest Tribune, The Cheney Sentinel, Cheney Enterprise, and Cheney Free Press.
Additional Information