Danbury Railway Museum
Introduction
Danbury Station was built in 1903 to serve the New York, New Haven & Hartford Railroad. The station complex had a freight house, an engine house, a round house, and a turntable. Alfred Hitchcock's 1951 movie Strangers on a Train was filmed at the station. During the next few decades, however, Danbury Station faced a number of challenges, including a fire in the engine house and the demolition of the freight house. In 1993, Metro-North shut down the station, and in 1994, Danbury Railway Museum was incorporated and opened soon afterward.
Images
Danbury Station, renovations nearly complete, 1995 (source: Danbury Railway Museum)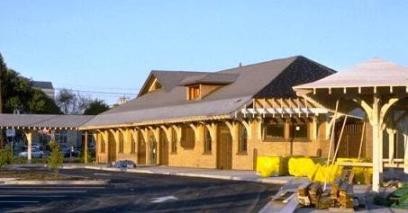 Backstory and Context
Restorations began on the Danbury Station in the 1990s. By 1998, the turntable was restored, and around 2005, it was back in use on weekends. The station and turntable are both listed on the National Register of Historic Places.

By 2006, the Museum possessed more than 60 pieces of equipment, including coaches from the Housatonic Railroad and multiple locomotives. Most pieces originate from New York and New England, with a few coming from Canada. Visitors can enjoy train rides on weekends from April to November.

Danbury Railway Museum is non-profit and operated by volunteer staff.


Sources
"History." Danbury Railway Museum. Accessed February 26, 2017. http://www.danbury.org/drm/history1.htm.

"A History in Photographs." Danbury Railway Museum. Accessed February 26, 2017. http://www.danbury.org/drm/station.htm.

Straus, Roger III, Ed Breslin, and Hugh Van Dusen. America's Great Railroad Stations. New York: Viking Studio, Penguin Group, 2011.

Young, Jan. Great Railroad Museums of the USA. Lulu, 2013. p. 53-54.



Additional Information