Temple B'nai Israel
Introduction
Temple B'nai Israel is one of Oklahoma's oldest Jewish congregations. It was founded in 1903 and it built its first synagogue in 1907. It is a large, vibrant congregation, numbering around 400 families. Temple B'nai Israel adheres to Reform Judaism and as such social justice is a major focus for the congregation. The congregation also features an intercongregational Sunday school, interfaith programs, inclusive Thanksgiving services, Hebrew school, adult programming, and youth programs.
Images
Temple B'nai Israel is one of Oklahoma's oldest Jewish congregations, forming in 1903.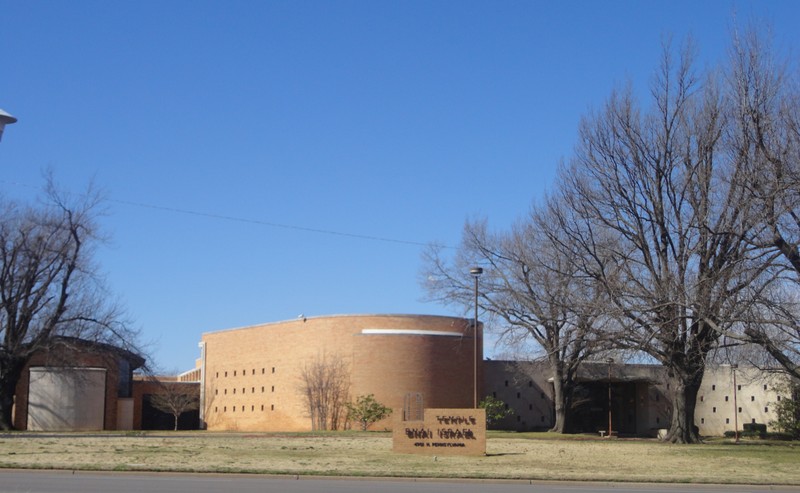 Backstory and Context
Jews began to arrive in what would become Oklahoma City in 1889, the year Oklahoma was officially opened for settlement. Out of a population of 4,000 in August of that year, there were only ten Jewish men. More arrived in the coming decades and by 1925 the Jewish population numbered 160 families. The number of families rose to 250 by 1951. The congregation built the current temple in 1955 and repaired after it was heavily damaged by a tornado in 1970.

Oklahoma City, like other places in the South, has dealt with anti-semitism. In 1910, when Oklahoma City was chosen to be the state capital over Guthrie (the population in Oklahoma City surpassed Guthrie's in the early 1900s), prominent Jews were accused of "stealing" the designation. The Ku Klux Klan was also very active in the South during the first few decades of the 20th century.
Sources
"About Us." Temple B'nai Israel. Accessed February 24, 2017. http://www.thetempleokc.org/index.phpoption=com_content&view=article&id=54&Itemid=260.

Klinger, Jerry. "A Short History of Jewish History in Oklahoma City." San Diego Jewish World. November 21, 2016. http://www.sdjewishworld.com/2016/11/21/a-short-history-of-jewish-oklahoma.

Photo: Houses of Spirit
https://housesofthespirit.wordpress.com/tag/temple-bnai-israel/

Additional Information