Angel Orensanz Foundation
Introduction
Built in 1849, this former Jewish synagogue is the oldest surviving temple in New York City and the fourth oldest surviving in the country. It was built by Congregation Anshe Chesed, which formed in 1825. It ceased to exist in 1874 when it merged with another congregation. The building has been the Angel Orensanz Center, an art studio for its namesake and an art and cultural center for the city, since 1986. Orensanz is a Spanish-born sculptor and painter who arrived and bought the building that year. It had been abandoned since 1974 and was in bad shape after suffering years of vandalism. The center offers space for exhibitions for artists of all types and the building can be rented for events. A museum on the third and fourth floors displaying Orensanz's work is also located here.
Images
The Angel Orensanz Foundation is housed in the fourth oldest synagogue still standing in the country.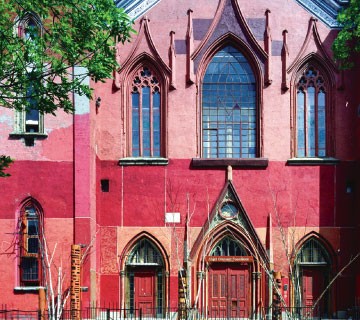 Backstory and Context
The Angel Orensanz Gallery is a contemporary fine art gallery located in New York's Lower East Side. Angel Orensanz Angel Orensanz is a Spanish sculptor and painter. He has lived in New York City since 1986. During one of his first art premieres in NYC, he discovered an abandoned and rundown synagogue. The 1849 Neo-Gothic Jewish Synagogue located on 172 Norfolk Street in the heart of the Lower East Side is a replica of the Sistine Chapel in Rome and the temple of Solomon.
In the mid-19th century, the Lower East Side was home to the German Jewish immigrants immediately after the failure of the socialist revolution of 1848. The newly formed Congregation, Ansche Chesed, hired the German architect Alexander Saeltzer to build a new synagogue. At the time, it was the largest synagogue in the United States holding up to 1,500 worshipers. For a time, the synagogue thrived, but by 1974, the Slonim community had dispersed. The synagogue was abandoned and suffered vandalism.
In 1978, Orensanz renovated this elaborate landmark and created his own foundation that today still carries his name. The Angel Orensanz Foundation is home to displays and presentations for the visual and performing arts. Today, the Foundation acts as both Angel Orensanz's studio and as a center for the arts, serving as a magnificent venue for concerts, weddings, lectures, and community events. The Foundation provides an intimate space to experience Angel's work and an artistic and cultural resource for artists, writers, thinkers, and members of the surrounding community.
Sources
"History." Angel Orensanz Center. Accessed February 23, 2017. http://orensanz.org/history.html.

Kurshan, Virginia. "Anshe Slonim Synagogue (original Anshe Chesed Synagogue), 172–176 Norfolk Street, Borough of Manhattan. Built 1849–1850; architect Alexander Saeltzer; Landmark Site: Tax Map Block 355, Lot 41". Landmarks Preservation Commission. February 10, 1987. http://www.neighborhoodpreservationcenter.org/db/bb_files/87-ANSHE-SLONIM.pdf.

Photos: Angel Orensanz Foundation, and Flikr via Wikimedia Commons
https://en.wikipedia.org/wiki/Angel_Orensanz_Center#/media/File:Angel_Orensanz_Center_004.jpg

Additional Information