Freeform by Richard Hunt
Introduction
Freeform by Richard Hunt is an abstract sculpture that complements the exterior facade of the State of Illinois Building. It was commissioned in 1993 by the State of Illinois's, Capital Development Board. The sculpture is made of stainless steel welded together and the dimensions are, H 26 ft. x W 35 ft. x D 2 ft. It may look small compared to the building but it is actually two and a half stories high and weighs three tons. The title of the sculpture derives from one of Hunt's central ideas about the nature of Abstract Art, it is freely formed.
Images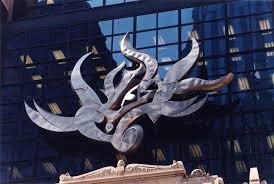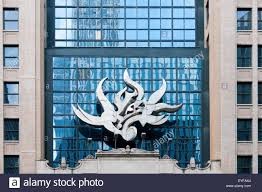 Backstory and Context
"Freeform" is mounted on the window wall of the renovated old State of Illinois Building designed in 1908 by Holibard and Root and restored and renovated by them in 1990. Richard Hunt was born in Chicago in 1935. From the seventh grade on, he attended the Art Institute of Chicago where he received a B.A.E. in 1957. While still a student at SAIC, he began exhibiting his sculpture nationwide and during his Junior year one of his pieces, "Arachne," was purchased by the Museum of Modern Art in New York.

Hunt's career in sculpture began to take him outside the studio with his first large-scale public sculpture commission, "Play" (the first sculpture commissioned by the State of Illinois' Public Art Program). This piece marked the beginning of what Hunt refers to as "his second career," a career that gave him the opportunity to work on a sculpture that responded to the specifics of architectural or other designed spaces and the dynamics of diverse communities and interests. Since that time he has created over one hundred and fifty commissioned works. Many of them are in the Chicago area. Among them are "Jacob's Ladder" at the Carter G. Woodson Library at 9525 S Halsted, "Freeform" on the exterior facade of the State of Illinois Center at 160 N LaSalle, "Flight Forms" at Midway Airport on the corner of 59th and Cicero, and "We Will" at the Heritage building on the corner of Randolph and Garland Court.
Sources
The Chicago Public Art Guide. Accessed February 20, 2017. https://www.cityofchicago.org/content/dam/city/depts/dca/Public%20Art/publicartguide1.pdf.

About. Richard Hunt Sculptor. Accessed February 20, 2017. http://richardhuntstudio.com/?page_id=138.


Additional Information