White Horse Tavern
Introduction
Dubbed the "Nostalgic Temple of The Alcohol Artist" by NY Magazine, the White House Tavern is best known for the night of November 3, 1953 when Welsh poet Dylan Thomas downed 18 shots of whiskey which led to his demise later the next morning. A common hangout spot for literary figureheads in the 1950s, in addition to Thomas, included regulars such as James Baldwin, Anais Nin, Norman Mailer, John Ashbery, Frank O'hara, Allen Ginsberg, Mary Travers, Jack Kerouc, Bob Dylan, and Jim Morrison. Though not quite as popular today, the spot remains an attraction to those who know its origins, and those who do not quickly learn of it upon entering, as portraits of Thomas adorn the walls.
Images
Outside White Horse Tavern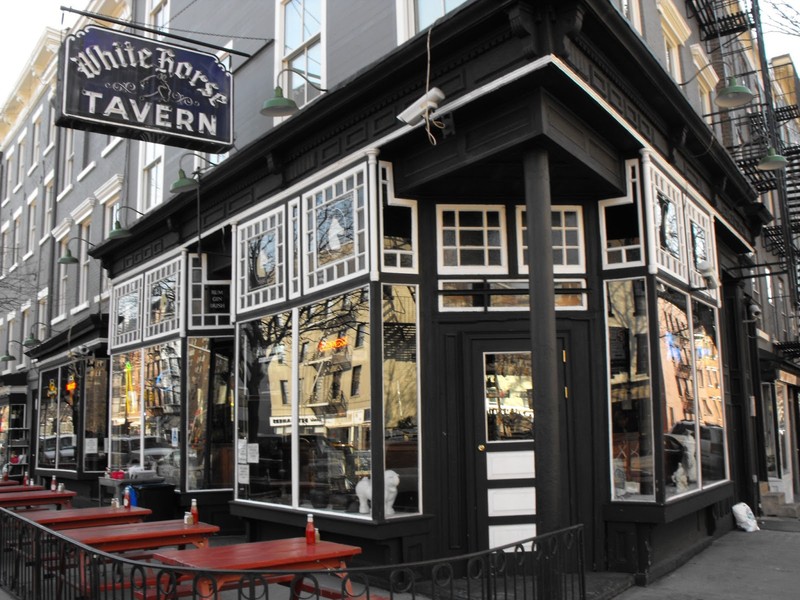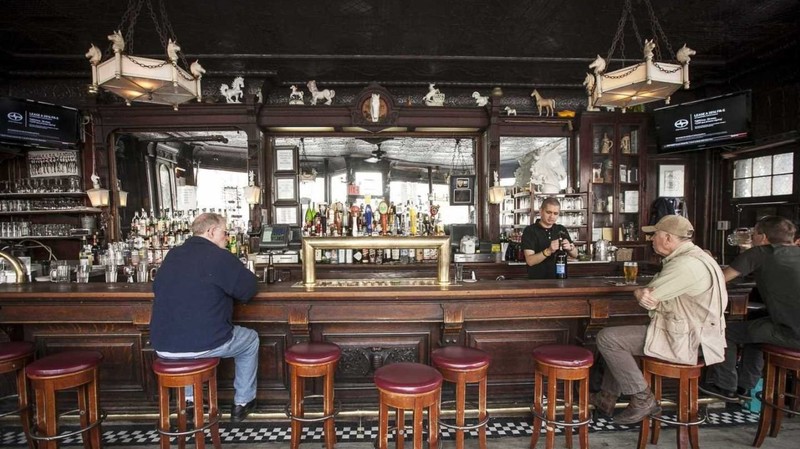 The tavern and Dylan Thomas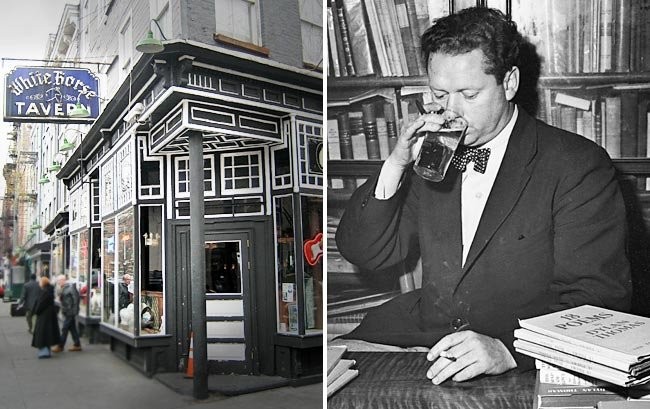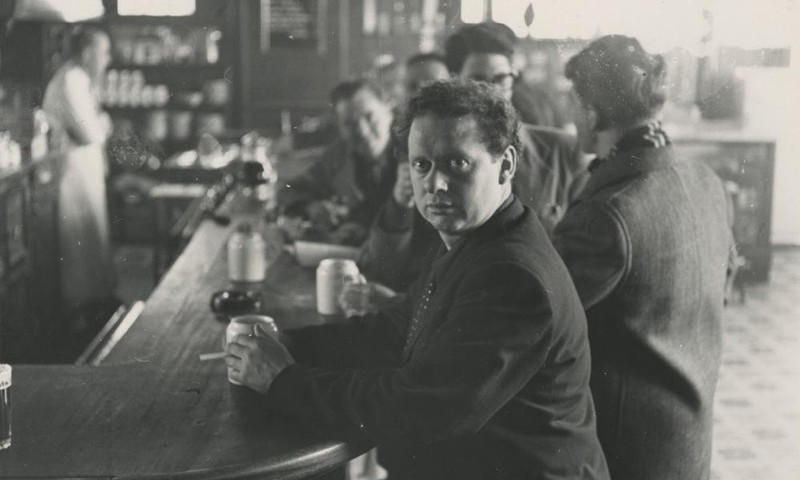 Backstory and Context
The White House Tavern, built and designed in 1880, is the 2nd oldest continuously run tavern in New York City. It was originally ordained as a spot for local longshoremen until it gained popularity amongst the Beat Generation of authors and other artists in the 1950s.

Common visitors to the tavern were James Baldwin, Bob Dylan, Mary Travers, Norman Mailer, John Ashbery, Anais Nin, Frank O'Hara, Allen Ginsberg, Jack Kerouac, and Jim Morrison. In fact, it became known as a "nostalgic high temple of the Alcoholic Artist" by New York magazine, due to the common ruckus stirred among its drunken guests. One of the White Horse's bathroom stalls even has the words "Go home Jack!" scrawled onto it, which was supposedly put there by a customer frustrated by Jack Kerouc's belligerent behavior.

Perhaps the most notable visitor of all, however, was the Welsh poet Dylan Thomas. After being introduced to the bar by fellow poet Ruthven Todd in 1950, Thomas could be regularly found at the bar telling stories of his beloved Wales, "[reciting] from his favorite poets, savagely [satirizing] literary critics, [bursting] into musical hall ditties... and [answering] questions with self-deflating aphorisms, deadpan wit, and ebullient laughter."

Unfortunately, though, the tavern would beThomas' last "watering hole" before his death. On November 3, 1953, the poet drank eighteen shots of whiskey, and, allegedly, stumbled out into the street right afterwards. He was then taken back to the Chelsea Hotel, where he was staying, and died at New York's St. Vincent Hospital a few days later due to "complications from pneumonia and other ailments."

The memory of Thomas is still kept alive at the tavern today, however, for, alongside the namesake white horse pictures and figurines, memorabilia in his honor can be found. Also, on the anniversary of his death, the White Horse serves the last meal he ate there before he died.
Sources
White Horse Tavern 1880 History. White Horse Tavern. Accessed February 22, 2017. http://www.whitehorsetavern1880.com/.
Bataineh, Madiha. "The White Horse Tavern."
Atlas Obscura
, Atlas Obscura, 15 Nov. 2010, www.atlasobscura.com/places/the-white-horse-tavern.
Flynn, Katherine. "National Trust for Historic Preservation: Return to home page."
New York City's White Horse Tavern | National Trust for Historic Preservation
, 6 Mar. 2015, savingplaces.org/stories/historic-bars-new-york-citys-white-horse-tavern#.WiS4aEyZP-Y.
Additional Information