Johnny Sack Cabin
Introduction
Northeastern Idaho is home to Big Springs, one of the largest natural springs in the world. Resting on the bank of the natural spring is the historic Johnny Sack Cabin. Built in 1939 by Johnny Sacks, the cabin has become a prominent piece of architecture because of its unique location and craftsmanship. The location is now one of the most photographed sites in the state of Idaho. Johnny Sack was born in Germany in 1884. After moving to Indiana at the age of six with his family, Johnny grew up and moved further west to Indiana. Striving to become a cattle farmer, Johnny worked as a ranch hand and even joined the military. Never fully achieving his goal, he began building cabins and furniture to earn a living. In 1929 the United States Forest Service leased Johnny a small piece of land. After receiving the land, he began to handcraft his log cabin. The cabin took three years to build and is filled with impressive detail. For example, seventy-two individual pieces of wood were crafted by hand for a single ceiling light. Most of these incredible pieces can still be found in their original places in the cabin. During his winters living in the isolated cabin, Johnny would use cross country skis to travel to town to check his mail and visit with friends. During the summer the small water house on the springs attracted visitors, just as it does today. Johnny died in 1957 and the cabin was left to his sisters. The National Register of Historic Places at the cabin to their list in 1979 and since the cabin and land once again belong to the National Forest Service. The Johnny Sack Cabin is open to tour from mid-June to Labor Day. Just 28 miles form Yellowstone National Park this cabin is a unique must-see.
Images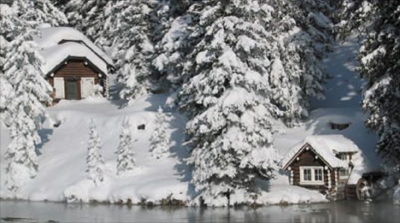 Backstory and Context
About Island Park, home to Bring Springs and Johnny Sack Cabin:
Island Park was incorporated in May 1947 for an interesting reason. At the time Idaho state law required that all business that sold alcoholic beverages be inside town limits. For this reason, the Island Park city government drew city lines to incorporate all businesses and restaurants wishing to serve alcohol.
The City's current population is estimated to be around 400. The area is known for supreme fishing, photography, camping, and mountain biking. The city is advertised as being a part of the Yellowstone National Park area, as it is less than 30 miles from the Yellowstone entrance. Beautiful cabins are available for rent in the area, and are a popular attraction year round.
Additional Information