Francis Pierpont Home Location Historic Marker
Introduction
Francis Harrison Pierpont was a Virginia leader who opposed secession and began a movement toward the formation of the state of West Virginia. Recognizing the differences between eastern and western Virginia prior to the war, and being a supporter of Abraham Lincoln and the Union, he opposed secession and hoped to lead the western counties of Virginia back to the United States. Francis Pierpont and others drafted documents that led to the creation of a new state with Abraham Lincoln's support.
Images
The marker is located next to the fire station.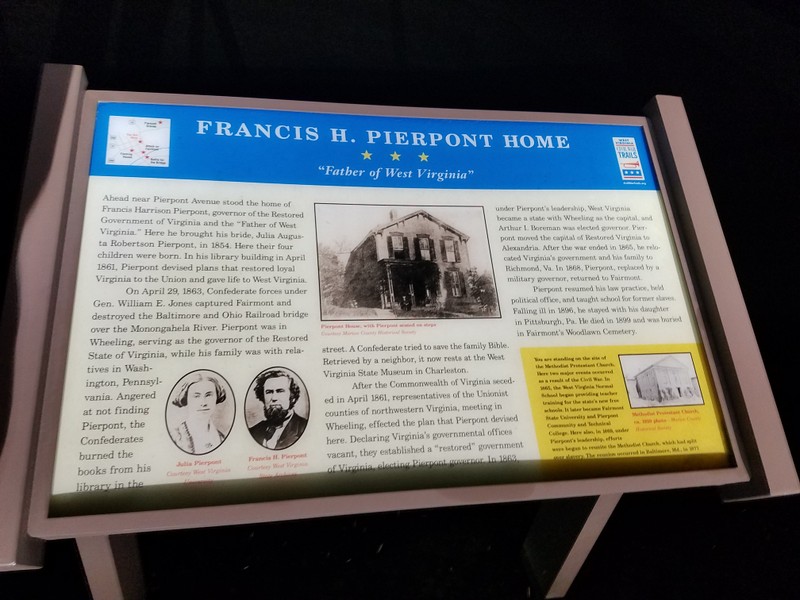 Backstory and Context
Francis Harrison Pierpont was an outspoken critic of Virginia's decision to secede from the Union during the Civil War. Pierpont was the architect of the Wheeling Convention, a meeting involving men from northwestern Virginia counties that opposed secession. Although they had no legal authority and had not been elected, the self-appointed delegates to the Wheeling Convention began the process of creating a new government and elected Pierpont as the governor. Believing that secession was illegal, they initially referred to themselves as the legal government of the Commonwealth of Virginia. Over time, they favored separation from Virginia owing to their opposition of secession and a recognition that the interests of the eastern Virginia counties were drastically different than the needs and desires of the western Virginia counties.
Confederate forces responded to this effort by attacking several of the western and northern counties. When Confederates attacked Pierpont's home of Fairmont on April 29, 1863, they hoped to capture the governor of the Restored State of Virginia. Pierpont was in Wheeling, the new capital of the counties that opposed secession. Pierpont's absence angered the Confederate troops and they proceeded to burn his library's books. One of the Confederate soldiers tried to save his family Bible and it was later recovered by a neighbor of Pierpont.
Pierpont drafted a request for Abraham Lincoln to accept West Virginia statehood. At first, supporters of the Wheeling meetings were divided and some strongly opposed leaving Virginia. With the support of more counties and the federal government, delegates voted in favor of applying for statehood. Congress approved the measure and Abraham Lincoln signed it into law.
Francis Pierpont was named the Provisional Governor of Virginia after the Civil War. Like Lincoln, he was willing to forgive Confederate supporters and later supported the restoration of political rights to former Confederate soldiers and officers. Pierpont temporarily retired from politics and returned to his law practice. Eventually he reentered politics by holding a seat in the West Virginia House of Delegates. Francis Pierpont also helped create the West Virginia Historical Society.
The former location of Pierpont's home is actually across the street from the marker and now home to the Methodist Protestant Church. This site later became one of the first training grounds for teachers after West Virginia became a state. This school eventually developed into Fairmont State University and Pierpont Community and Technical College.
Sources
"Francis Harrison Pierpont (1814–1899)," by Kevin D. Barksdale, accessed on February 19th, 2017, http://www.encyclopediaVirginia.org/Pierpont_Francis_H_1814-1899
"Francis H. Pierpont," National Park Service, accessed on February 19th, 2017, https://www.nps.gov/people/francis-h-pierpont.htm
Additional Information