Foreign Mission School
Introduction
Cornwall's Foreign Mission School recruited young men from Native American nations, Hawaii, India, and China; trained them as preachers, teachers, and health workers; and then sent them back home to spread Christianity to their communities. The school was short-lived, operating only from 1817 to 1826. Backlash against the school came largely from Cornwall townspeople, who worried about miscegenation, or "race-mixing," especially following two marriages between Cherokee men from the school and white women from Cornwall. While the school itself was lost many years ago, the school steward's house still exists.
Images
Heneri Opukaha'ia, the Foreign Mission School's first student (source: New York Public Library Digital Collections)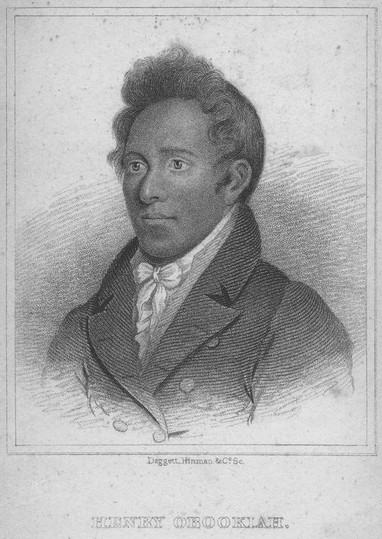 The Foreign Mission School in the late 19th century.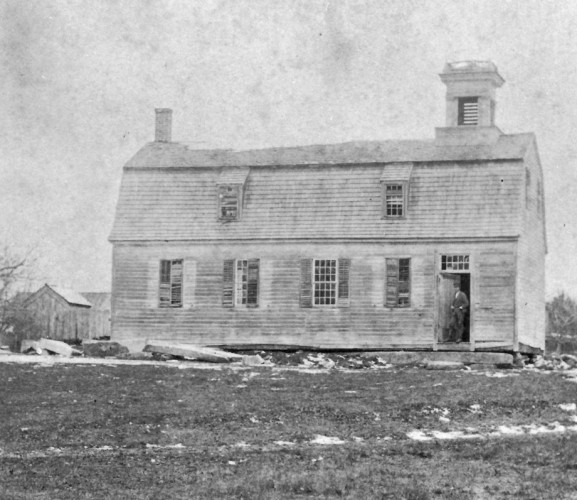 The site of the former school is designated by a small plaque on a rock outside of St. Peter's Lutheran Church. Photo by Michael Herrick, full photo credit below.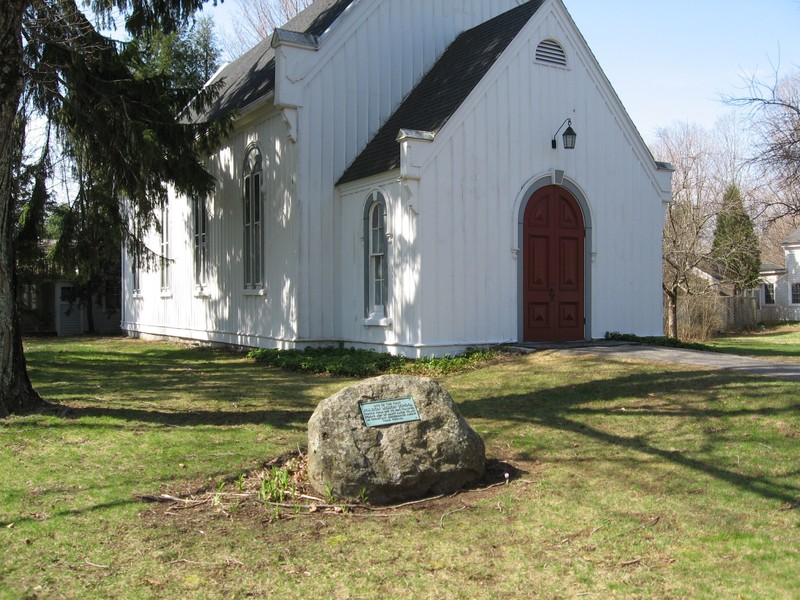 Backstory and Context
Between 1817 and 1826, the Foreign Mission School, known informally as the "Heathen School," taught approximately 100 men. The first student was Heneri Opukaha'ia (often anglicized as Henry Obookiah), a refugee from Hawaii who arrived in New Haven in 1810. As the legend goes, Heneri was found crying over his lack of education on the steps of the Yale chapel by Edwin Dwight, son of Yale president Timothy Dwight. The Dwights and other Connecticut ministers taught Heneri English and Christianity, and he later enrolled in the Mission School when it opened.

The Mission School's approach was novel. Previously, Anglo-Americans had typically been sent to evangelize other societies. Now, however, the American Board of Commissioners for Foreign Missions hoped that they could create a population of "insider" missionaries, who could convert their own communities. As the school constitution declared, "The great object in educating these youths, is, that they may be employed as instruments of salvation to their benighted countrymen" (Missionary Register, 63). Convinced that Christianity and civilization were superior "gifts" that should be granted to "heathens," the Board of Commissioners sought new ways of facilitating this process.

These developments, and renewed zeal for conversion, arose in the context of the Second Great Awakening, a time of Protestant religious revivals in the decades after the American Revolution (c. 1790s-1840s).

The school curriculum was rigorous. For seven hours a day, students learned subjects such as calculus, chemistry, geography, theology, history, astronomy, Greek, French, and Latin. They learned skills such as making barrels (coopering), Blacksmithing, and navigation. Outside of class, they kept busy with obligatory church attendance and manual labor on the school grounds.

Cornwall's white residents grew unhappy with the non-white student population in their midst. Their fear of interracial relationships erupted into public outcry in 1824 when John Ridge, a student at the Foreign Mission School, married Sarah Northrup, a white woman. The couple then relocated to the Cherokee Nation in Georgia. Two years later, another young white woman, Harriet Gold, married Elias Boudinot, a Cherokee student.

Under pressure from angry Cornwall citizens, the school closed in 1826.
Historian John Demos characterizes education and conversion efforts such as those at the Foreign Mission School as a form of cultural "removal," part of a long history of removing indigenous culture from "mainstream" (white) society. He writes:
Removal lies at the heart of the story we commonly tell about Indians in the nineteenth century. At first glance, removal and the grand project of "civilizing" heathen peoples appear to be opposites. Yet on the deepest level, they were joined — were, indeed, different expressions of the same impulse. For the civilizing process imposed a complete renunciation of traditional lifeways; as such, it was another form, a cultural form, of removal. In the case of Indians, it meant essentially this: Let them become farmers instead of hunters, Christians instead of pagans, cultured in the manner of white people instead of "savage." Then maybe — just maybe — they can be absorbed into the national mainstream. However, by the 1820s and 1830s, many whites had already given up on that possibility — at best it seemed impractical; at worst, dangerous — and were coming to favor actual physical removal. Just drive them out, send them far away — across the Mississippi River at least — and leave them entirely to themselves. (And then let us have their land.)

Sources
Andrew, John. Educating the Heathen: The Foreign Mission School Controversy and American Ideals. Cornwall, CT: Cornwall Historical Society, 1988.

"Chronicles of Oklahoma: The Foreign Mission School at Cornwall, Connecticut." Vol. 7 no. 3. Oklahoma Historical Society. September 1929. Accessed February 18, 2017. http://digital.library.okstate.edu/Chronicles/v007/v007p242.html.

Cornwall Historical Society, and Paul Chamberlain. The Foreign Mission School. Cornwall, CT: Cornwall Historical Society Inc., 1968.

Corrigan, Maureen. "What U.S. Learned from 'Heathen School' Wasn't Part of the Lesson Plan." NPR. March 18, 2014. Accessed February 18, 2017. http://www.npr.org/2014/03/18/291130318/what-u-s-learned-from-heathen-school-wasnt-part-of-the-lesso....

Demos, John. The Heathen School: A Story of Hope and Betrayal in the Age of the Early Republic. New York: Alfred A. Knopf, 2014.

Dwight, E. W, Henry Obookiah, and Lyman Beecher. Memoirs of Henry Obookiah: A Native of Owhyhee, and a Member of the Foreign Mission School, Who Died at Cornwall, Conn., Feb. 17, 1818, Age 26 Years. Philadelphia, PA: American Sunday School Union, 1830. http://archive.org/stream/memoirsofhenryob00dwig#page/n5/mode/2up.

"An Experiment in Evangelization: Cornwall's Foreign Mission School." Connecticut History. Accessed February 18, 2017. https://connecticuthistory.org/an-experiment-in-evangelization-cornwalls-foreign-mission-school/.

"Foreign Mission School, 1817-1826." Cornwall Historical Society. Accessed February 18, 2017. http://www.cornwallhistoricalsociety.org/exhibits/foreign_mission_school.html.

Gaul, Theresa Strouth, Elias Boudinot, and Harriett Gold Boudinot. To Marry an Indian: The Marriage of Harriett Gold and Elias Boudinot in Letters, 1823-1839. Chapel Hill, NC: University of North Carolina Press, 2005.

Missionary Register. Vol. 6. London. L.B. Seeley, 1818. p. 63.

Morse, Jedidiah. A Report to the Secretary of War of the United States, on Indian Affairs. New Haven, 1822. Appendix G, p. 264-278.

Photo credit. Michael Herrick, First Foreign Mission School, Historical Marker Database, accessed 2/25/2017 http://www.hmdb.org/marker.asp?marker=41831


Additional Information