Lou Henry and Herbert Hoover House
Introduction
This historic home was constructed for the family of future American President Herbert Hoover in 1920. The Hoovers hired Stanford art professor Arthur B. Clark to design parts of the home, who agreed to the project under the condition that Mrs. Lou Henry Hoover would help him design the home. Clark and Hoover's design was unique, inspired by the architecture of great North African homes in colonial Algeria, this Mission Revival style home was designed to resist fire and blend into its hillside surroundings.
Images
Lou Henry and Herbert Hoover House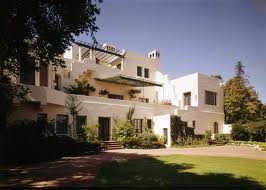 Backstory and Context
Lou and Herbert Hoover had lived in the house for only one year when Hoover was appointed Secretary of Commerce in 1921. Hoover was elected to the presidency in 1928, and the family found few times when they were able to return to this home during his presidency. After Hoover was defeated by Franklin Delano Roosevelt, the Hoovers traveled between their Stanford house and a New York apartment.
After Lou Henry Hoover died in 1944, Herbert Hoover deeded the house to Stanford University. The house is now used as the home of the university president. Although the house is not open to the public for tours, the house is used to host university events and remains one of the leading historic sites on Stanford's campus.
More information about Herbert Hoover:
Herbert Hoover was the 31st President of the United States. Born in 1874, the future President grew up in Oregon. Hoover graduated from Stanford University as a mining engineer. After marrying his college sweetheart, Lou Henry, the couple traveled to China. In China, Hoover was the leading engineer for a private corporation. During the Boxer Rebellion, it is said that he risked his life to save Chinese children.
Hoover was in London celebrating his 40th birthday when Germany declared war on France. He led a committee that helped tourists, 120,000 of them, return home to the United States. Once the United States became part of the war, Hoover was appointed head of the Food Administration by President Wilson. Even after the war, he continued to help feed Europe populations through the American Relief administration.
Hoover became the Republican Presidential nominee in 1928. Though his campaign preached hope for a more stable economy, the stock market crashed shortly after his election. Throughout the Depression, he maintained his humanitarian mindset, urging local people to help their neighbors in need. Despite his efforts, Hoover was criticized for his dealing with the Depression and lost the 1932 election.
After his presidency, Hoover worked as a chairmen for both President Truman and President Eisenhower. He also wrote books and articles. Hoover died in New York City on October 20, 1964. He was 90 years old at the time of his death.
Sources
Lou Henry and Herbert Hoover House, National Park Service, (accessed 7/26/2016) https://www.nps.gov/nr/travel/santaclara/hoo.htm
Additional Information