107 Main Street Parkville, MO
Introduction
Cool Vintage Watches is an extension of the structure at 105 Main. The offices of Level Builders, a general construction contractor, are located on the second floor.
Images
Street view of 107 Main Street Parkville, MO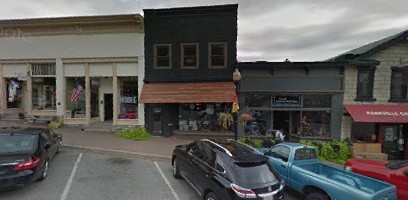 Community Shop men's store at 107 Main Street. Ernie Scholberg, left, and "Chick" Hawley (owner), right.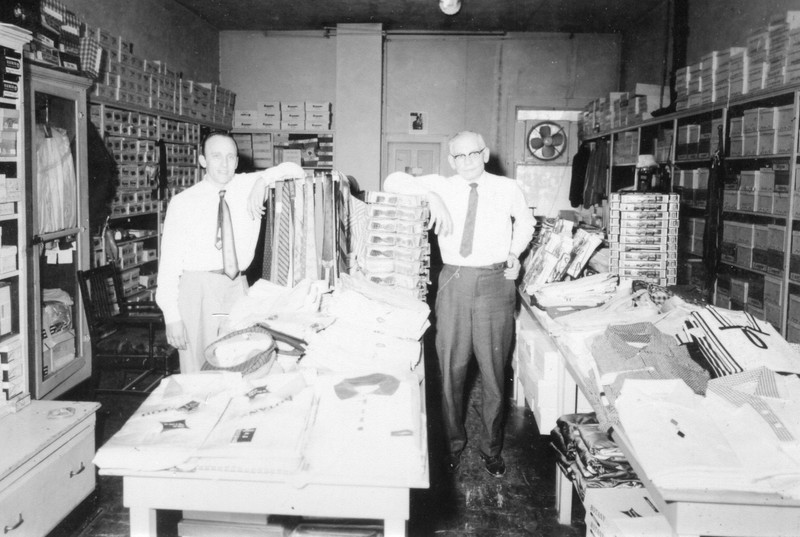 Backstory and Context
Erected circa 1888. 107 Main is remembered by generations of Parkville residents and hundreds of Park College/University alumni as the location of Herrick "Chick" Hawley's Community Shop. Chick, the son of long term college president Frederick William Hawley, began operating a dry goods store here in 1921 (until he closed his business in the 1960s), later converting his business into a men's clothing store. Chick's store was one of the few local shops that handled clothing.
The second floor of the building was home to Dr. C.H. Hook's dental office for over 20 years. Other occupants have included Anna Sell, a beautician, and Alma Miller, proprietress of the Mad Hatter consignment shop. For a few years, a radio and TV repair shop operated on the upper level.
Although well uphill from the river, this building was affected by the flood of 1993 and took in two or three inches of water, an event that caused business owner Wanda Croasdale to close her basket and ceramics shop.
Photographer Gregg Hejna purchased the building in 1996.1
Sources
1Parkville History Committee