Oheka Castle
Introduction
Born in Mannheim, Germany in 1867, Otto Herman Kahn was a wealthy banker and philanthropist who would eventually become known as "King of New York." In 1914, he purchased 443 acres on which to build Oheka Castle, a French-style chateau, completed in 1919. At 109,000 square feet, Oheka is one of the largest private residences in the United States (second only to Biltmore in North Carolina). Its construction cost about $10 million (which translates to well over $100 million today). Oheka exemplifies the opulence and extravagance of Gilded Age America.
Images
Oheka Castle c. 1915. (source: Library of Congress, American Memory)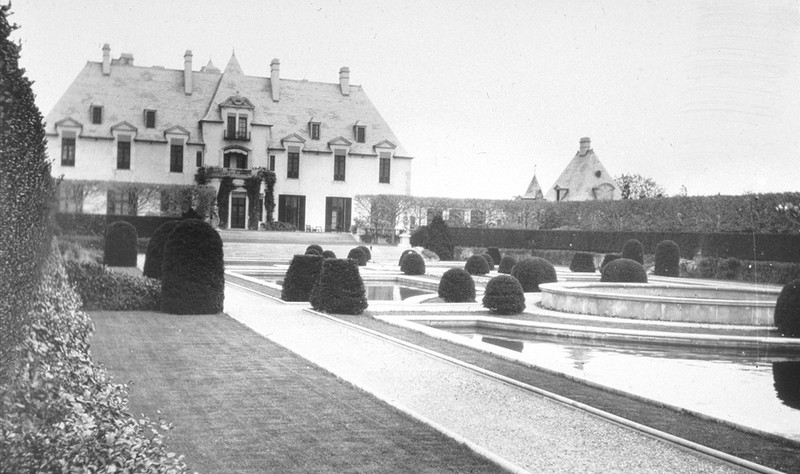 View of the estate (source: Oheka Castle)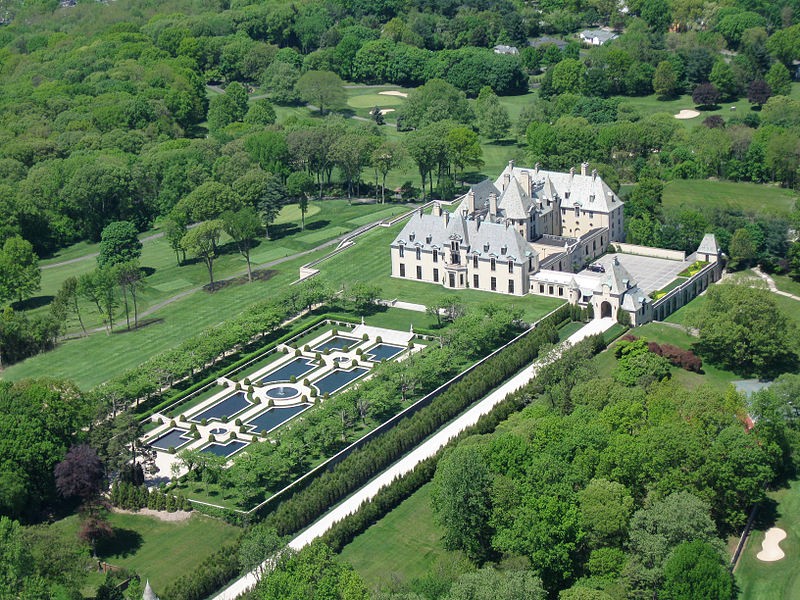 Backstory and Context
Oheka sits atop a hill, offering visitors excellent views over the area. This was by design: Kahn's builders spent two years making an artificial hill for the house. Concerned with fire, Kahn chose materials such as steel, concrete, brick, and limestone. Walls in the Grand Library might look like wood, but they're actually plaster, painted using the "faux bois" technique to resemble wooden panels. Oheka's gardens are inspired by those in Europe, including fountains and reflecting pools in addition to meticulous landscaping. Grounds also included an indoor pool, horse stables and a golf course. During the 1920s, Kahn and his family used Oheka as a summer home, where they threw sumptuous parties and hosted society's elite (celebrities, politicians, and royals).

Otto Kahn died in 1934. In subsequent years, the building served as a retirement home for sanitation workers and then a military academy, before falling into abandonment. During the 1980s, lengthy restoration work repaired the damage done to the estate and turned it into an event venue. The estate now contains a hotel and restaurant and offers guided tours of the house and gardens.

You might recognize Oheka from the 1941 film Citizen Kane, or from Taylor Swift's "Blank Space" music video.


Sources
Amoroso, Frank. "Remembering Otto Hermann Kahn, One of Long Island's Stellar Citizens." Behind Every Great Fortune. Accessed February 16, 2017. http://www.behindeverygreatfortune.com/remembering-otto-hermann-kahn-one-of-long-islands-stellar-cit....

Cergol, Joan, and Ellen Schaffer. Images of America: Oheka Castle. Charleston, SC: Arcadia Publishing, 2012.

Collins, Theresa. Otto Kahn: Art, Money, and Modern Time. Chapel Hill, NC: University of North Carolina Press, 2002.

Foreman, John. "Big Old Houses--'The King of New York.'" New York Social Diary. New York Social Diary, March 06, 2012. http://www.newyorksocialdiary.com/the-way-they-live/2012/big-old-houses-the-king-of-new-york.

Ingham, John, ed. Biographical Dictionary of American Business Leaders. Vol. 2. Westport, CT. Greenwood Press, 1983. Entry on Otto Herman Kahn, p. 689.

"The Rich and Vibrant History of Oheka." Oheka Castle. Accessed February 16, 2017. http://www.oheka.com/history.htm.



Additional Information