Biograph Theater (Victory Gardens Theater)
Introduction
This historic theater opened in 1914. It is best-known as the theater that John Dillinger attended before being shot by Federal Agents. The building serves as reminder of the popularity of films and the rapid growth of theaters throughout the United States in the 1910s and 1920s.
Images
Source: Getty Images via cinematreastures.org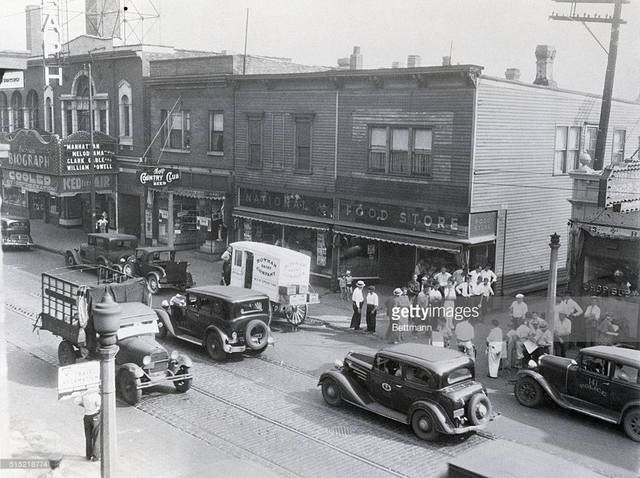 Modern Theater look, via Victory Garden, Inc (current owner)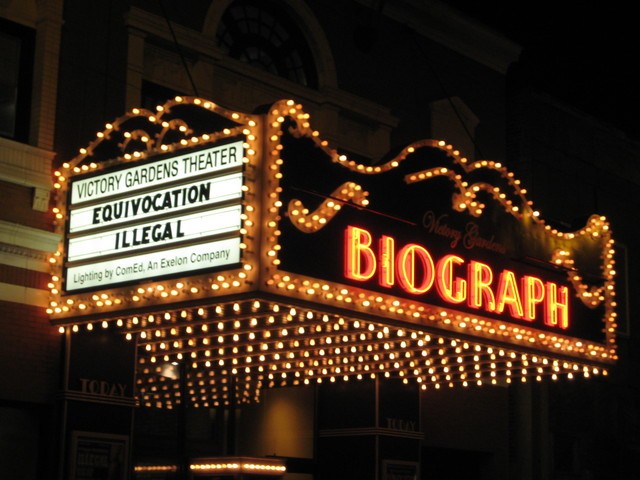 Backstory and Context
The Biograph Theater is best-known as the place where John Dillinger met his demise when federal agents shot him. Part of Dillinger's reason for being at the Chicago theater was its state-of-the-art cooling system. It remains an architecturally significant site and a reminder of an era when lavish theaters were built with regularity.
The theater opened in 1914, and typical of that era, enjoyed a lavish design including red pressed brick, terra cotta details, and electric lights and bright signs. Built at a time when the movie industry was transitioning from nickelodeons to lengthy films, the Biograph joined many upscale movie palaces built during the era, notably in the 1920s when the economy boomed. The Biograph Theater was designed to provide legitimacy to the yet-to-be successful film industry, but certainly one with potential.1
Gangster John Dillinger liked movies, too, and his visit to the Biograph Theater gave the movie palace fame. Dillinger, once regarded as "Public Enemy Number 1," grew to immense fame in the late 1920s and early 1930s after robbing numerous banks, successfully escaping from two jails, eluding police, and shooting one police offers. The Justice Department had spent enormous time and effort (and money) to catch him, but he largely lived a normal life, seemingly going unnoticed. He regularly attended Cubs games, dined in restaurants, and as would be the case in 1934 -- go to the theater. A friend of his, who knew of his real identity, tipped off authorities that he would attend the Biograph Theater on on July 22, 1934 after attending a screening of "Manhattan Melodrama" starring Clark Gable. When he left the theater, police confronted him - he ran and was subsequently shot and killed.2
One of Dillinger's main reasons for going to the theater that day involved intense summer heat; 23 people died that day due to the heat. The Biograph Theater boasted (like many places of that era) of having Air Conditioning. The death of Dillinger is one of many heat-related histories attached to Chicago. For instance
1919: From July 27 to August 3, thirty-eight people died (23 Black and 15 white) and more than 500 were injured when a white man threw rocks at a Black youth who had accidentally swam onto the "white side" of Chicago's' beach during a heat wave. That event, and the police handling of it - racially motivated justice -- inspired the riot, which ended only after the government deployed almost 6,000 National Guardsmen.3
1995: On July 12, 1995, a dangerous hot-air mass settled over Chicago, producing three consecutive days of temperatures over 99 degrees Fahrenheit, heat indices (which measure the heat experienced by a typical person) around 120. Although 485 city residents died due to the heat, it proved to be a social disaster as much as a natural one. Most who died lived alone, were impoverished or elderly; more than 70 percent of the victims were older than 65 and above and African American mortality rates were roughly 1.5 times higher than those for whites, notably in the city's' poorest regions.4
Theaters, for the poor, still exist as "cooling centers," for those without access to private in-home air conditioning, but much like the theater industry, much has changed since the days of Dillinger. Today's Biograph theater is owned by Victory Gardens, Inc, and plays home to many plays and live productions.

In the end, one building provides a window into many aspects of American and Chicago history: The rise of leisure time spent on such items as films, the effect of heat on society, a history of gangsters, and the individual histories of the characters involved.
Sources
1 Eileen Bowser,
The Transformation of Cinema: 1907-1915. Vol. 2 of History of the American Cinema
, ed. Charles Harpole (Berkeley: University of California Press, 1990).
2 Charles Leroux, "John Dillinger's Death,"
Chicago Tribune
(Chicago), last accessed February, 13, 2017, http://www.chicagotribune.com/news/nationworld/politics/chi-chicagodays-johndillinger-story-story.ht...; The history of John Dillinger has been captured in numerous books and journals. A nice comprehensive, and easy to read summation, can be found at bio., "John Dillinger Biography
Organized Crime, Thief (1903–1934)," bio.com, last accessed February 13, 2017, http://www.biography.com/people/john-dillinger-9274804#synopsis; A more extensive history can be found in Dary Matera, John Dillinger: The Life and Death of America's First Celebrity Criminal (New York: Carroll and Graf Publishers, 2004).

3 Steven Essig, "Race Riots," Encyclopedia of Chicago, chicagohistory.org, Last accessed February 13, 2017, http://www.encyclopedia.chicagohistory.org/pages/1032.html.

4 Eric Klinenberg, Heat Wave: A Social Autopsy of Disaster in Chicago, (Chicago: University of Chicago Press, 2002).
Additional Information