Lawrence County Historical Society and Museum
Introduction
The Lawrence County Historical Society and Museum is located in a house built by Elizabeth Ferguson and her husband in 1870. The Italian Villa-style house features iron cresting, a double-leafed paneled door, and a tower with portholes. From 1878 to 1977, the house was owned by the Gray family whose notable members included Colonel George N. Gray, a Union soldier and ironmaster, and abolitionist John Rankin. The Museum includes exhibits on both men as well as Nannie Kelly Wright, the only female ironmaster in the U.S., and other pieces of local history.
Images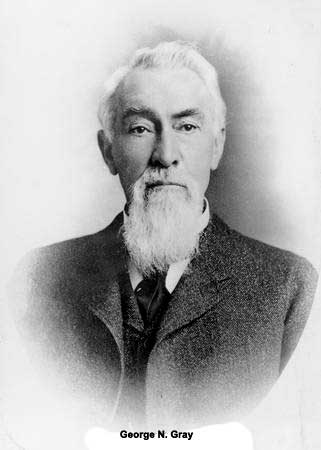 Lawrence County Historical Society and Museum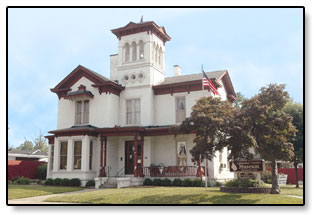 Inside the museum. From the Lawrence County Historical Society website.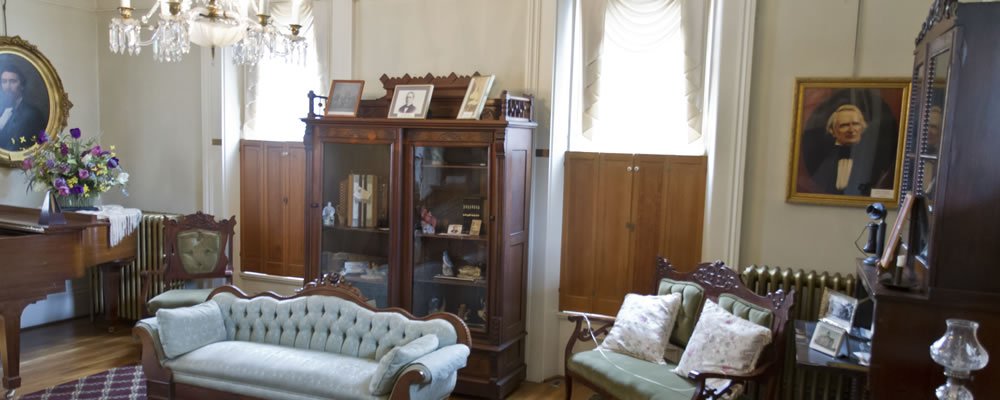 The museum when it was still the Gray family home. From The Lawrence Register.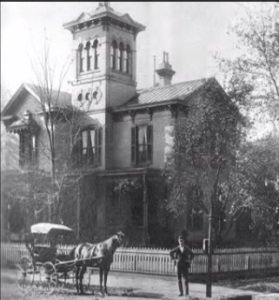 John Rankin wrote his brother: "I consider involuntary slavery a never failing fountain of the grossest immorality and one of the deepest sources of human misery: it hangs like the mantle of night over our republic, and shrouds its rising glories."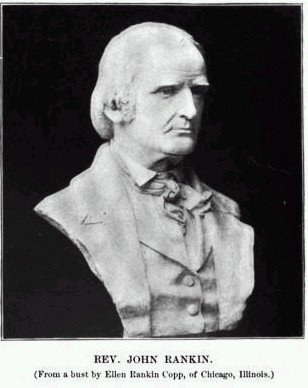 Backstory and Context
George Noah Gray was born February 10th, 1838 in Pennsylvania. He first came to Lawrence County, Ohio in 1857 as a teacher, but he soon went back to Pennsylvania to finish college. After the Civil War started, Gray came back to Ohio to teach for a short time before enlisting in the Union army in 1861. He was wounded in the Battle of Shiloh, but he returned to duty months later as a part of the navy. Gray was discharged in 1863 after a particularly grueling campaign. Once back in Ohio, he joined the National Guard and was commissioned colonel of his regiment. After the war, he moved to Ironton, Ohio and became an ironmaster in charge of the Hecla and Vesuvius furnaces, which melted iron ore so that it could be molded into bars and transported.
On July 5th, 1878, Colonel Gray and his wife Eliza (nee Elizabeth Ann Humphreys) bought an Italian Villa-style house that had been built by Elizabeth Ferguson and her husband in 1870. Before moving in, the Grays added to the back of the house and constructed a tower. More renovations occurred over the years, including repairs after an 1882 attic fire, another addition in 1891, and the construction of a veranda in 1892. The Gray family stayed in the house for almost 100 years. Upon the death of Emma Gray and her husband, attorney Earle Stewart, their daughter Ann and son-in-law M. B. Edmundson moved in. They sold the house in 1977. Eleven years later, the Lawrence County Historical Society acquired the property and began turning it into a museum. Restorations on the house were completed in 2000.
One of the exhibits in the museum focuses on a notable guest of the Gray house: Eliza's grandfather Reverend John Rankin. Rankin was a Presbyterian minister and abolitionist in Ripley, Ohio. After growing up in Tennessee and attending Washington College in Virginia, Rankin came to Kentucky to form an anti-slavery society. His actions were not well-received, so he moved to Ripley and began work as a conductor on the Underground Railroad. Rankin helped as many as two thousand runaway slaves during his life and was featured in Harriet Beecher Stowe's book Uncle Tom's Cabin. He also established the Ohio Anti-Slavery Society in 1835. After his wife's passing, Rankin moved from Kansas to the Gray house where he died March 18, 1886.
Sources
Lucas, David. A Walking Tour of Downtown Ironton. Herald-Dispatch. http://media.herald-dispatch.com/walkingtour/walkingtour_ironton.pdf.

A Pictorial of Lawrence County. Edition 1st. Ironton, Ohio. Ironton Tribune, 1998.
About. The Lawrence County Museum. Accessed May 25, 2018. http://www.thelawrencecountymuseum.org/about.html. Information and photo source.
John Rankin. Ohio History Central. Accessed May 25, 2018. http://www.ohiohistorycentral.org/w/John_Rankin.
Duke, John K.
History of the Fifty-third Regiment Ohio Volunteer Infantry
. Portsmouth, Ohio. The Blade Printing Company, 1900. Via Google Books
Rankin, John.
Letters on American Slavery: Addressed to Mr. Thomas Rankin
. Edition 2. Salem, Massachusetts. Landmark Press, 1836. Via Google Books
Cox, Nicole. Then and Now Project. The Lawrence Register. Accessed May 25, 2018. https://www.lawrencecountyohio.com/photos-videos/then-and-now-project/#gray. Photo source
Exploring Local History. YouTube. December 12, 2016. Accessed May 25, 2018. https://www.youtube.com/watch?v=Cj-mIhdcmU0. Video source.
Additional Information