Brad D. Smith Foundation Hall and Erickson Alumni Center, Marshall University
Introduction
Author-Uploaded Audio
The Erickson Alumni Center serves as the headquarters of the Marshall University Foundation. The Foundation is a non-profit, alumni organization established in 1947 and works to provide financial support for Marshall University. The Center is named after businessman Charlie O. Erickson, who funded the creation of alumni centers at numerous colleges across West Virginia. In 2010 the Center moved into the newly-constructed Brad D. Smith Foundation Hall. It is named after prominent businessman, Marshall graduate, and donor Brad D. Smith, who has contributed millions of dollars to various projects at Marshall. The foundation hall houses offices and alumni facilities, as well as space for lectures, receptions, and private events.
Images
The Erickson Alumni Center and Brad D. Smith Foundation Hall was completed in 2010.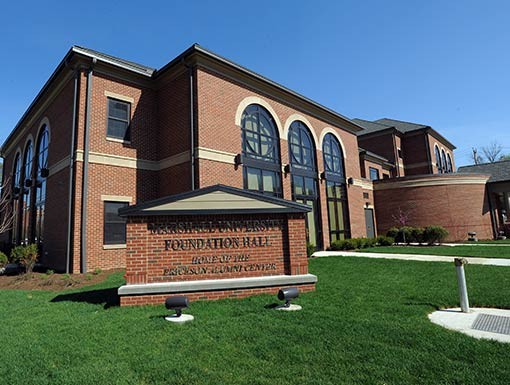 The building's rotunda, which houses Marshall University memorabilia.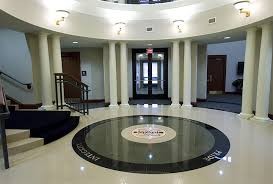 Thsi conference room is frequently used for lectures, parties, and receptions.
Charlie O. Erickson in front of the old Erickson Alumni Center that is now Harless Field.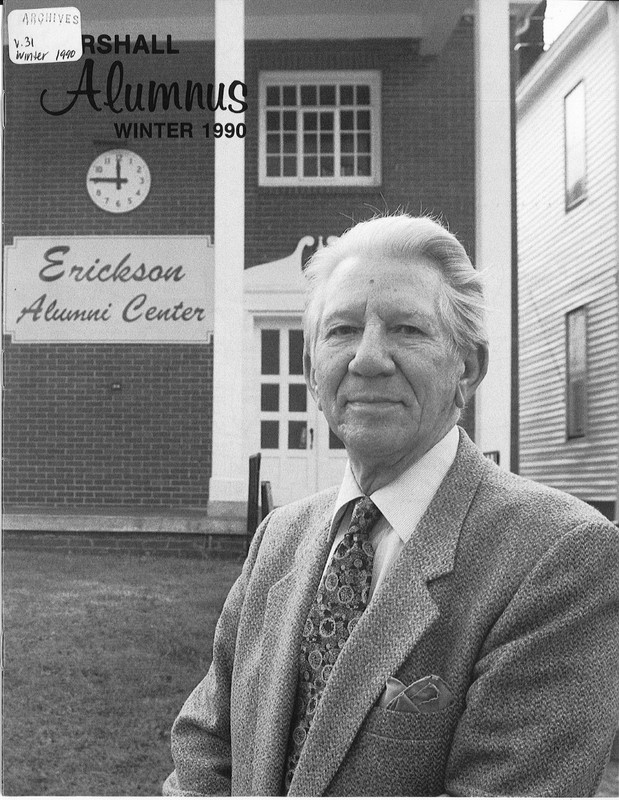 Brad Smith at the dedication ceremony of the foundation hall.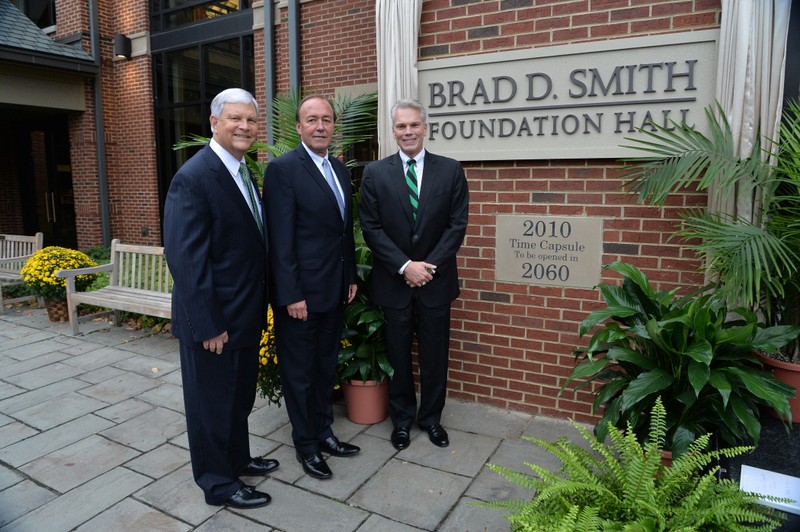 Backstory and Context
Author-Uploaded Audio
The Marshall University Foundation was established in 1947 as a way for Marshall graduates to connect and provide support for their alma mater. For years offices and facilities for the foundation were housed in Old Main and the student center. In 1990 businessman Charlie O. Erickson gifted $325,000 to the Foundation to create a permanent headquarters. Using these funds, the Foundation purchased and converted the former Kincaid-Mann Mortuary on Fifth Avenue. The headquarters is known as Erickson Alumni Center and was dedicated on April 25, 1992.
Charlie Oscar Erickson (1913-1993) was born in McDowell County, West Virginia, and grew up in the town of Man. He dropped out of high school and never attended college, but Erickson prospered by founding the Durfee Cable Company and invested in cable companies in several other states. Additionally, he was president of the COE, Inc. real estate company. Erickson served as a member of the Advisory Board of the Parkersburg Boys Club and the Board of Directors of the Wood County Cancer Society, the Parkersburg National Bank, and the WV Cable TV Association and was involved in various other institutions. After his retirement, Erickson dedicated himself to philanthropy, in particular to higher education. Through his non-profit Erickson Foundation, he contributed millions of dollars to build alumni centers at eleven schools in West Virginia, including Marshall, WVU, and Wheeling Jesuit.
In 2010 the Marshall University Foundation constructed a new headquarters on Fifth Avenue across the street from Corbly Hall. The three-story, 33,000 square foot, $9 million building was designed by the architectural firm of Sherman-Carter-Barnhart. It contains the offices of the Marshall University Foundation and the Marshall University Alumni Association, as well a call center, conference rooms, a reception hall, and private spaces for alumni. The first floor also contains displays of Marshall memorabilia. The name Erickson Alumni Center was retained, while the building was called Foundation Hall. In 2016 the building was renamed the Brad D. Smith Foundation Hall in recognition of Smith's $10 million donation to establish the Brad and Alys Smith Family Scholarship Fund.
"I sit at these meetings next to people who went to Harvard, Yale, Oxford, Stanford and every once in a while after they have a couple glasses of wine they will cozy up to me and ask how I think my education from West Virginia stacks up. I smile and tell them what I have found out over the years is I learned everything you learned in school, but mine cost $150,000 less and our football team was better." – Brad D. Smith
Brad D. Smith grew up in Kenova, West Virginia, and graduated from Marshall in 1986 with a degree in Business Administration. He entered the business world working for Pepsi and gradually rose through the ranks at several companies. He eventually became CEO of the global software business Intuit in 2008. Smith credits his Appalachian upbringing and education at Marshall for his success and is a devoted Marshall alum who has donated millions of dollars to the university and to support initiatives aimed at spurring economic growth in West Virginia. In October 2021, Smith was unanimously elected to the position of Marshall University President. He stepped into the role in January 2022 and was officially installed as Marshall's 38th president in September 2022.
Sources
Dedication Pamphlet of the Erickson Alumni Center. April 25th, 1992. Marshall University Special Collections.
"Erickson provides funds for MU alumni center." MU Newsletter. December 7, 1989.
"Foundation Hall, Alumni Center to be Dedicated Feb. 27." We Are…Marshall. February 19, 2010.
"A Gift to Alumni: Erickson gives MU Alumni a Place to Call Their Own." Marshall Alumnus 31 (Winter 1990): 4.
"History of WU: Erickson Alumni Center." Wheeling University. Accessed January 21, 2020. https://www.wju.edu/about/history/buildings/erickson.html.
McClennen, Molly. "Guest of Honor." Marshall Magazine (Winter 2016): 10-13.
"More Information." Marshall University Foundation. Accessed January 21, 2020. https://www.marshall.edu/foundation/more-information/.
"New Erickson Alumni Center Closer to Reality." Marshall Magazine (Summer 2003): 40.
Roberts, Brandon. "Intuit CEO Brad Smith credits Kenova upbringing for success in Silicon Valley." Herald-Dispatch. September 8, 2015.
Additional Information