Patton Monument
Introduction
The Patton Monument is a bronze statue dedicated to American General George S. Patton, Junior. It is located outside the library at Jefferson Hall of the United States Military Academy in West Point, New York. The statue is one of four dedicated to General Patton. Nicknamed "Old Blood and Guts" by the men who served under him, Patton commanded U.S. forces during the campaigns in North Africa, Sicily, and France right up to the end of World War II in Europe where he was tragically killed in a car crash in Germany in 1945.
Images
Photograph of General George Smith Patton, Junior in full military uniform and vice-cap bearing his four stars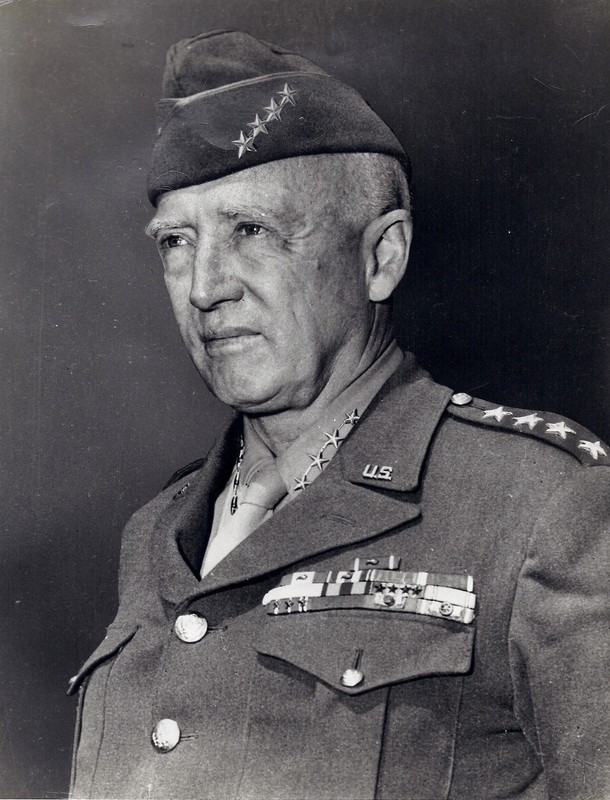 Photograph of Patton Monument near Jefferson Hall at United States Military Academy in West Point, New York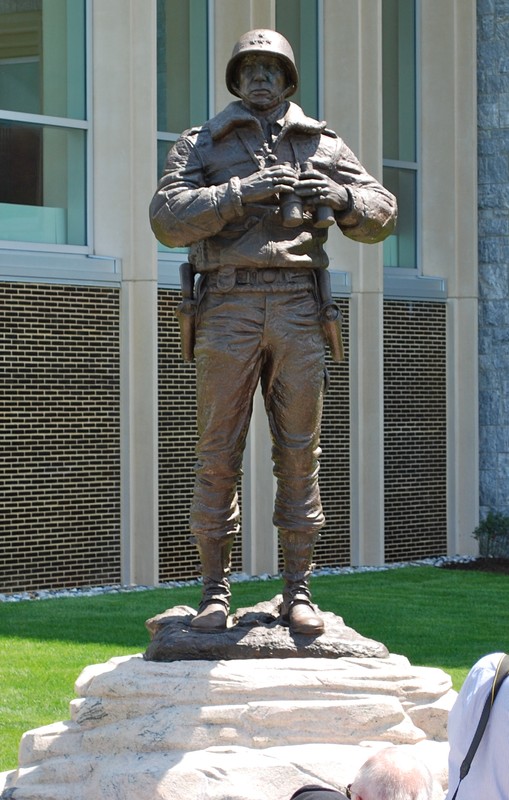 Backstory and Context
George Smith Patton Jr. (1885-1945) was a senior United States Army general who served with distinction in both world wars. He first gained fame in the 1916 pursuit of Mexican rebel Pancho Villa. When America entered World War I, he commanded the first American tank brigade and was wounded in the process.1 While in Europe, Patton encountered Douglas MacArthur, who would soon make a name for himself in the Pacific. Throughout the interwar period, Patton trained young cadets at West Point.
Patton commanded the Western Task Force that landed in Morocco during Operation Torch, the Anglo-American invasion of North Africa on November 8, 1942. At the time, German, Italian and British Commonwealth forces had been waged in a nearly two-year struggle for control of North Africa. The previous month, Field Marshal Erwin Rommel's Afrika Korps had suffered a major defeat by British forces at the Battle of El Alamein. After just three days, the Vichy French forces in Morocco and Algeria surrendered. Following the devastating defeat at Kasserine Pass in February 1943, Patton took command of the demoralized U.S. II Corps. It took another three months but Patton ultimately led the II Corps to victory over Field Marshal Erwin Rommel's Afrika Korps in Tunisia in May.
Following the Allied invasion of Sicily in July 1943, Patton suffered a serious setback when he was reprimanded by General Dwight Eisenhower for slapping two soldiers suffering from "battle fatigue."2 He was sidelined for almost a year but was ultimately brought back to command the fictitious First Army Group as part of Operation Fortitude, the deception phase of the Normandy landings. He then took command of the U.S. Third Army and led the famous charge across France throughout the summer and fall of 1944. When the Germans launched the Battle of the Bulge in December 1944, Patton managed to relieve the 101st Airborne Division that was surrounded at Bastogne and helped to halt the German attack. In the final months of the war in Europe, Patton's forces crossed the Rhine river and proceeded into Czechoslovakia in May when the war ended. On December 8, 1945, Patton was severely injured in a car accident and died thirteen days later.
In 1950, sculptor James Earl Fraser began sculpting a bronze statue of General Patton. It was dedicated by the general's widow, Beatrice, and unveiled a year later facing the old Cadet Library at the United States Military Academy in West Point, New York, where Patton once taught. In 2004, the statue was put into storage as a new library, Jefferson Hall, was being constructed. On May 15, 2009, the statue was rededicated and placed near Eisenhower Monument where it remained for three years. In 2012, the statue was returned to its original position. Other examples of Patton's statue are located at the Hatch Memorial Shell in Boston, Massachusetts and at the General Patton Memorial Museum in Ettelbruck, Luxembourg.



Sources
1
Patton 360
, directed by Tony Long (2009; Los Angeles, CA: Flight 33 Productions, 2009), DVD.
2
Patton 360
, DVD.
Additional Information