Degas House
Introduction
Built in 1852, the Degas House is so named due to the fact that the famous French impressionist artist, Edgar Degas, lived there from October of 1872 to March of 1873. While living at this home of his maternal uncle, Michel Musson, Degas continued to paint and produced numerous works over the months he enjoyed at the house. The original house was literally halved in the 1920s and one of the halves was physically moved to an adjacent lot. Both houses have been restored and are now home to a bed and breakfast and an Edgar Degas Museum. They are open for public tours and are listed on the National Register of Historic Places.
Images
The Degas House is actually two houses as a section was split off the main house and moved in the 1920s.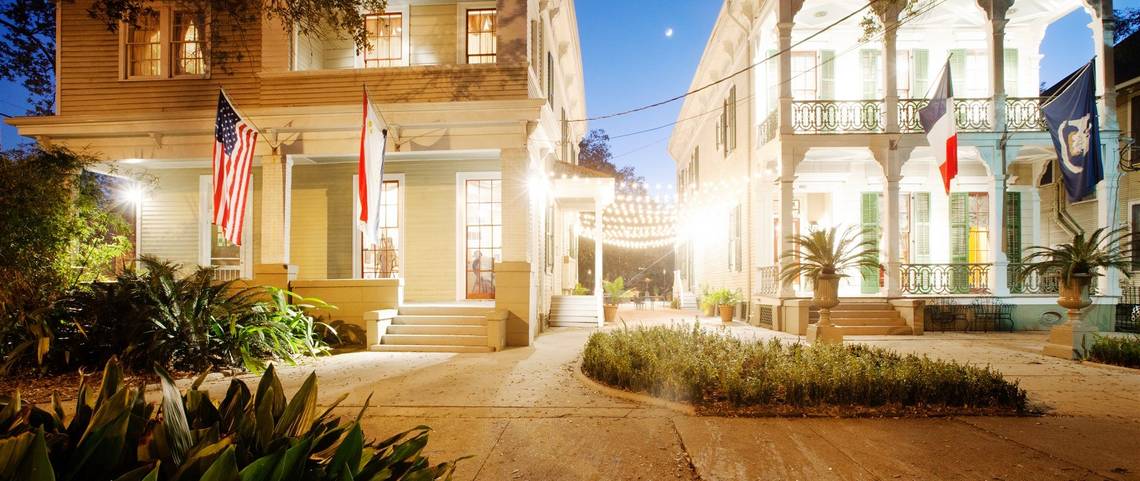 The Degas House features many reproductions of the impressionist's works, to include this large painting above the fireplace.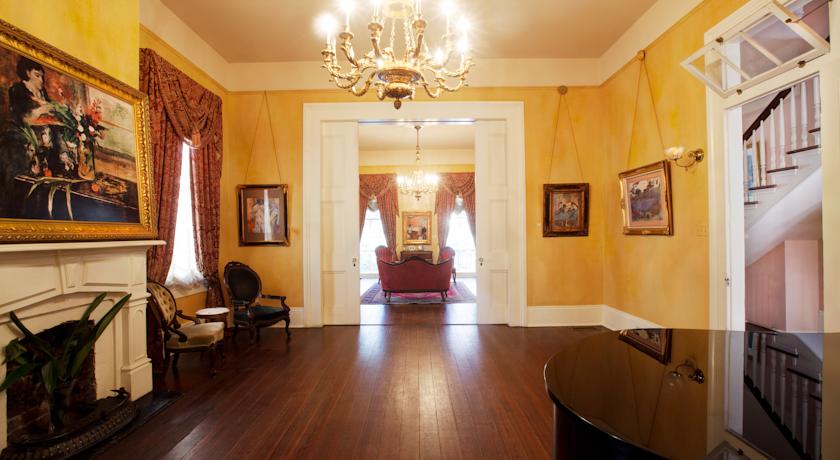 This section of the house is part of the Degas Museum that includes reproductions and informational placards.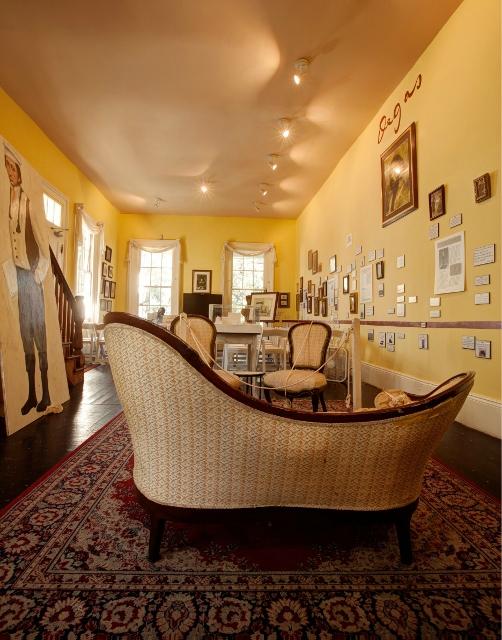 This 1860 drawing by Adrien Persac, shows the Degas House prior to being divided in two.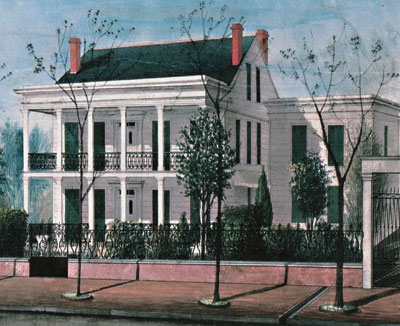 Degas' famous "A Cotton Office in New Orleans" is thought to be an 1872 painting of his uncle's office within New Orleans' Cotton Exchange.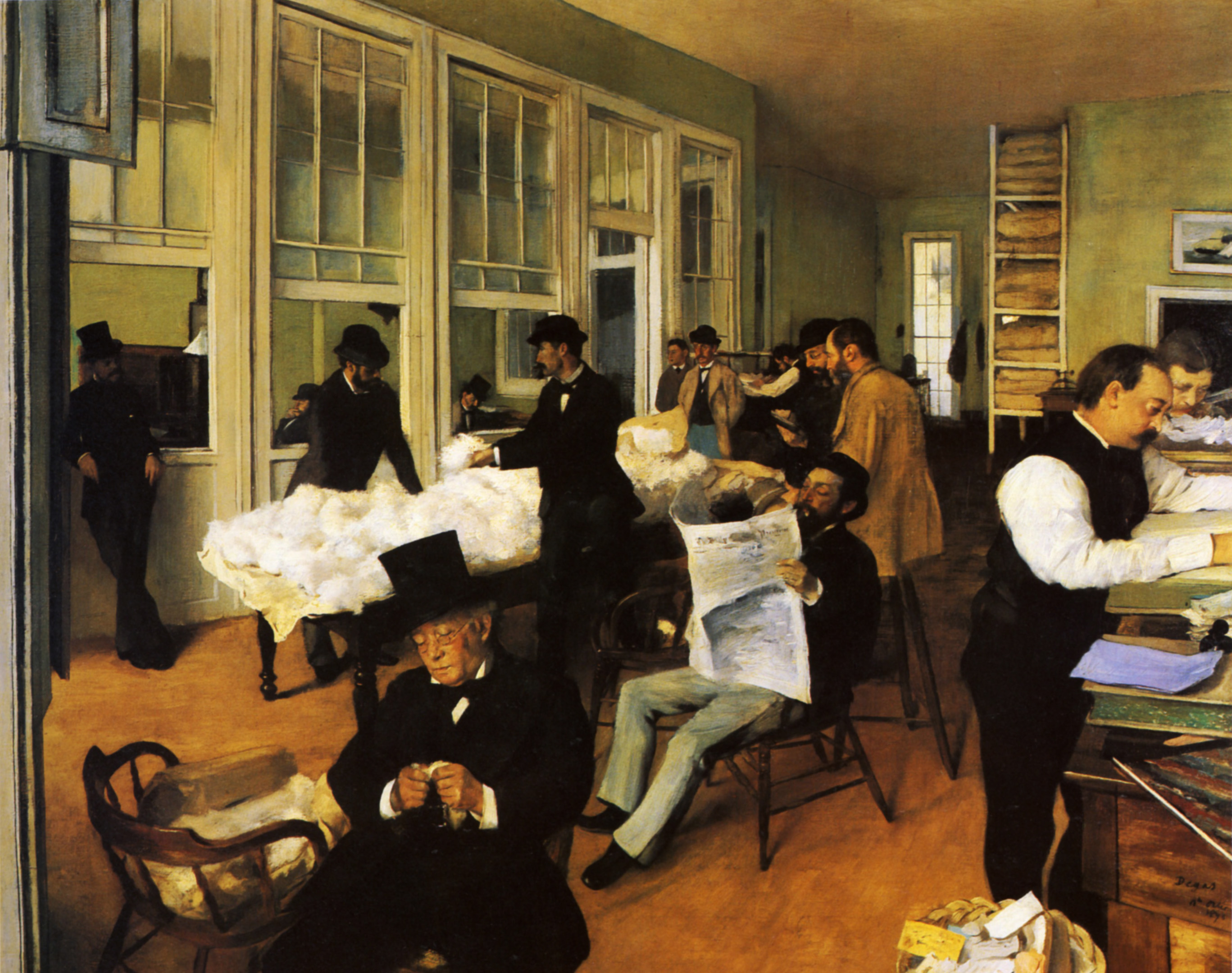 Backstory and Context
Edgar Degas' maternal grandmother, Germaine Musson, was born in Haiti and immigrated to New Orleans in 1810. His mother, Célestine Musson, who died when Edgar was just thirteen, was a Creole from New Orleans who later married Augustin De Gas. Edgar Degas was born in Paris in 1834 and came to New Orleans, during Reconstruction, to spend time with his maternal relatives and his brother René in late 1872. Considered one of the founders of impressionism, Degas stayed at the home of his uncle, Michel Musson, until the spring of 1873 when he returned to Paris. He had a studio at his disposal and continued to paint and sketch while at the house, producing eighteen paintings, to include A Cotton Office in New Orleans and The Song Rehearsal, and four drawings. He also wrote five letters that described his stay in New Orleans.
The house Degas occupied was built by Benjamin Rodriguez in 1852 in the Esplanade Ridge neighborhood. Rodriguez, an architect and developer, built the house as his personal home. The original house and grounds occupied almost the entire block. At some point soon after, the Musson family came into possession of the grand house. It was later split in two, with one half being moved approximately 20-feet to an adjacent lot in the 1920s. Both houses were then neglected for decades and fell into states of disrepair. They were then purchased by former pilot and New Orleans resident, David Villarrubia in 1993.
Villarrubia, with the assistance of the Edgar Degas Foundation, eventually restored both houses and linked them together with a quaint courtyard. Now referred to in the singular, the house is the only Degas House currently open to the public, and not just as a bed and breakfast. It offers a breakfast and tour package, an "Edgar Degas House Creole Impressionist Tour," and a "Creole Neighborhood Walking Tour" for both guests and non-guests alike. The tours include the bedroom in which Degas reposed as well as his studio. The house also features numerous Degas reproductions and has been furnished in a style that Degas himself would recognize.
Finally, the Degas House also makes art classes available to the public, such as its "Pencils and Pizza" and "Painting with Passion" classes. It also contains a gift shop the sells reproduction sculptures, prints, and educational and gift items.
Sources
"The Degas House Story." The Degas House. Accessed January 23, 2017. http://www.degashouse.com/museum/degas-house-story.htm
Bruno, R. Stephanie. "Edgar Degas' New Orleans residence is brought back to its former elegance." The Times-Picayune. July 14, 2012. Accessed January 23, 2017. http://www.nola.com/homegarden/index.ssf/2012/07/edgar_degas_new_orleans_reside.html
Faure, Stephen. "Creole Ghosts of Esplanade Avenue: The Degas House." Inside Northside. May/June, 2012. Accessed January 23, 2017. http://www.insidenorthside.com/creole-ghosts-of-esplanade-avenue-the-degas-house/
Smyk, Brianna. "impressions of New Orleans with a Visit to Degas House." NolaVie. December 29, 2011. Accessed January 23, 2017. http://nolavie.com/impressions-of-new-orleans-with-a-visit-to-degas-house-40269/
Additional Information