Camp Parapet
Introduction
Camp Parapet is small park containing the ruins of a powder magazine once part of an earthen defense and camp built in 1861 by the Confederates during the Civil War to protect New Orleans from at attack from the north. Union forces expanded it after they captured New Orleans in the spring of 1862. Access to the park is closed but it can be seen at the end of Arlington Avenue. The fortifications ran from this location north in a zig-zag fashion towards Lake Pontchartrain. The powder magazine was part of the the main redoubt (redoubts are the part of a fortification that have canons and a powder magazine) at the southern end. The site was added to the National Register of Historic Places in 1977. There is a small area at the intersection of Causeway Boulevard and River Road featuring a historical marker that describes Camp Parapet and a modern artillery gun.
Images
The powder magazine was once part of the main redoubt at the southern end of the fortifications.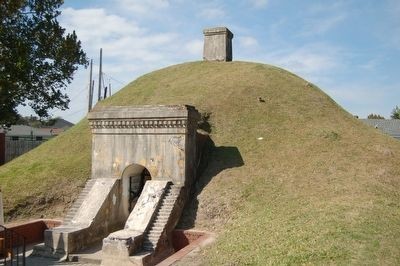 The marker at the intersection of Causeway Boulevard and River Road.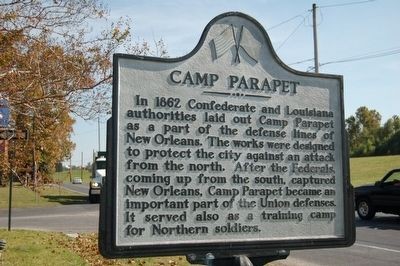 Backstory and Context
Union forces attacked New Orleans from the south so the fortification never saw action. However, the Union expanded the fortification to prepare for an assumed Confederate counterattack; this never occurred. The Union also trained soldiers at the camp. From the late 1800s to 1920, the magazine was used as a temporary holding cell for another jail. It was restored in 1981.
Sources
"Camp Parapet." The Historical Marker Database. Accessed January 18, 2017. Accessed January 18, 2017. http://www.hmdb.org/marker.asp?MarkerID=92004.

"History of Camp Parapet and the Powder Magazine." Jefferson Historical Society. http://www.jeffersonhistoricalsociety.com/Activities/ParapetProgram.pdf.