Dolley Todd House
Introduction
Prior to becoming Dolley Madison in 1794, Dolley Todd and her first husband, John Todd, lived at this house from 1791-1793. This 18th century, 3-story, Georgian home was built in 1775 by John Dilworth. John Todd died in 1793 and, soon after, Dolley married James Madison. She remained in Philadelphia until the Madisons retired, temporarily, to the family estate at Montpelier in Virginia in 1797. The house is now part of the larger Independence National Historical Park. It has been restored to how it looked while it was occupied by the Todds with period artifacts and furniture. It is occasionally open as a house museum that provides a window into the life of a solidly middle-class, Philadelphia family at the end of the 18th century.
Images
The Dolley Todd House sits at the corner of 4th and Walnut Streets in the city's Society Hill neighborhood. The Todds resided here from 1791-1793 and James Madison courted Dolley here after the death of her first husband.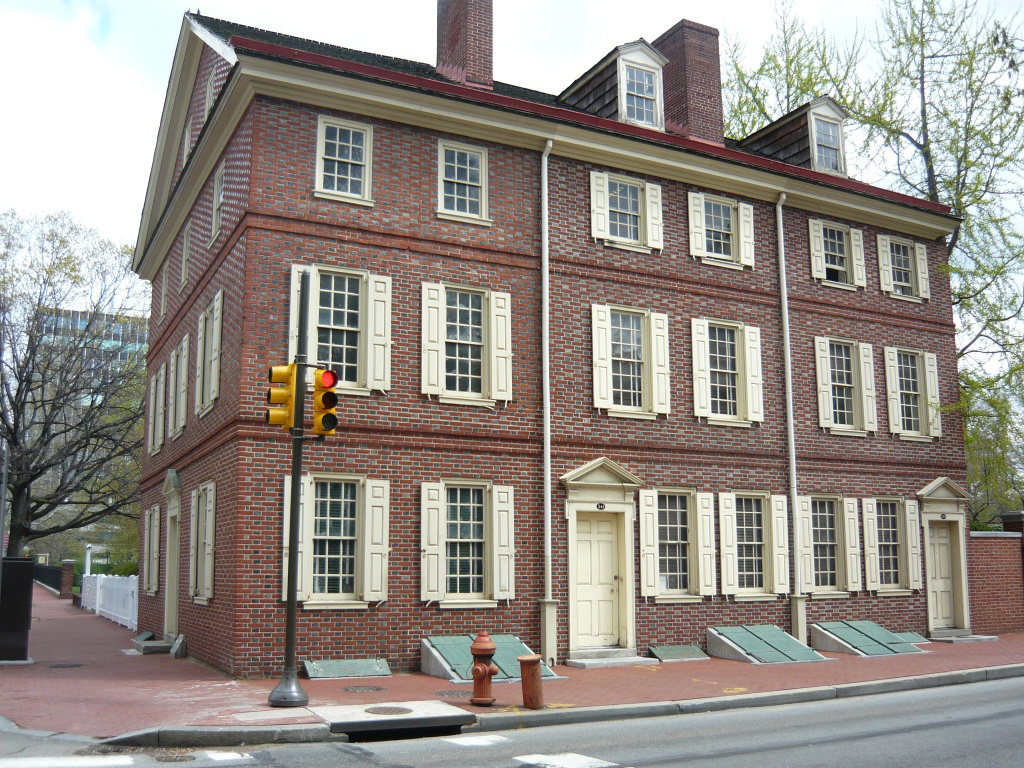 This 1947 photograph shows the Dolley Todd House prior to restoration when it served as a soda shop.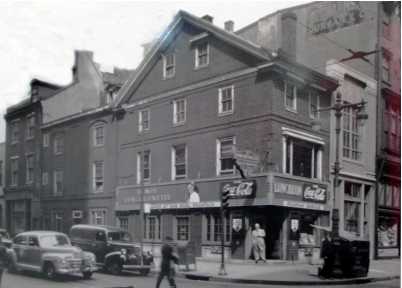 John Todd's law office has been recreated to reflect what it looked like while Mr. Todd was alive. It also housed his law library that contained over 300 volumes.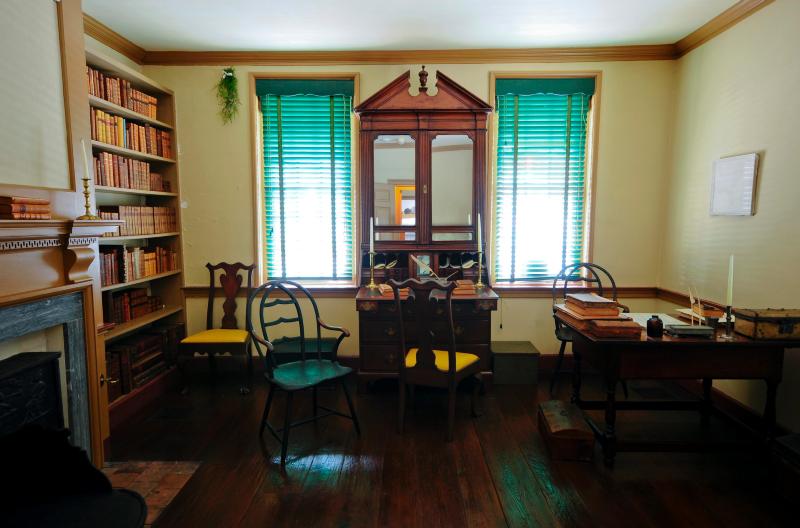 The Todds bedroom as it might have existed in 1793, the year John and infant William Todd died of yellow fever.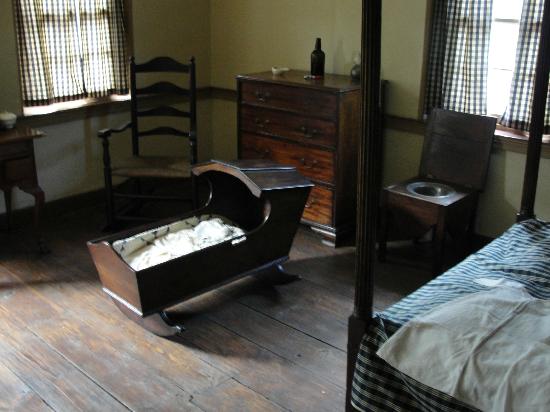 The famous portrait of Dolley Madison that was used to create her coin. The Madison's estate, Montpelier, is on the reverse side.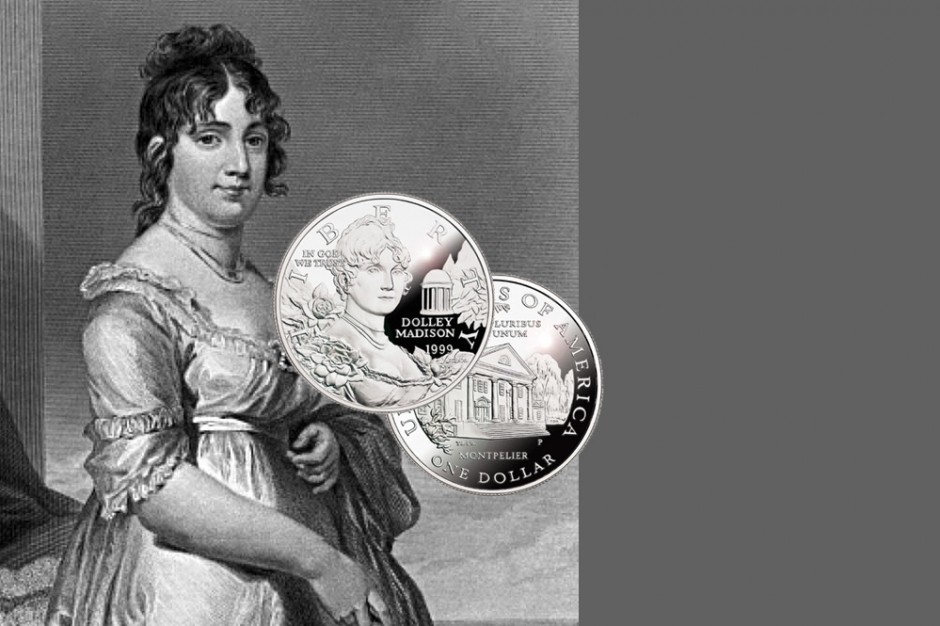 Backstory and Context
Dolley was the daughter of John and Mary Payne, a Quaker family that moved to Philadelphia from Virginia in 1783. She was 15 at the time and one of eight children. Her father had freed his slaves after converting to the Quaker religion as slavery was antithetical to the ideals of Quakerism. He tried his hand as a starch merchant in Philadelphia, but failed to such a degree that he was expelled from the Society of Friends. John Payne died in 1792, forcing his widow to open a boarding house to make ends meet. Mary Payne would leave Philadelphia the next year and move in with her daughter, Lucy, who had married a nephew of George Washington.
Meanwhile, the 22-year-old Dolley had married lawyer John Todd in 1790 and the two quickly had two sons, John Payne Todd (known as Payne) and William. The house was also home to Dolley's sister Anna and two of John's law clerks, who boarded with the Todds. Tragedy struck the family in 1793 in the form of a yellow fever epidemic. Dolley, like many, fled the city for a country resort. However, her husband stayed in the city to care for his parents and his law practice. Dolley lost her in-laws, husband and 3-month-old son, William, all in 1793 (her son and husband on the same day). She was now a widow at 25 with a one-year-old son to care for and in financial difficulty.
Luckily, prior to her husband's death, they had travelled in the social circle that included many members of the federal government where she perhaps encountered the likes of James Madison and Aaron Burr. Madison was serving in the House of Representatives from Virginia and indications are that Burr, Madison's college friend, arranged the meeting between Dolley and James at this home on Walnut Street. The courtship progressed quickly and the two were married less than a year after John Todd's death, thus securing Dolley's future as well as that of her young son. The Madisons then moved to James' home on Spruce Street and lived there until James' term expired in 1797 when they moved to Virginia and, later, the White House.
The Dolley Todd Houses was then occupied by Revolutionary War General Stephen Moylan, the man credited with using the term "United States of America" for the first time, until 1807. It now features the recreated law office of John Todd, the Todds bedroom and their parlor. It also contains two leather fire buckets that were required in all homes for communal use.
Sources
"Todd House: Dolley Madison slept here!" Independence Hall Association. Accessed January 12, 2017. http://www.ushistory.org/tour/todd-house.htm
Crimmins, Peter. "The Philadelphia story before she became Dolley Madison." Newsworks. March 15, 2013. Accessed January 12, 2017. http://www.newsworks.org/index.php/local/arts-culture/52326-the-philadelphia-story-from-before-she-b...
"The Dolley Todd House." National Park Service. Accessed January 12, 2017. https://www.nps.gov/inde/learn/historyculture/places-dolleytoddhouse.htm

Additional Information