Historical Marker: Site of Old Mobile
Introduction
From 1702-1711, present day Le Moyne was the original site of Mobile. The site was not located where this historical marker is but rather directly east from it along the Mobile River, at a spot called Twenty-Seven Mile Bluff. At its peak, the settlement, which was called Fort Louis de la Louisiane, had 80-100 structures (including the fort) and around 350 people. It was established by territorial governor Pierre Le Moyne d'Iberville. His brother, Jean-Baptiste Le Moyne de Bienville, became governor (Pierre died in around 1706) and as such was in charge of the colony. The settlement served as the capital of the colony and was where the French interacted with the various Native American tribes in the area. The site was added to the National Register of Historic Places 1976 and is possibly a National Historic Landmark. Private companies own the property so it does not appear that the site can be visited. Archaeological excavations have revealed much about the site and the remains are in good condition.
Images
The Site of Old Mobile historical marker. The other side is in French.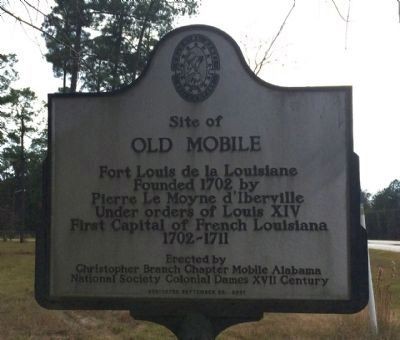 Backstory and Context
The French had established forts at Biloxy Bay (Fort Maurepas) in 1699 and along the Lower Mississippi River (Fort de la Boulaye) in 1700. The Le Moyne brothers, who were born in Montreal, were very ambitious and determined to found a French colony on the Gulf Coast. Their efforts largely succeeded. Jean-Baptiste, who became governor, decided to move the settlement to present-day Mobile. Several factors led to this decision, among them that it was too far from Mobile Bay. Jean-Baptiste went on to found New Orleans in 1718.
Sources
"Site of Old Mobile." The Historical Marker Database. Accessed January 9, 2017. http://www.hmdb.org/marker.asp?marker=70588.

Waselkov, Gregory. "Old Mobile Site." National Park Service - National Historic Landmark Nomination. January 3, 2001. https://web.archive.org/web/20030824131750/http://www.cr.nps.gov/nhl/DOE_dedesignations/oldmobil.pdf.