Berlin Wall Installation at U.Va
Introduction
In 2014, the University of Virginia received four panels of the Berlin Wall, which once separated East and West Germany. Like many other such segments, these concrete slabs provided a canvas for unique graffiti artwork. Each of the 12-ft-tall panels weigh 65,000 lbs and feature paintings by Dennis Kaun, a West German artist. The Berlin Wall exhibit, located near the Alderman Library, was unveiled on April 11, 2014 to commemorate the 25th anniversary of the toppling of the wall.
Images
The Berlin Wall installation is adjacent to the Alderman Library (pictured). Image by By Vtn5n - Own work, Public Domain, https://commons.wikimedia.org/w/index.php?curid=6635863.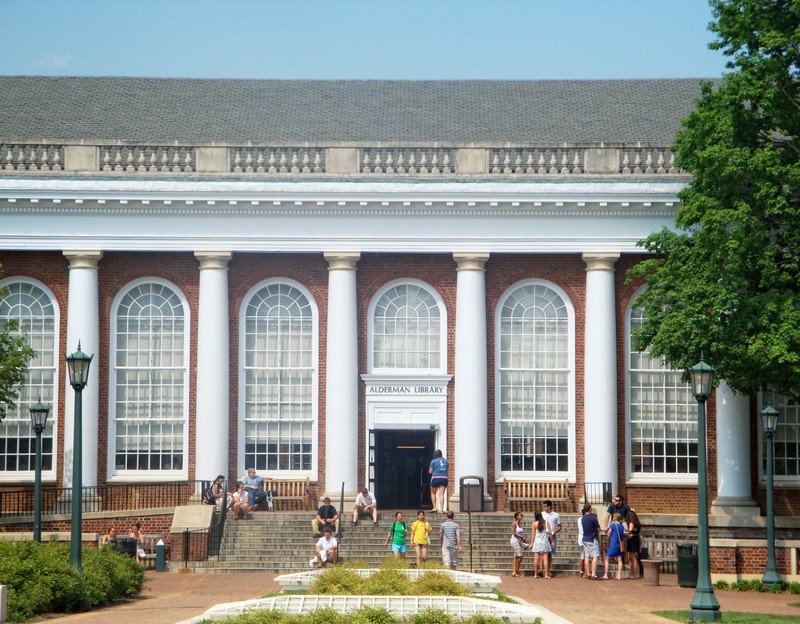 Backstory and Context
Only days before the toppling of the Berlin Wall in November 1989, one of the best-known West German artists, Dennis Kaun, painted "The Kings of Freedom" on several 12-ft-tall, 16-ft-wide concrete slabs. According to Kaun, who is known for his colorful, spray-painted pop murals, the piece took six hours over two sessions to create.
Shortly after the wall fell, American businessman Robert Hefner purchased the painting, which he displayed in his hometown of Oklahoma, Colorado, and later from his wife's native Singapore. The pair eventually retired to Charlottesville and decided to loan the 4 concrete panels to the University of Virginia. The unveiling took place on the 25th anniversary of the toppling of the Berlin Wall.
Of the segments, Hefner stated:
On the west side of the wall, we can see the vibrant colors of free will, liberty and personal freedom....But I've always thought that it's the other side that each of us needs to embed in our minds and memories. It's that dull gray and blank side that's the most important. It represents the lifeless existence of the bonds of tyranny and the loss of freedom. If there's one message I would like for you to carry away today, that's the one.1

The unique artwork is housed in a glass case located near the Alderman Library.
Sources
1. Hull, Robert. "Berlin Wall's 'Kings of Freedom' Art Unveiled on U.Va.'s Grounds as Symbol of Liberty." UVAToday (Charlottesville), April 14, 2014. Accessed January 8, 2017. https://news.Virginia.edu/content/berlin-wall-s-kings-freedom-art-unveiled-uva-s-grounds-symbol-libe....

Hausman, Sandy. "UVA Welcomes Berlin Wall Exhibit." WVTF Public Radio (Charlottesville), April 16, 2016. Accessed January 8, 2017. http://wvtf.org/post/uva-welcomes-berlin-wall-exhibit#stream/0.

NBC 29 WVIR-TV. "Four Panels of the Berlin Wall Installed at UVA." March 10, 2014. Accessed January 8, 2017. http://www.nbc29.com/story/24932480/four-panels-of-the-berlin-wall-installed-at-uva.

Additional Information