Kelley Park
Introduction
San Jose's 172-acre Kelley Park includes the Leninger Community Center, park grounds and an amphitheater, the Japanese Friendship Garden, Happy Hollow Park and Zoo, and History Park. It is named after Louise Kelley, who inherited the property on which the park now stands from her father, Judge Lawrence Archer, once mayor of San Jose [2].
Images
The lower pond in the Japanese Friendship Garden in Kelley Park (image from Expedia)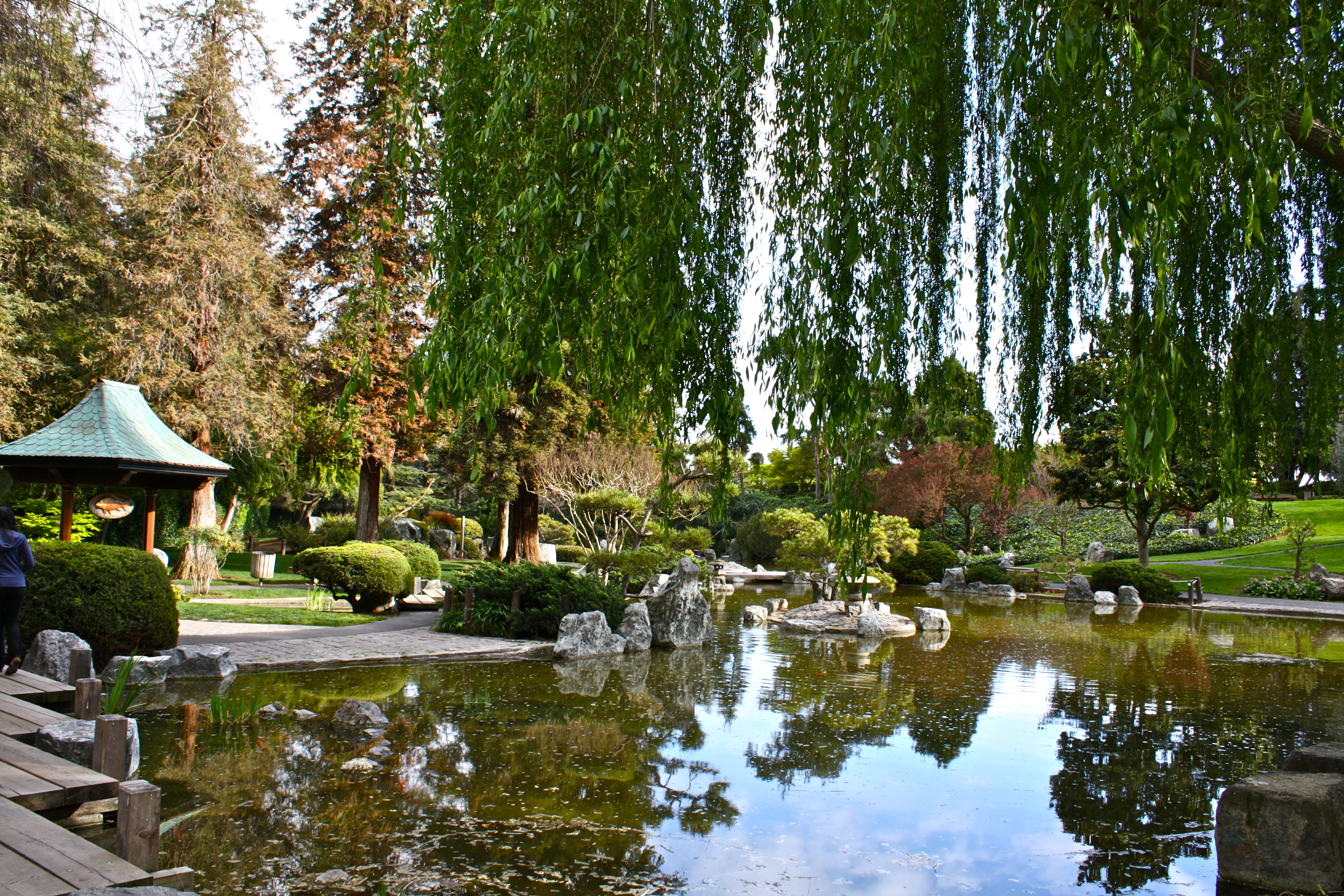 Kelley Park grounds (image from Expedia)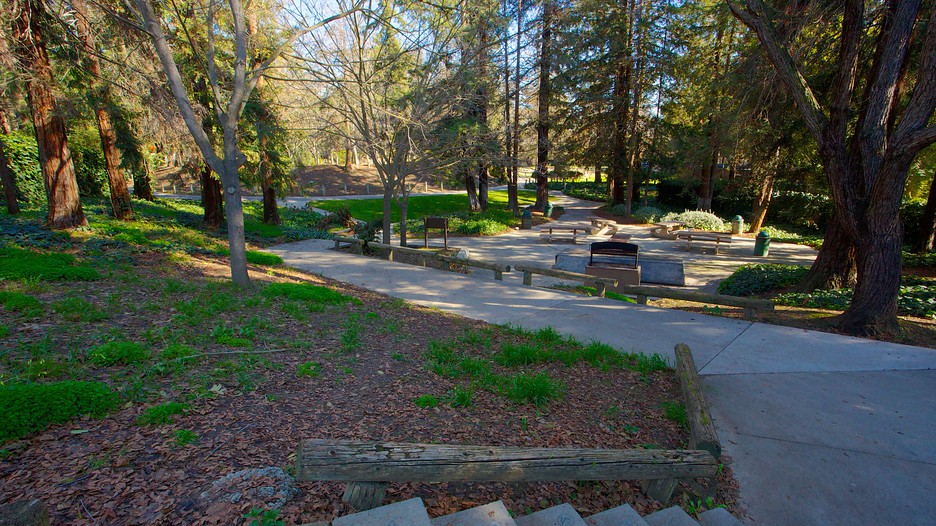 Kelley Park amphitheater (image from Expedia)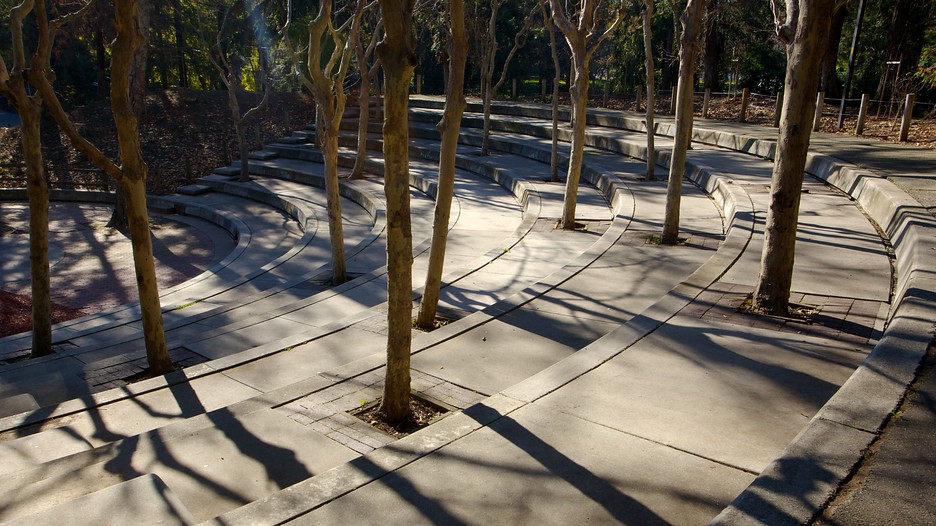 In the Japanese Friendship Garden (image from Greatest Garden)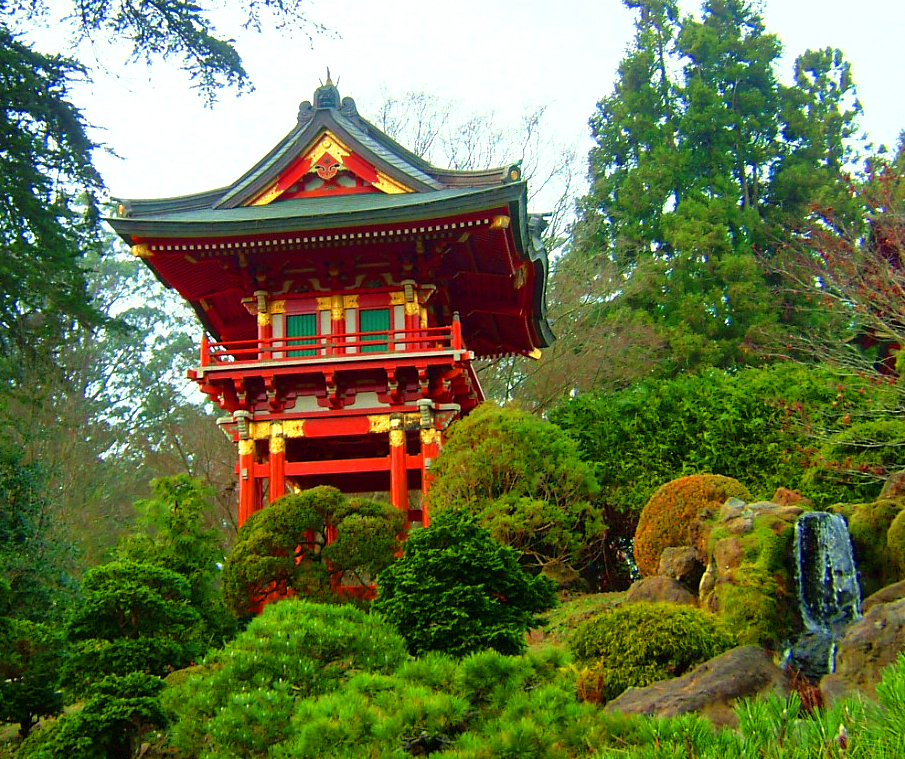 The historic Kelley House (1910) in the 1950s (image from VDA Group)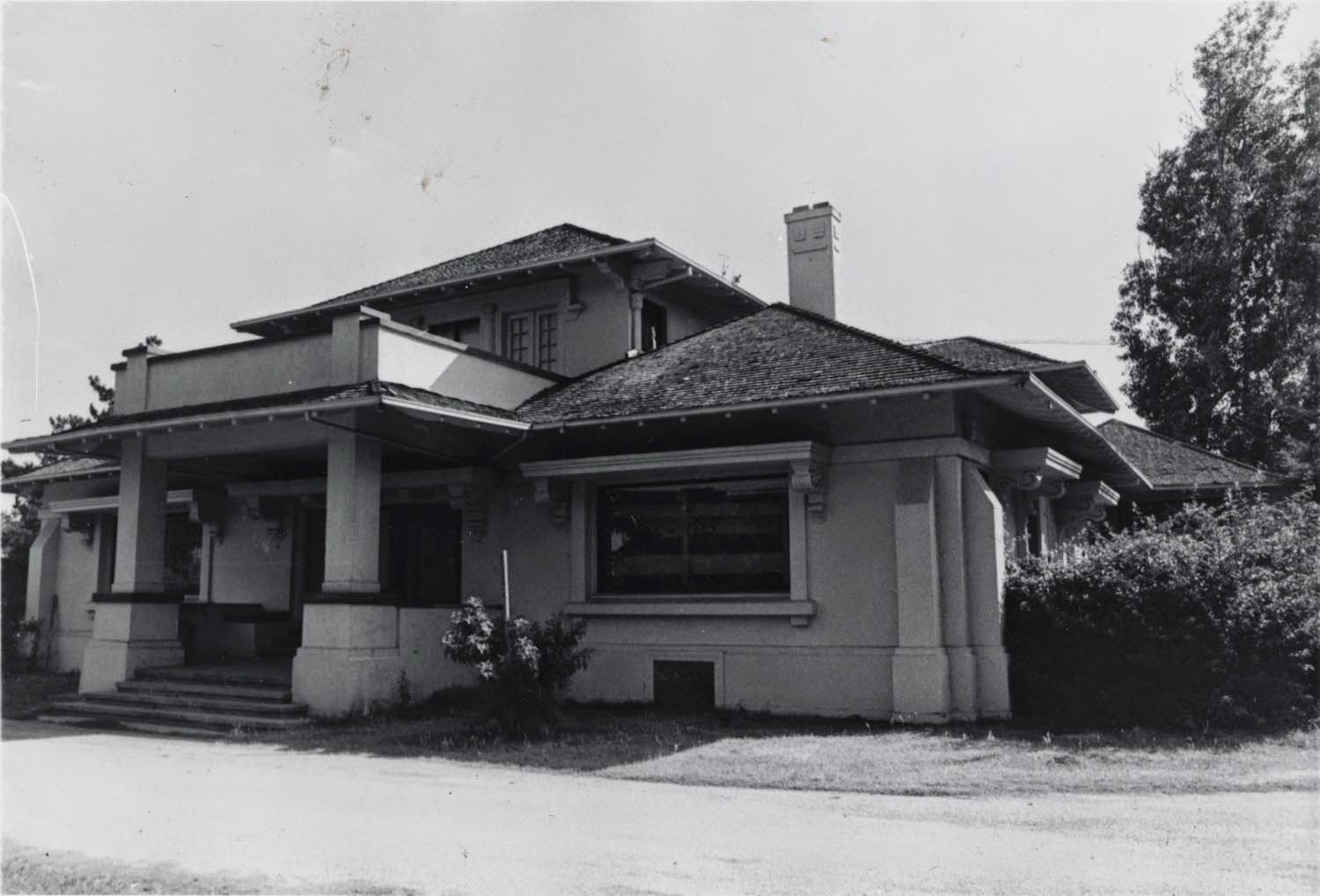 Damage to the Kelley House in a 2012 fire (image from CBS San Francisco)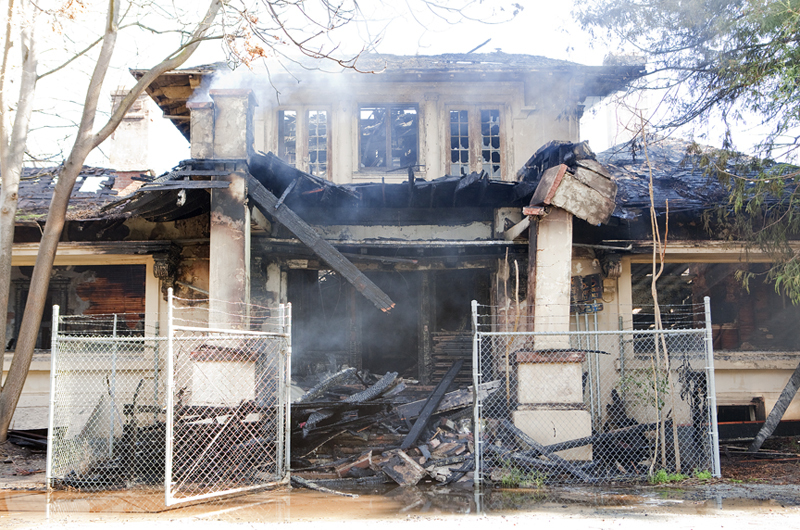 Post-fire photograph of the Kelley House interior (image from VDA Group)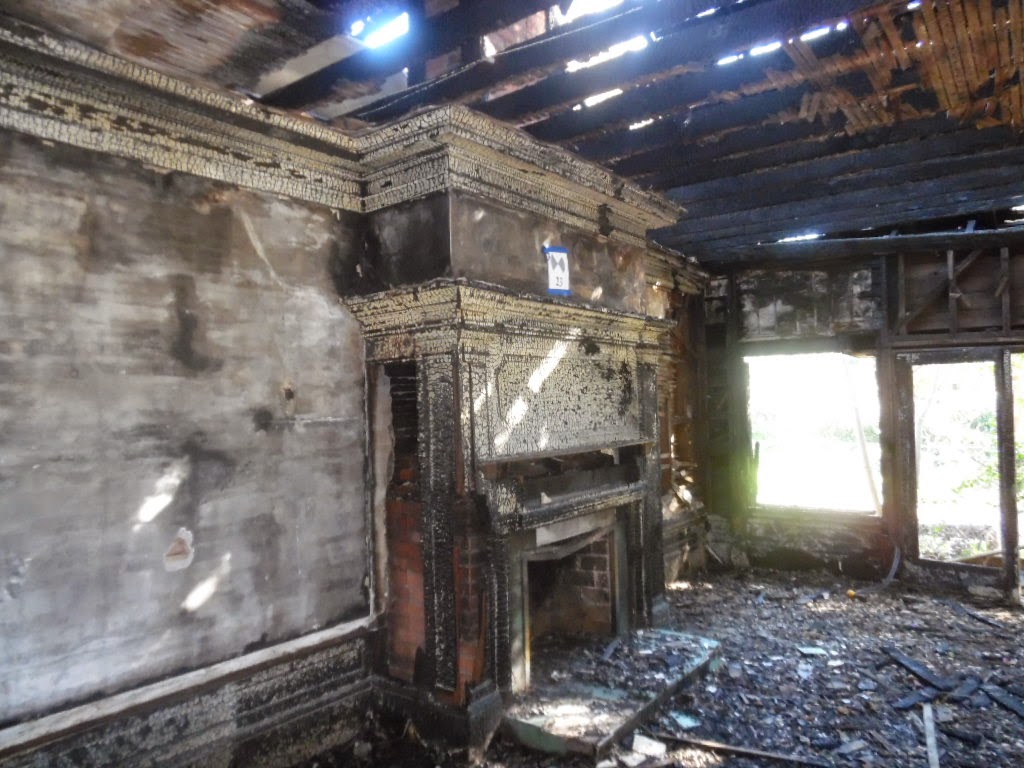 Backstory and Context
Lawrence Archer and Louise Kelley
Lawrence Archer (1820-1910), born in South Carolina and educated at the University of Virginia, paid most of his own tuition due to his plantation-owner and merchant father's financial difficulties during Lawrence's coming-of-age. He worked for South Carolina attorney Armisted Burt until 1841, when he moved to Yazoo County, Mississippi and became a state Supreme Court judge [3; 4]. Suffering from ill health due to the "malarial fevers of that region," Archer moved to Missouri via steamboat and stage, then "finally, owing to an accident, the latter part of the way on foot," [4]. There, he married Louise Martin in 1848 and became district attorney, before moving (again seeking to recover his health) to Sacramento, California in 1852. The great fire in the same year uprooted the couple to San Francisco, and finally in the first month of 1853, to San Jose, where he soon became active in community service, law, and real estate. Three years later, he was elected to his first term as Mayor (he served again in 1878), became Santa Clara County Judge in the years between, and later became State Assemblyman in 1875-1876 and member of the Board of Regents at the University of California [3; 4; 6]. Lawrence and Louise's only child, their daughter Louise, was born in 1863, and the family settled on what Archer called the Lone Oak Estate (160 acres of modern-day Kelley Park) six years later [3; 6]. Lone Oak included a 30-acre orchard growing cherries, apricots, walnuts, and prunes, which employed women and children. The estate also boasted garden avenues among pepper, eucalyptus, yew, wisteria, and cypress trees [2; 3; 4; 6]. Sadly, within this idyllic scenery, Louise Martin Archer died in 1869. Archer remarried the following year, and he and Indiana-born Alice Bethall Archer had two sons, Lawrence Jr. and Leo Archer [3; 4]. His daughter, Louise, was married at Lone Oak in 1883 to Martin J. Flavin of San Francisco, but their marriage, too, was cut short by death: Flavin died only a few years after the ceremony. Louise married Frank J. Kelley and moved back with him to Chicago, where he owned the Star-Peerless Wallpaper Mills [3].
In 1909, the original Archer house burned down, and a new, 5,600-square-foot house was erected on the site [3]. Just a day after construction was completed, on February 17, 1910, Lawrence Archer died, leaving the house and the Lone Oak Estate to Louise [2; 3; 6]. Louise, Frank, and their four sons moved to Lone Oak, which Louise Archer Kelley renamed the Ar-Kel Estate [6]. For the next forty years, Louise improved the grounds and gardens, until 1951, when her health began to suffer. She and her family put a portion of the estate up for sale, and Alden Campen and Ernie Renzel purchased 63 acres, including the Kelley house, on behalf of the city to establish Happy Hollow Park, on the condition that Mrs. Kelley was allowed to live there until her death [3; 6]. The property included a carriage house, garages, a barn and other outbuildings, and a gardener's house at the time of sale [3]. In spite of Mrs. Kelley's desire for the park to be named Archer Park in honor of her father, the park received her married name instead; nonetheless, the Kelleys approved of the use of the property as a public park, and eventually the city bought the entire 160-acre estate [3; 6]. Louise Kelley died in February of 1952 [3].
Kelley Park and the Kelley House
In 1961, the first section of Kelley Park opened as Happy Hollow. Four years later, construction began on the San Jose Historical Museum, which would eventually lead to the establishment of History Park [3]. Also in 1965, the Japanese Friendship Garden opened as a "living symbol of the 'Sister City' relationship between Okayama, Japan and San Jose," [1], and only a year later, the Leninger Community Center was dedicated in honor of City Engineer Carl J. Leninger. Sadly, by the 1980s, most of Lawrence Archer's original plantings were gone, and only the Kelley House and its associated carriage house remained of the original estate [3]. Though the City hoped to open the Kelley House as a museum, funding consistently fell short, and the house served primarily as a storage facility for historic documents and a local theater troupe's sets and costumes, with lodgings for a park ranger and caretaker [3; 5]. On a Thursday morning in February of 2012, sixty percent of the vacant house was damaged in a two-alarm fire which collapsed the roof and part of the interior [5; 6]. Fortunately, before the ruins of the house had to be demolished, History San Jose and Brian Miller of Virtual Design Analysis Group partnered to document what remained via laser scan [6; 7]. The scan preserved the precise floor plan, information about construction materials and methods, and even forensic evidence of the fire's origin. The data can be used to virtually (or physically) recreate a historic structure, and there are plans for an exhibit based on the laser scan [7].
Meanwhile, Kelley Park still offers a wide array of activities and amenities: the Leninger Community Center, park grounds and an amphitheater, the Japanese Friendship Garden, Happy Hollow Park and Zoo, and History Park [1; 2; 3; 6].

Sources
1. City of San Jose. "Japanese Friendship Garden." Accessed January 1, 2017. http://www.sanjoseca.gov/facilities/Facility/Details/350.
2. City of San Jose. "Kelley Park." Accessed December 31, 2016. http://www.sanjoseca.gov/facilities/Facility/Details/175.
3. Dobkin, Marjorie and Ward Hill. "Kelley House in Kelley Park: Preliminary Historic Architectural Evaluation." May 1994. Accessed December 31, 2016. http://historysanjose.org/wp/wp-content/uploads/2011/05/KelleyHouse_DobkinHill.pdf.
4. Foote, H.S., ed. "Judge Lawrence Archer." From: Pen Pictures From The Garden of the World or Santa Clara County, California, Illustrated. 1888. Transcribed by Kathy Sedler. Accessed January 7, 2017. http://mariposaresearch.net/santaclararesearch/SCBIOS/larcher.html.

5. Gomez, Mark. "San Jose: Two-alarm fire damages historic Kelley House." The Mercury News. February 16, 2012. Accessed December 31, 2016. http://www.mercurynews.com/2012/02/16/san-jose-two-alarm-fire-damages-historic-kelley-house/.
6. History San Jose. Official website. Accessed December 31, 2016. http://historysanjose.org.
7. Miller, Brian. "The Kelley House: Let's Talk About the Project." Virtual Design Analysis Group. January 14, 2015. Accessed January 1, 2017. http://virtualdesignanalysisgroup.blogspot.com/.
Additional Information