Historical Marker: Literary Landmark - 540 St. Peter
Introduction
During the 1920 great American author Sherwood Anderson (1876-1941) hosted literary salons at this location. Many future literary giants came here including Gertrude Stein, William Faulkner, and Carl Sandburg. Anderson played a large role in helping jumpstart their careers. The marker was placed here in 1998 by the Friends of Libraries USA and Friends of the New Orleans Public Library.
Images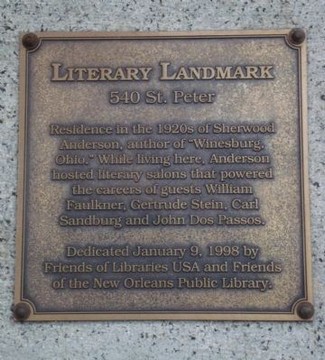 Original cover for Anderson's only bestseller, Dark Laughter, which was inspired by his time in New Orleans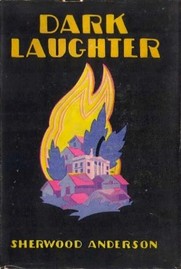 Sherwood Anderson in 1933. Courtesy of the Van Vechten Collection at the Library of Congress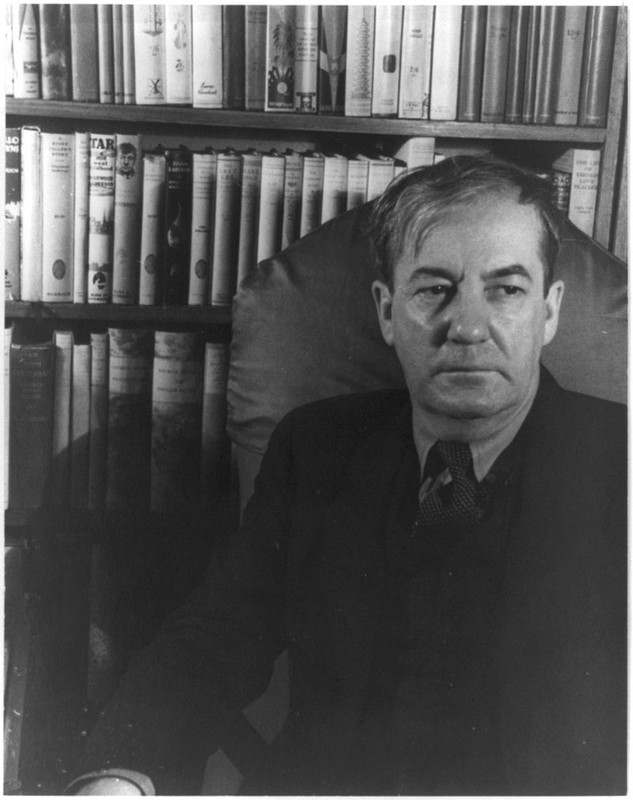 View of the building entrance where the marker is located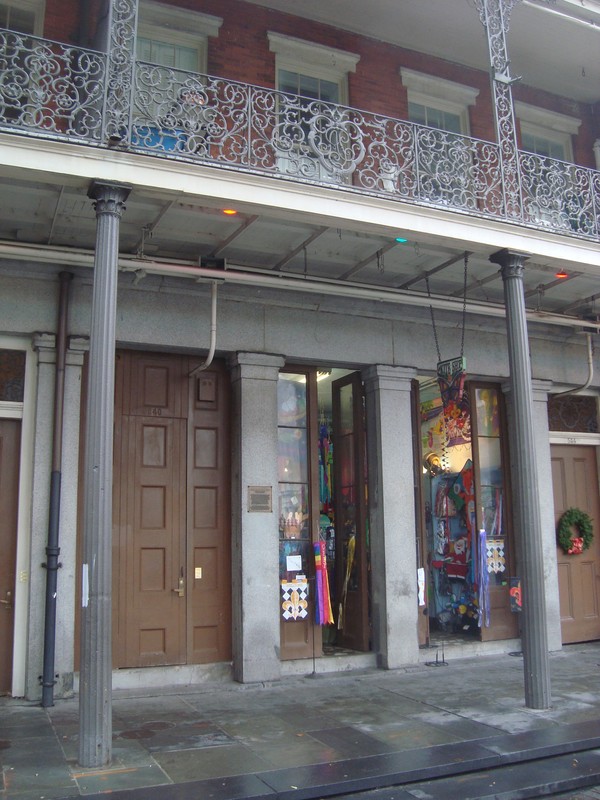 Backstory and Context
Sherwood Anderson was an American novelist and short story writer, known for subjective and self-revealing works. Self-educated, he rose to become a successful copywriter and business owner in Cleveland and Elyria, Ohio. In 1912, Anderson had a nervous breakdown that led him to abandon his business and family to become a writer.
At the time, he moved to Chicago and was eventually married three more times. His most enduring work is the short-story sequence Winesburg, Ohio, which launched his career. Throughout the 1920s, Anderson published several short story collections, novels, memoirs, books of essays, and a book of poetry. Though his books sold reasonably well, Dark Laughter (1925), a novel inspired by Anderson's time in New Orleans during the 1920s, was the only bestseller of his career.
Beginning in 1924, Sherwood and Elizabeth Prall Anderson moved to New Orleans, where they lived in the historic Pontalba Apartments (540-B St. Peter Street) adjoining Jackson Square in the heart of the French Quarter. For a time, they entertained William Faulkner, Carl Sandburg, Edmund Wilson and other writers, for whom Anderson was a major influence. Critics trying to define Anderson's significance have said he was more influential through this younger generation who he influenced than by his own works.
Anderson referred to meeting Faulkner in his ambiguous and moving short story, "A Meeting South." His novel Dark Laughter (1925) drew from his New Orleans experiences and continued to explore the new sexual freedom of the 1920s. Although the book is now out of print (and was satirized by Ernest Hemingway in his novella The Torrents of Spring), it was a bestseller at the time, the only book of Anderson's to reach that status during his lifetime.
Sherwood Anderson's best known work is the novel "Winesburg, Ohio" but in all he wrote 27 works, seven of which were novels. Before his writing career got started he worked in advertising and owned his own company, Anderson Manufacturing. The stress of business life and the fact that making money for its own sake was not his passion caused him to have a nervous breakdown. He left the business industry to focus on writing. However, he did use his business experience for the rest of his life, buying two independent newspapers and serving as business manager and editor for both. Anderson was also a playwright, poet, and political journalist. Tragically, he died in Panama of peritonitis after accidentally swallowing a toothpick.

Sources
"A Brief Biography of Sherwood Anderson." The Sherwood Anderson Literary Center. Accessed December 21, 2016. http://www.sherwoodanderson.net/bio.
"Literary Landmark - 540 St. Peter." The Historical Marker Database. Accessed December 21, 2016. http://www.hmdb.org/marker.asp?marker=51546.
Anderson, Sherwood (1924).
A Story Teller's Story
. New York: B.W. Huebsch.
Anderson, Sherwood (1942).
Sherwood Anderson's Memoirs
. New York: Harcourt, Brace and Company.

Townsend, Kim (1987).
Sherwood Anderson: A Biography
. Boston: Houghton Mifflin.
Additional Information