Memorial Student Center, Marshall University
Introduction
Author-Uploaded Audio
The Marshall University Memorial Student Center opened in 1971 to provide students with a place to socialize, rest, and study on campus. It replaced an older facility, the Shawkey Student Union, that had been in use since 1933. The MSC was named in honor of the victims of the November 14, 1970 plane crash and serves as a living memorial. Today it houses a food court, lounge areas, the campus bookstore, a recreational area, various offices, and several meeting rooms, dining halls, and event spaces.
Images
The Shawkey Student Union, located just northwest of the site of the MSC, was the center of student life from 1933 to 1971.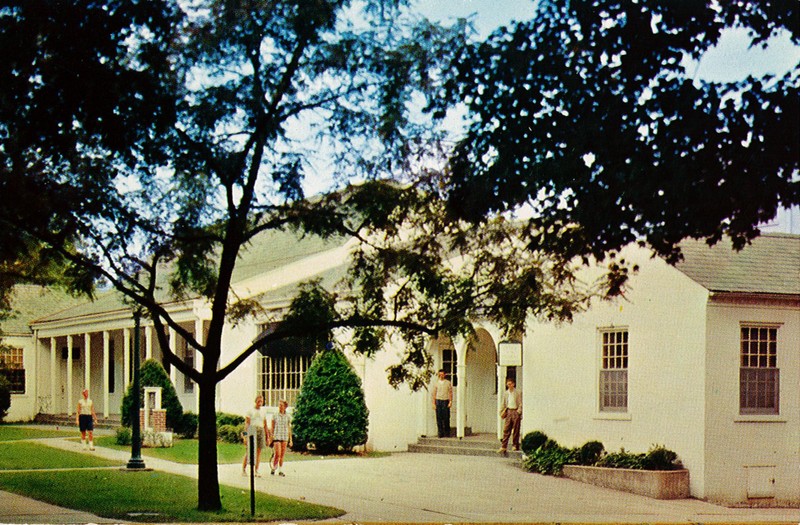 Artist's conception of the MSC. A simpler fountain had been planned to go in the plaza before the idea for the Memorial Fountain.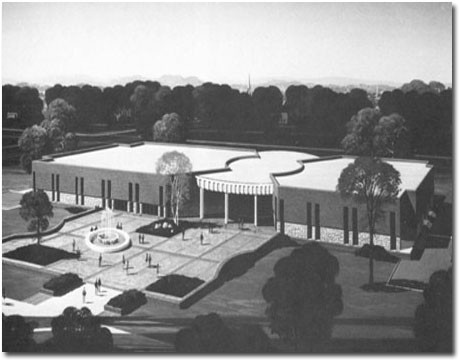 The MSC Plaza, located on the north side, is the heart of campus and the site of the Memorial Fountain.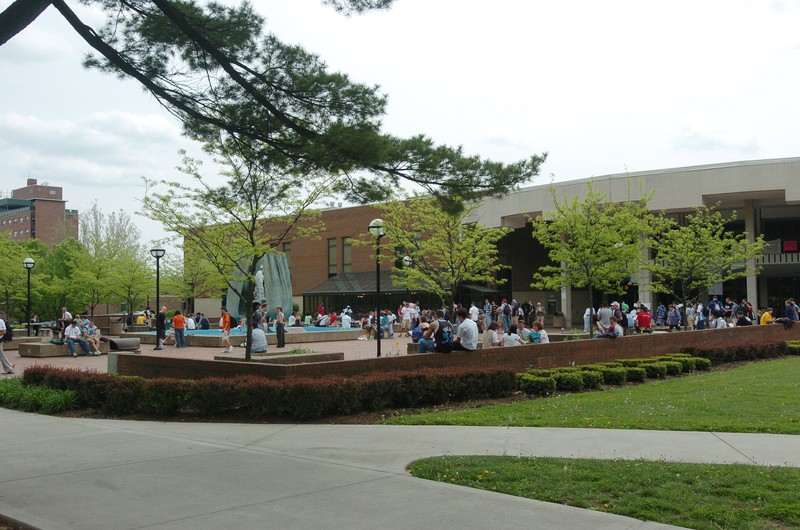 South side of the MSC, facing Fifth Avenue.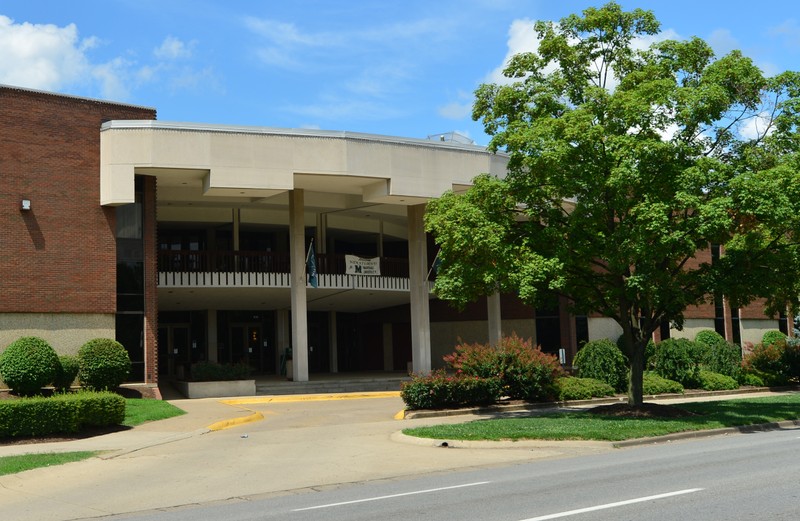 Since 1994, the building's John Marshall dining room has been home to this bell from the Nuclear Ballistic Missile Submarine U.S.S. John Marshall.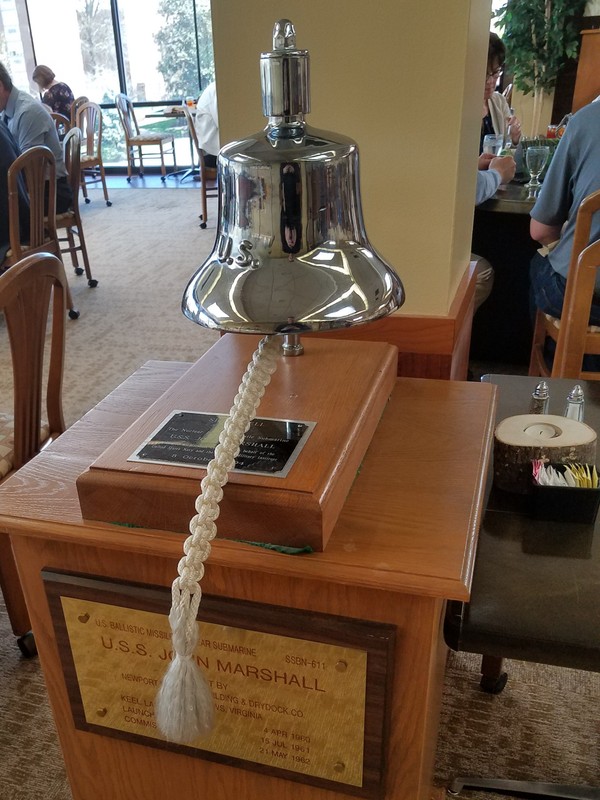 Backstory and Context
Author-Uploaded Audio
In 1933 Marshall constructed a student union building on campus to provide a place for students and faculty to socialize. The white brick, colonial-style building cost $25,000, which came from a mixture of donations and student fees. It was named the Shawkey Student Union after Morris P. Shawkey, who was president of Marshall College from 1923 to 1935. A former state legislator and state superintendent of schools, Shawkey witnessed Marshall double its enrollment and was responsible for securing funding to build the James E. Morrow Library. The Shawkey Student Union was very popular with students, and notoriously crowded. It contained a soda fountain, jukeboxes, pool tables, meeting rooms, and other facilities. An expansion in 1953 added a basement and a west wing, doubling its size.
By the late 1960s plans were in place to build a much larger student union due to significantly higher enrollment. In 1969 construction began on a $4 million, two-story, red brick student center just southeast of Shawkey. The Huntington architectural firm of Dean and Dean designed the new building in such a way as to allow the construction of additional floors or wings in the future, if needed. Following the Marshall Plane Crash in November 1970, the university formally named the new student union the Memorial Student Center (MSC) to serve as a living monument to the victims. The building was completed and opened for use in 1971. At the time it featured a cafeteria, coffeehouse (which sold beer), bookstore, listening room, poster room, meeting rooms, offices, dining halls, alumni facilities, and recreational facilities including a bowling alley. The old Shawkey Student Union closed upon the opening of the MSC, and it was demolished in August 1972. The MSC underwent a series of renovations in 1996-1998 that included the construction of a 7,000 square foot west wing for the bookstore.
The Memorial Student Center underwent a new round of refurbishments in 2019 that extensively remodeled the interior; changes included a more open floor plan, an expanded food court, and a touchscreen digital memorial to the 1970 Marshall Football team. Today the MSC features a large food court, school bookstore, recreational space, computer lab, lounge areas, several dining halls, meeting rooms and event spaces. It also houses the Student Government Association, the Campus Activities Board, the Office of Student Involvement, and the LGBT Office. 
Sources
Adkins, Sandra Joy. "Dedication marks 50th for student union." The Parthenon. October 28, 1983.
Bower, Cindy. "Shawkey Union: a radical idea for the 1930's." The Parthenon. October 28, 1983.
Casto, James E. Marshall University. Charleston, SC: Arcadia Publishing, 2005.
Casto, Judith. "MU Union Soon To Be A Memory." Herald-Dispatch. August 16, 1972.
Dedication Student Union Building Marshall College. November 11, 1933. Marshall University Special Collections.
Hall, Ginger. "Shirt sleeves, two hot dogs, ping pong & Shawkey." Marshall Alumnus 19, no. 1 (April 1978): 18-22.
Hively, Brittany. "Newly renovated Memorial Student Center unveiled during Grand Re-Opening." The Parthenon. December 6, 2019. Accessed January 19, 2020. https://www.theparthenon.com/23790/news/newly-renovated-memorial-student-center-unveiled-during-grand-re-opening/.
"Lost Huntington: Shawkey Student Union." Herald-Dispatch. September 14, 2014. Accessed January 20, 2020. https://www.herald-dispatch.com/special/lost_huntington/lost-huntington-shawkey-student-union/article_8fa20271-9557-594f-8484-c54d76ab6eec.html.
Meadows, Don. "A Dream come true… and a fond memory." Marshall Alumnus 15, no. 1 (April 1974): 20-21.
"Memorial Student Center." Marshall University. Accessed January 19, 2020. http://www.marshall.edu/msc/.
Miller, Tom D. "Marshall Plane Crash." e-WV: The West Virginia Encyclopedia. December 12, 2018. Accessed January 18, 2020. https://www.wvencyclopedia.org/articles/1528.
Moffat, Charles Hill. Marshall University: An Institution Comes of Age, 1837-1980. Marshall University Alumni Association, 1981. Accessed January 1, 2020. https://www.mds.marshall.edu/cgi/viewcontent.cgi?article=1008&context=lib_manu. 
Rake, Melissa. "Architects on campus to finish student center plans." Herald-Dispatch. January 31, 1996.
Rose, Mara. "Gone are the days." Herald-Dispatch. May 1, 1983.
Withrow, Lynn and Sondra Lewis. "Something for everyone…the Marshall Memorial Student Center." Marshall Alumnus 11, no. 3 (October 1971): 7-9. 
Image Sources
Marshall University Special Collections

Additional Information