Wolf Trap National Park for the Performing Arts
Introduction
Wolf Trap National Park for the Performing Arts, simply known locally as "Wolf Trap," is the only national park dedicated to the performing arts. The land on which the park sits had been in use for farms, wolf trapping, and suburban getaways for nearly three centuries before the park's founding in 1971. This unique park within the National Park system, located in suburban Vienna, serves as a venue for a diverse range of performances from pop music to opera. The Filene Center, an open-air amphitheater, hosts many of these performances. In addition to the performances, Wolf Trap hosts many other outdoor events and activities.
Images
Filene Center at Wolf Trap National Park. Image by National Park Service Digital Image Archives, Public Domain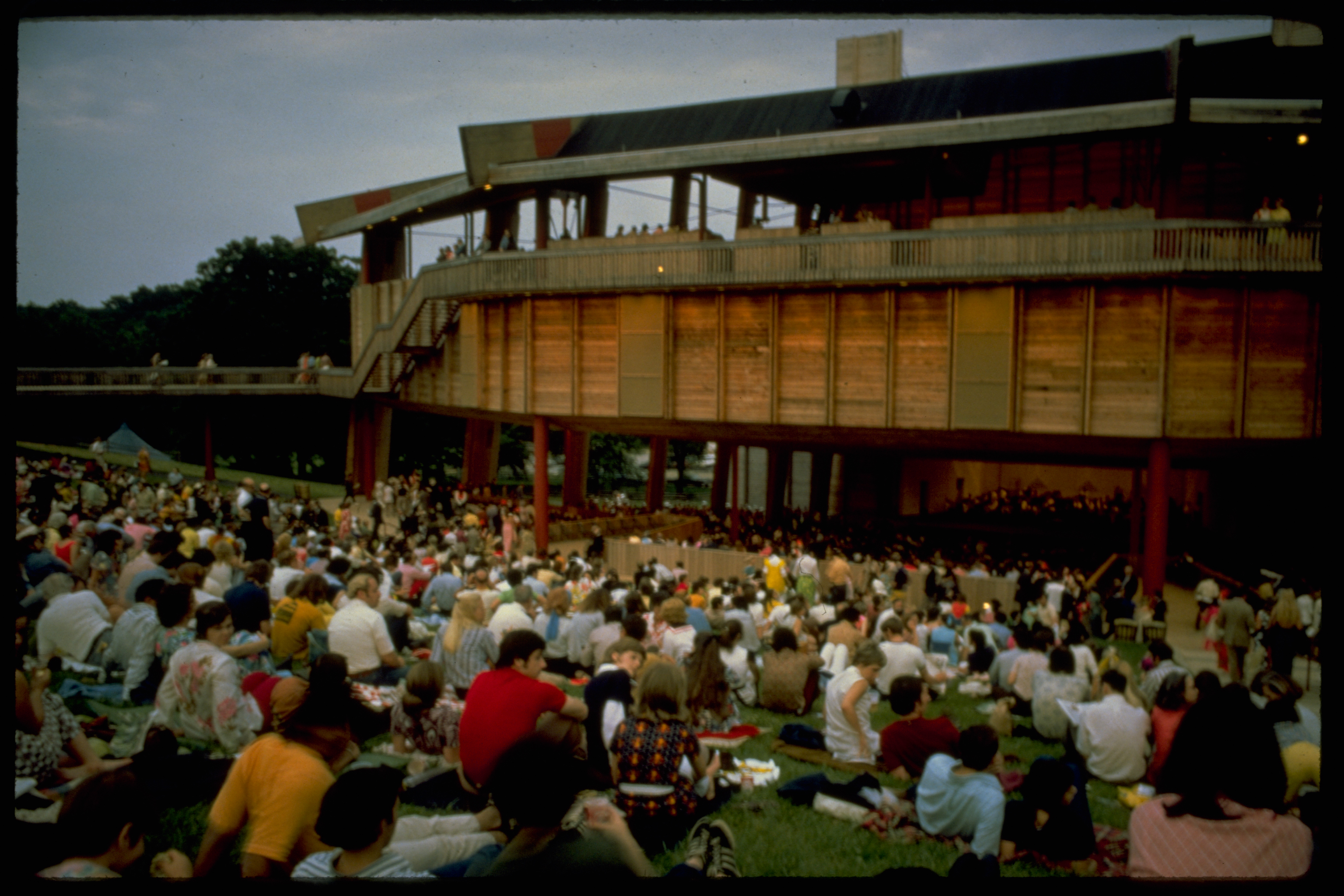 (1930) Wolf Trap Farm. Image by By David6591 - Harvard University, Radcliffe Institute, Schlesinger Library, CC BY-SA 3.0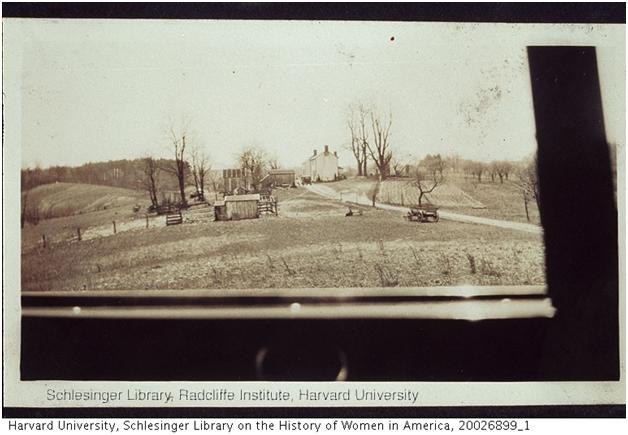 Catherine Filene Shouse and I. Lee Potter, Head of Wolf Trap Foundation, viewing plans for Filene Center, ca. 1970. (WP:NFCC#4), Fair use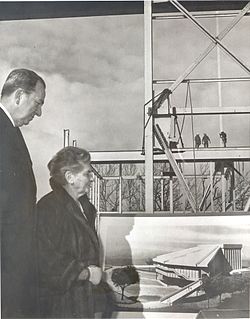 Catherine Shouse and First Lady Johnson at Filene Center groundbreaking ceremony, ca. 1968. Image by David6591 - Harvard University, Radcliffe Institute, Schlesinger Library, CC BY-SA 3.0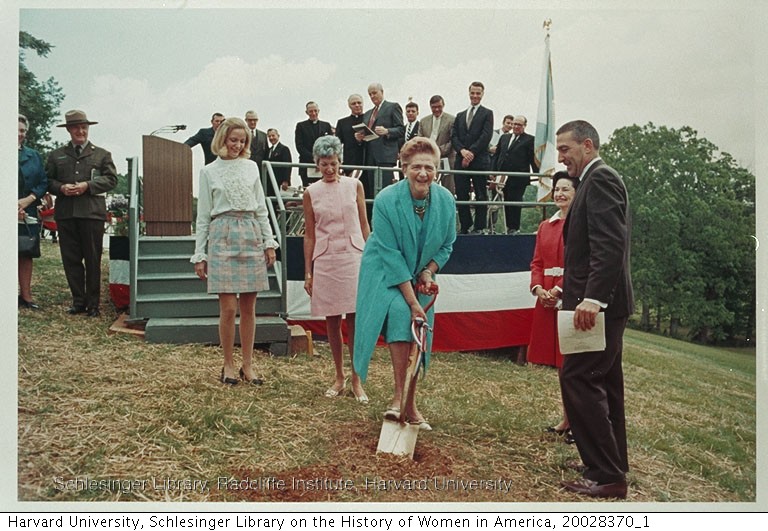 Backstory and Context
Opened in 1971, Wolf Trap National Park for the Performing Arts is a performing arts center located in Fairfax County, Virginia. The park offers both natural and cultural resources and activities through a partnership between the Wolf Trap Foundation for the Performing Arts and the National Park Service. "Wolf Trap," as it is known colloquially, is the only national park dedicated to the performing arts.
The 117 acres of national park land on which the center is located have been in use for over 270 years. Early records from Fairfax County suggest that the site was once host to a large population of wolves which were were trapped for bounties. The land passed through the hands of many notable families in the county during the 18th and 19th centuries, including that of Bryan Fairfax. In 1930, Catherine Filene Shouse gained ownership of 53 acres within Wolf Trap; her land holdings expanded to 168 acres by 1956. Shouse built Wolf Trap Farm on the property as a weekend retreat and as a spot for social gatherings.
In 1966, Shouse negotiated an agreement with Secretary of the Interior, Stewart Udall, to donate 60 acres of land from Wolf Trap Farm and 38 acres from the American Symphony Orchestra League to the government. Despite concerns over the number of art and music venues being constructed at the same time, a bill creating and funding Wolf Trap passed later that year. The groundbreaking ceremony for the Filene Center occurred in 1968, with the first concert at the venue held in 1969. First Lady Pat Nixon attended the inaugural performances on June 1st and 2nd, 1971, which featured artists such as Van Cliburn, the New York City Opera, National Symphony Orchestra, Choral Arts Society of Washington, United States Marine Band, and the Madison Madrigal Singers.
Wolf Trap is largely an open-air space. Notable facilities on the site have included the Composer's Cottage (built 1971 and destroyed in a fire in 1979), and the Filene Center. The Filene Center, named for Shouse's parents, is an indoor/outdoor ampitheater with with seating for 7,000. Though a 1971 fire damaged the structure prior to its opening, the Filene Center opened on schedule. A benefit concert held at Constitutional Hall in Washington, D.C partially funded the repairs. The center, constructed from douglas fir and yellow pine wood, survived several additional fires and today offers in-house and lawn seating during the summer season. Fall, winter, and spring performances are held at The Barns at Wolf Trap—two 18th-Century barns relocated from New England with seating capacity for 382. 
Performances at Wolf Trap include pop music, folk singing, musicals, opera, ballet, modern dance, country, bluegrass, jazz, and more. Additionally, the Wolf Trap Foundation offers educational programs such as the Wolf Trap Institute for Early Learning Through the Arts, and Children's Theatre-in-the-Woods.
Sources
"About Wolf Trap." Wolf Trap Foundation. Accessed December 10, 2016. http://www.wolftrap.org/about/about-us.aspx.
Hiett, Kathy. "Wolf Trap National Park for the Performing Arts, Vienna, Virginia." Federal Recreation, Camping and Tour Reservation Information - Recreation.gov. Last modified 2014. https://www.recreation.gov/marketing.do?goto=acm/Explore_And_More/exploreArticles/wolf-trap-national....
"Wolf Trap National Park for the Performing Arts." Wikipedia, the Free Encyclopedia. Accessed December 10, 2016. https://en.wikipedia.org/wiki/Wolf_Trap_National_Park_for_the_Performing_Arts.
Image Sources
https://commons.wikimedia.org/w/index.php?curid=24092269

https://commons.wikimedia.org/w/index.php?curid=20396005

https://en.wikipedia.org/w/index.php?curid=36542760

https://commons.wikimedia.org/w/index.php?curid=20567738

Additional Information