Bessie Coleman Historical Marker
Introduction
Bessie Coleman was the tenth of thirteen children born to tenant farmers in Atlanta, Texas. She followed her brothers to Chicago in 1915 when she was twenty-three years old and developed a love for flying. Coleman could find no one in the United States that was willing to teach an African American woman how to fly at that time, so she went to France and obtained her international flying license in 1921. Upon her return to the United States, she soon earned a reputation as an exceptional pilot by performing at air shows. Bessie Coleman died in an airplane accident in Jacksonville, Florida in 1926 and is buried near Chicago. This historical marker placed by the Texas Historical Commission commemorates her life and contribution to Texas Women's History.
Images
Bessie Coleman circa 1922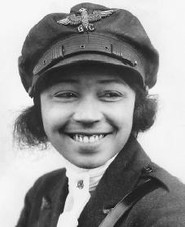 Coleman Postage Stamp released by the US Postal Service in 1995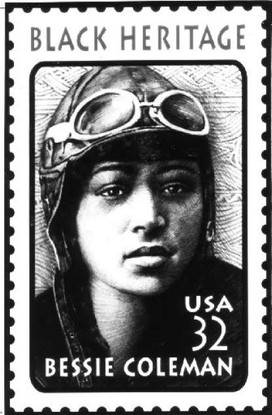 The marker is located next to the railroad tracks

Backstory and Context
Bessie Coleman was born on January 26, 1892, in Atlanta, Texas as the tenth of thirteen children born to tenant farmers. Coleman's father was part Cherokee and her mother was African American. The family moved to Waxahachie, Texas when she was two years old and she remained there until she was twenty-three.
Bessie's early childhood was a happy one, spent playing outside, helping care for her younger siblings, and helping her mother in the garden. She began school at the age of six and walked four miles each day to the all-Black school she attended. Coleman established herself early as an outstanding mathematics student.
In 1901, the Coleman family life took a dramatic turn when George Coleman decided to return to Oklahoma because he was frustrated with the racial barriers that still existed in Texas. George Coleman attempted to convince his wife and children to come with him, but Coleman's mother Susan was determined to stay and George left alone. Susan Coleman, the matriarch of the family, was left behind with four girls under the age of ten to care for. She immediately found work as a cook and housekeeper in the home of Mr. and Mrs. Elwin Jones.
Even while becoming a caretaker of her home and younger siblings while her mother was away at work, Bessie managed to complete all eight years of her schooling and yearned for more. Bessie saved all the money she could and enrolled in the Colored Agriculture and Normal University. Unfortunately, she was only able to complete one term before her money ran out. In 1915, at the age of 23, she set out for Chicago to live with her brother while trying to find work.
After moving to Chicago, Bessie became a manicurist working at a local salon in one of Chicago's most diverse neighborhoods. While working at the salon she heard stories from pilots returning from World War I and became fascinated with the art of flying. She heard through her friend, Robert S. Abbott, (founder and editor of the Chicago Defender newspaper) that Europe had a more accepting attitude of women and people of color. She immediately began learning French and saved money to go to Paris where she hoped to obtain flight lessons. Coleman earned her license on June 15, 1921, from the Federation Aeronautique Internationale.
When Bessie returned to the United States to pursue her new career, she knew that in order to make an amount of money that would allow her to support herself, she must cultivate an image and attract an audience. She created an exciting image of herself that included wearing a military type uniform. Her first appearance at an air show was in New York City in September 1922. The show, which was sponsored by Bessie's previously mentioned friend Robert Abbott, billed her as "the world's greatest woman flyer." Coleman continued to book air shows throughout the country, including a show in Houston on June 19, 1925, that brought her back to Texas for the first time since she had left ten years earlier.
In the time between her flying debut in New York City in 1922 and her Texas debut in 1925, Bessie had never given up hope of owning her own plane and opening her own aviation school for African Americans. While performing a show in Dallas, she put a down payment on a plane from the Curtiss Southwestern Airplane and Motor Company. She then briefly returned to Chicago, did a lecture tour through Florida, and then opened a beauty shop there to raise funds quicker for her aviation school. With the help of a patron and wealthy businessman, she was able to make her final payment on her plane in Dallas and arranged to have it sent to Florida for her next engagement.
In April 1926, Coleman's plane arrived in Jacksonville and she and her mechanic took the plane on a test flight on the evening of April 30th. The mechanic was piloting from the front seat when he lost control of the plane and Bessie fell over a mile to her death. The mechanic was never able to regain control and lost his life as well when it crashed into the ground below.
Five thousand people attended a service in Florida before her body was taken by train to Chicago where an estimated 10,000 people past her coffin to pay their last respects. Her dream of a flying school became a reality when William Powell established the Bessie Coleman Aero Club in Los Angeles, California in 1929. However, few people in Atlanta Texas know of Bessie Coleman today despite the dedication of this marker.
Sources
Bessie Coleman. Women in Aviation International. Accessed November 27, 2016. https://www.wai.org/pioneers/1995/bessie-coleman
Spivey, Lynne. Texas Roots. Bessie Coleman: 1892-1926. Accessed November 27, 2016. http://www.bessiecoleman.com/Other%20Pages/texas.html

Additional Information