Johnson's Fort, Enoch
Introduction
Fort Johnson was Enoch's first settlement and was built by its founder Joel Hills Johnson. Johnson played a crucial role in protecting and creating a settlement for Mormon settlers to call home. Joel Hills Johnson, Enoch's founder and a close friend to Brigham Young was a man of great faith and influence in the southern area of Utah. Johnson was a man of faith, hard work, and determination, and through this determination, he was able to create a lasting settlement for Mormon pioneers settling in Southern Utah.
Images
Johnson's Fort was constructed at this site in 1851.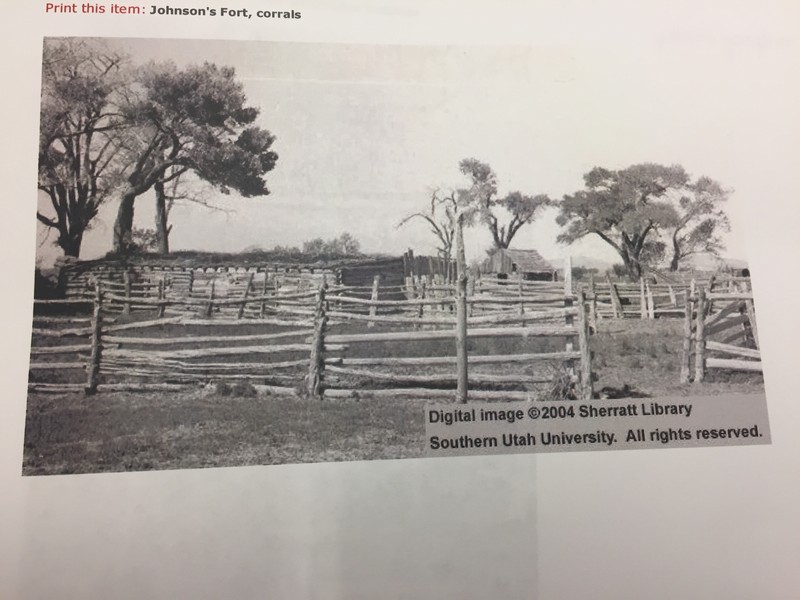 View through the front door of the fort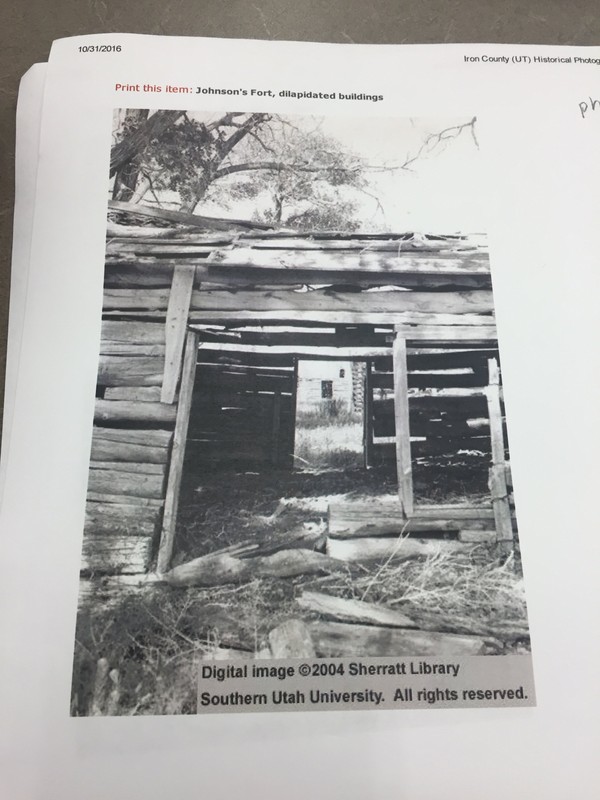 Backstory and Context
Before Enoch was ever founded, or even thought of, the area surrounding it had the Old Spanish Trail passing through it. Immigrants from California and Mexican caravans used the Old Spanish trail to bring goods from Los Angeles and Santa Fe. The trail became a fast means of quick passage to the west for trading, horse thievery, and the slave trade. The first wagon to come into Iron County via the Old Spanish Trail was on May 19, 1848. Mid – Valley road in Enoch marks where the Old Spanish Trail ran.
Joel Hills Johnson was the founder of Enoch, first called Elk Horn Springs. Persecuted for his faith, Johnson left the Midwest and traveled to Utah. According to his diary, one day in Nauvoo, Illinois, which was then the headquarters for the LDS faith, Johnson became the target of a large mob with most of his property getting burned to the ground and defaced. This spurned Johnson towards Utah for a brand new start. [1] . Johnson was a prominent inventor of roofing equipment as well as a prolific hymn writer that rivaled that of David. After reaching Utah, Johnson enlisted himself in the Parley P Pratt Company that did much of the exploring of Utah during the 19th century. Parley's canyon, which is the most frequented part of today's traffic from Park City to Salt Lake City, is named after Parley Pratt. Johnson made his way down south to what is now Parowan, and then trekked out to the open valley. Johnson raised out his hands to the open and unsettled land and said, "Mine, all mine."[2] This explained why he soon settled this valley. After finding this open valley, Joel was to commission Brigham Young for a mission to settle this area. Young granted this request and Johnson's Creek was founded in 1852
Johnson's Creek was a very small settlement. The biggest landmark of early Enoch was the construction of Johnson's Fort. Settlers and friends of Johnson came to Utah to build a small fort. The fort protected against local Paiutes. It also housed multiple families, despite being not much more than a shack during the time. "It was 10 rods square made of mud, the bottom wall was 2 ½ feet thick, 18 inches at the top and was 9 feet high, there were 5 adobe rooms built, there was a 2 story dwelling on one side, and the earliest part of the fort had Black smith, a granary and a chicken coop." The fort housed livestock in a holding area, and it would later become a dairy for the local residents. During the first year of it being built, the settlers and Johnson had to leave the fort due to the ensuing Indian wars of 1853. The companies of settlers vacated and retreated to Parowan, which was the "mother town" of Iron County. According to the historical marker in Enoch, the fort became a mail station between Milford and Silver Reef in 1861.
In conclusion, Joel Johnson started and founded a prospering community in Cedar Valley. Although it was always small in comparison to Cedar City, Enoch has been one of Cedar City's most fortuitous satellite communities. On January 10, 1966 Enoch was incorporated, and absorbed local towns of Grimshawville, Stevensville, and Williamsville.
Sources
Anderson, Warren. Johnson's Fort, Old Structure, 1979, Photograph, Sherratt Library, Special Collections, Iron County Photograph Collection.
Anderson, Warren. Johnson's Fort, Dilapidated Buildings, 1979, Photograph, Sherratt Library, Special Collections, Iron County Photograph Collection.
Anderson, Warren. Johnson's Fort, Corrals, 1979, Photograph, Sherratt Library, Special Collections, Iron County Photograph Collection.
"History of Enoch, Utah." History of Enoch, Utah. N.p., n.d. Web. 11 Oct. 2016.
"Johnson's Fort." ENOCH CITY, UTAH. Accessed November 14, 2016. http://www.cityofenoch.org/johnsons-fort.html.
Johnson, Joel Hills. Diary of Joel Johnson. St. George, UT: Utah Historical Records Survey, 1937.
"Markers and Monuments Database." DHA. N.p., n.d. Web. 12 Oct. 2016.
Seegmiller, Janet Burton. A History of Iron County: Community above Self. Salt Lake City: Utah State Historical Society, 1998. Print.
Additional Information