C.B. Caudill Store and History Center
Introduction
For the last 30 years, policy makers, writers, reporters and visitors from six continents have made the journey to the little mining town of Blackey, Kentucky, to meet Joe and Gaynell Begley and their neighbors. Among those visitors have been Studs Terkel, Harry Reasoner, Morris Udall, Wendell Berry, Morris Dees and Jesse Jackson. Twice Joe and Gaynell have been invited to the White House. And for the most part their reputation grows from their operation of a small country store that has served for half a century as a reliable outlet for plumbing fixtures, quarts of milk and tutorials on citizenship.
Images
C.B. Caudill Store and History Center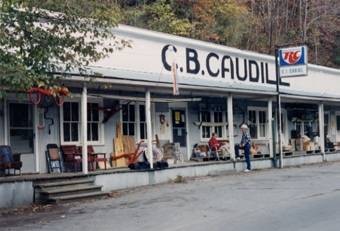 Backstory and Context
The C.B. Caudill Store has always been more than a general store. For decades, beginning in 1933 when Tessie Caudill opened the store with $100 worth of supplies in a bedroom of her house, the store was the unofficial center of the Blackey community. Residents could find whatever they needed from needles and thread to corn meal and plumbing supplies, as well as a sympathetic ear to listen to their concerns about politics and the quality of life in Blackey.
When C.B. Caudill died in 1966 and the store passed to his daughter, Gaynell, and her husband, Joe Begley, a new era of more aggressive social activism began. Like Gaynell, Joe had grown up watching the leaders in his community strive to help people in need. He refused to look the other way when government and industry trampled on ordinary citizens.
The C.B. Caudill Store has been influential far beyond this county and region. It has been a constant information center for journalists, politicians and grassroots activists from around the nation and beyond the borders. The Begleys have been at the center of local efforts to preserve the environment, work for coal miners' health and safety, advocate tolerance, and foster thoughtful community development - often in the face of vigorous opposition from prevailing local government and industry. Among those efforts were the development of a municipal water system, the building of a public library, and successful campaigns to limit strip mining.
In the late 1960s and early 1970s, the store served as a headquarters for organizing against strip mining and the debilitating "broad form deed," which allowed coal companies that owned mineral rights to mine private lands without permission of the owners. Joe Begley was a founder of the Citizens League to Protect the Surface Rights, active in the organization Save Our Kentucky, and an early member of Kentuckians for the Commonwealth (originally called the Kentucky Fair Tax Coalition), which won a major victory in 1988: passage of an amendment to the Kentucky Constitution making it illegal to mine private lands without consent of the owner, regardless of who owns the mineral rights.
Sources
http://appalshop.org/cbcaudill/activism.htm
Additional Information