Roxy Theatre
Introduction
For decades, the Roxy served the Five Points neighborhood and other African Americans throughout Denver as the only Black-owned movie house in the city. The theater was built during the Great Depression and provided a place where African Americans could enjoy Hollywood films as well as "race films"- movies created by Black-owned production companies that featured Black actors and actresses in feature roles. The opening of the Roxy also provided a space for African American audiences to enjoy performances by leading Black artists and musicians such as Louis Armstrong and Billie Holiday. The theater continues to support the Five Points neighborhood and Denver's African American communities with events throughout the year, as well as national and regional artists who bring everything from rock and punk to hip-hop and R&B to the city.
Images
Undated photo of the Roxy Theatre from Cinema Treasures.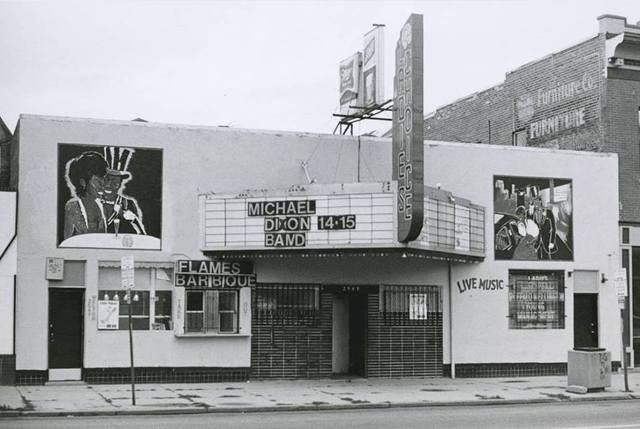 Backstory and Context
Although the city of Denver and state of Colorado had laws requiring equal accommodation, African Americans residents were seldom welcome to sit on the main floor at several of the city's largest movie theaters. Like many other Northern and Western cities, African American patrons were expected to find seats in the balcony when they attended movies and theatrical events. For this reason, the opening of the Roxy in 1934 provided a welcome addition to restaurants and other businesses throughout the Five Points that welcomed Black patrons. Perhaps more importantly, the Roxy Theatre showed numerous films that were written and produced by African Americans and featured Black actors and actresses in starring roles. In contrast to Hollywood films, that limited Black performers to minor roles as servants and other subservient positions, or as villains, the Roxy showed films where Black men and women could be heroes and heroines.
Sources
Miller, Lyle. Commerce and Culture on Welton Street. History Colorado. February 01, 2004. Accessed November 29, 0016. http://www.historycolorado.org/oahp/commerce-and-culture-welton-street

Roxy Theater. Cinema Treasures. Accessed 12/2/2016 http://cinematreasures.org/theaters/17721.

Additional Information