Hotel De Paris Museum
Introduction
The Hotel De Paris Museum was once a bustling restaurant and hotel that brought a little bit of French culture to Georgetown. It was built, overtime, by Frenchman Louis Dupuy beginning in 1873 (it was actually a bakery and he expanded it in the coming years). He offered fine wines and French cuisine, and had olive oil from France as well as oysters, anchovies and other delicacies shipped to the hotel. He himself was a learned man: he was fluent in English, German and Latin, read prolifically, and had his own library in the building, where he also lived. The museum opened in 1954. The building is a site of the National Trust for Historic Preservation and was added to the National Register of Historic Places in 1970.
Images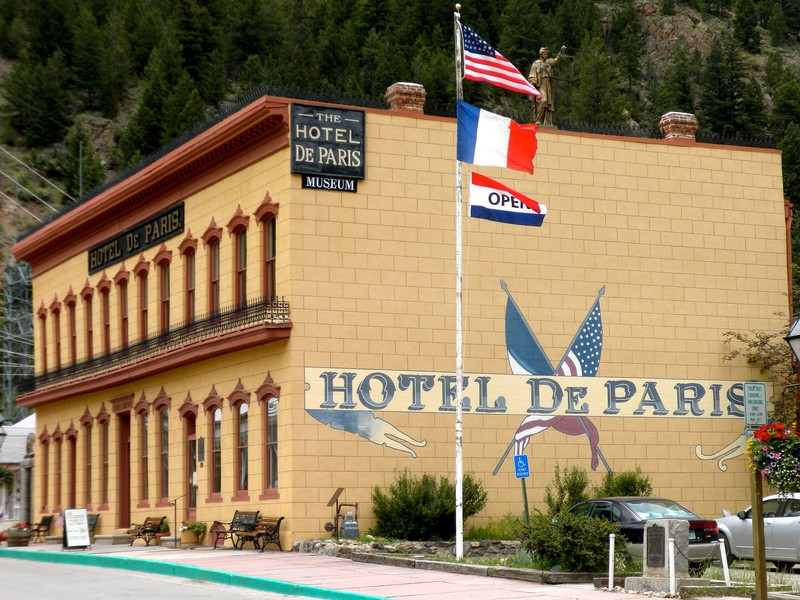 Backstory and Context
Dupuy was born in 1844 and at age 15 joined the seminary. A few years later he ran away to America and joined the army where he traveled to Wyoming. For reasons that aren't known, he deserted and eventually worked as a reporter for the Rocky Mountain News, tasked with reporting on mining camps. He became enamored with mines and started working as miner. In 1873 he injured himself saving another miner. His coworkers raised money that enabled him to rent and eventually buy the bakery and begin transforming it into a hotel/restaurant. By 1890, it was a thriving business. Sadly, in 1900 Dupuy died of pneumonia. He willed the property to his housekeeper, Sally, but she died a few months after he did. However, the business continued as the Burkholder family purchased and owned it until 1954. The Colorado chapter of the National Society of Colonial Dames bought it and opened it as a museum shortly after.
Sources
Fink, Robert. "Hotel De Paris." National Park Service - National Register of Historic Places.
April 28, 1970.
http://focus.nps.gov/GetAsset?assetID=4d1b8c4c-bdc5-4d72-a6d6-ad70fe42f44c.
"The Louis Dupuy Era." Hotel De Paris Museum. Accessed November 15, 2016. http://hoteldeparismuseum.org/louis.html.
Additional Information